Arkansas emerged this spring as America's hot spot for chronic wasting disease, a fatal infection that strikes mostly deer and elk.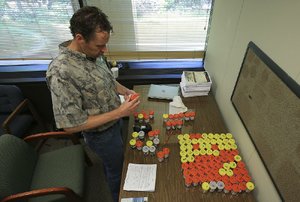 Photo by Staton Breidenthal
Cory Gray, deer program manager for the Arkansas Game and Fish Commission, prepares samples of deer tissue for shipping to a laboratory to be tested for chronic wasting disease.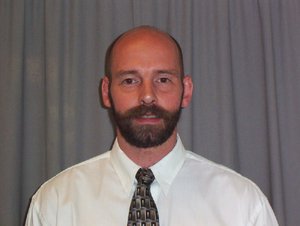 Photo by Special to the Arkansas Democrat Gazette
Bryan Richards, emerging disease coordinator for the U.S. Geological Survey's National Wildlife Health Center in Madison, Wis
The brain-wasting illness spreads animal to animal.
It also contaminates plants and soil through victims' body fluids.Even years later, healthy animals that graze on the tainted ground can sicken and die.
So far, science has found no treatment or vaccine for the infection, no effective cleanup for the soil, no method to stop the disease's spread.
Since discovering its first infected animal in February, Arkansas has reported some of the highest initial concentrations of chronic wasting disease of any state in at least 15 years, according to data gathered by the Arkansas Democrat-Gazette.
A random sample of 266 healthy-seeming deer in Newton and Boone counties in Northwest Arkansas, the epicenter of the outbreak in the state, found 23 percent infected. Since 1999, at least 10 other states found infection rates of less than 4 percent in their first rounds of random tests.
As of Friday, a total of 89 deer and four elk in Arkansas have tested positive for the disease. State wildlife authorities are awaiting results on another 90 tissue samples.
"The only chance for eliminating the disease has been in extremely early detection," says Dr. Margaret Wild, chief veterinarian for the National Park Service's Wildlife and Health Branch in Fort Collins, Colo.
Early detection is not what happened in Arkansas, she and other experts believe.
"The current prevalence suggests it has been there for quite some time," Wild said.
"I've been around this [disease] for quite a while and watched numerous states' initial reactions. [Arkansas'] situation is pretty startling," said Bryan Richards, emerging disease coordinator for the U.S. Geological Survey's National Wildlife Health Center in Madison, Wis.
The Arkansas Game and Fish Commission has tested for the presence of chronic wasting disease for more than a decade, but focused its efforts on penned herds "where we thought disease was most likely to hit," said Ricky Chastain, the agency's assistant deputy director.
Officials in Colorado, Wyoming, Kansas, Missouri and Michigan, among others, first detected the disease in captive deer and elk.
Arkansas' outbreak in free-range deer and elk in Newton and Boone counties "occurred in a place where we least expected it," Chastain said.
State wildlife officials are focused now on trying to contain the disease to the handful of northwest counties already stricken and to allay concerns "about consuming meat in the affected area," Chastain said.
Unpredictable
The direct and most immediate impact of the disease in Arkansas will register on the state's estimated 1 million deer, 600 elk and 308,000 licensed hunters, all part of a $1 billion-plus state hunting economy.
Chronic wasting disease is a mass killer, national studies show. It is carried by malformed proteins called prions (pree-ons).
First discovered in a captive mule deer herd in Colorado in 1967, the disease has spread to 23 other states, two Canadian provinces, South Korea and Norway.
In Colorado, the deer population has declined about 36 percent since 2005, according to Colorado Parks and Wildlife data. Chronic wasting disease is a prime culprit, scientists say.
Across the western United States, deer populations have dwindled at least 10 percent.
A five-year University of Wyoming research project estimated that chronic wasting disease has cut the numbers of one wild mule deer herd by about 19 percent annually. At that rate, the illness could wipe out the herd in about 40 years.
In nature, chronic wasting disease is found only in the deer family, which scientists call cervidae. It strikes several varieties of deer, including white-tails common to Arkansas, plus elk and moose. This year, scientists found the first case in reindeer.
In the lab, the disease has been transmitted to mice, cattle, sheep, squirrel monkeys and domestic cats. Chronic wasting disease also has shown potential for jumping the "species barrier" to humans.
The science "suggests the risk is very small, but not zero" that people can contract the disease, said Richards of the National Wildlife Health Center.
That risk grows as chronic wasting disease turns up in more places, infection rates rise and prions stabilize over time, Richards and other scientists believe.
"It is not possible to rule out that humans might have been infected by animals with CWD, or that this could happen in the future as the CWD material becomes more mature and more powerful," said Claudio Soto, a neurology professor at the University of Texas Health Science Center in Houston.
"We know that prion diseases are very complicated and can change unexpectedly," said Soto, who addressed the Prion 2016 international conference in Tokyo last month about chronic wasting disease's effect on the environment.
Bodily fluids are key to transmitting the illness, research has shown.
"You have to be really careful" about touching deer and animals that may carry the disease, Soto said.
Eating venison, no matter how well-cooked, is another avenue of potential exposure, scientists say.
The prions can withstand temperatures of up to 1,000 degrees Fahrenheit, studies have shown.
Incineration is the surest way to eradicate them. In labs, scientists clean their testing equipment with combinations of heat, pressure and chemicals.
Aside from cases created in laboratory experiments, there is no indication that chronic wasting disease has infected other species, Arkansas wildlife officials emphasize.
With proper precautions, such as wearing latex or rubber gloves to handle dead animals, hunters and others can reduce their exposure to the disease.
The Arkansas Game and Fish Commission expects to approve new rules June 24 aimed at culling the number of deer and elk in areas with the highest infection rates and requiring special handling of any carcasses there.
The commission also is considering a ban on rehabilitating injured deer and prohibiting the year-round feeding of wildlife to keep deer from concentrating in nonhunting areas.
As for the impact on Arkansas' hunting economy, the Game and Fish Commission's Chastain noted that "we're the 24th state to have [the disease], and hunting hasn't shut down in any of those other states.
"Some have had license sales declines, but none can be attributed positively to CWD," he said. "Most recovered a significant portion of that loss. We'll continue to be as professional as we can helping people deal with it."
Arkansas' experience
The state's chronic wasting disease battle began with a call from a Wisconsin lab on Feb. 17, according to Cory Gray, deer program manager for the Arkansas Game and Fish Commission.
Tissue samples from a 2-year-old female elk had tested positive for the disease. A hunter killed the animal in October in rural Newton County.
The samples were part of the wildlife agency's routine chronic wasting disease testing program of selected dead deer and elk.
After the lab's call, Gray said, he hoped the diseased elk was an isolated case. If it wasn't, he hoped for no more than a handful of infected animals in a tight area.
But a second case turned up March 3 almost 13 miles from the first. A 2½-year-old doe wandering in Newton County looked sickly, observers reported. When wildlife agents searched for it, they found it dead.
As of Friday the Game and Fish Commission had confirmed 93 cases in five counties: Newton, Boone, Madison, Pope and Carroll. The most recent positive test results were from May 27.
"I don't think any of us would have imagined there would be this number," Wild said. The National Park Service veterinarian has studied chronic wasting disease since the 1980s and is one of several national experts advising Arkansas on how to respond to the outbreak.
By comparison, when Missouri discovered its first positive cases in 2010 and 2011, it tested 1,000 deer in a standard targeted area and discovered just two more infections.
In more than five years of testing since, Missouri has recorded a total of 44 cases -- about half of what Arkansas found in its first four months of the disease's detection here.
In Wisconsin, where chronic wasting disease has spread more widely than in many states, the initial outbreak didn't start as a wildfire. After detecting its first case in 2002, Wisconsin conducted random tests on 530 white-tailed deer from a target area. It found 15 infected animals.
How big a risk?
Wild said she's impressed that the Arkansas Game and Fish Commission had an action plan before the first case of the disease was detected and had been monitoring and testing for the disease for about 14 years.
The state agency works to protect wildlife and educates and polices the state's hunters, who are the people most likely to come in contact with diseased deer and elk.
Arkansas hunters killed more than 212,000 deer in the 2015 hunting season, according to the U.S. Fish and Wildlife Service. Elk hunting in Arkansas is minuscule by comparison: 52 kills last year.
Hunters also are one of the state wildlife agency's biggest sources of income. They paid $16.3 million for hunting licenses and other fees last year, or about 20 percent of the Game and Fish Commission's total budget, according to the agency.
In May, the commission held a series of public meetings to hear what residents thought about proposed rules to contain chronic wasting disease.
Like other states, Arkansas plans to continue allowing hunters to kill, handle and eat animals where the infections have been found.
The commission recently advertised its annual lottery for elk hunt permits. Its website invited hunters to "Get in the Draw."
The hunts will take place on public land around parts of the Buffalo National River in Northwest Arkansas -- the same area where the state's first cases of chronic wasting disease popped up.
The commission says 4,894 hunters applied online for elk hunt licenses this year, down from 5,763 last year.
Some leading scientists are less than enthusiastic in regard to humans handling and consuming venison, elk and meats of other cervids.
"There are no known cases of CWD in humans yet," but studies show "there is potential of transmission," said Qingzhong Kong, an associate professor at Case Western Reserve University at Cleveland who has studied chronic wasting disease's human transmission potential for about 15 years.
"Not that it's a huge risk at this point," Kong said in an interview. "But there is a potential risk."
Like Houston neurologist Soto, Kong addressed the recent international prion conference in Tokyo.
"Experiments initially seemed to show a strong species barrier" between chronic wasting disease and people, Kong told the Democrat-Gazette. But at least two recent lab studies "show the barrier might not be as great as we thought."
Asked if he would hunt in an area where chronic wasting disease has been found, handle a dead deer there or eat its meat, Kong said: "I wouldn't."
Richards, the emerging disease specialist, said he has come to think of humans handling and eating animals infected with chronic wasting disease as a series of miniature science experiments.
"Think of a lab experiment" where a particular result "is rare ... but not impossible," Richards said. "If you wanted to increase the chance of observing" that rare result, "what would you do?
"Keep repeating the experiment? That's what we are doing," Richards said. "Will bad things happen? Who knows, but we are challenging the system."
Asking questions
In Sharp County in north-central Arkansas, Highland resident Mike Stanley, 56, is no international scientist or state wildlife officer.
A Baptist pastor and hunter, Stanley has heard and read about the discovery of chronic wasting disease in Northwest Arkansas. Deer roast is one of his family's favorite meals.
His church members haven't sworn off hunting deer or eating venison, he said.
Stanley doesn't plan to either, but he is asking questions.
For hunting in areas where the disease has been detected, are there "any different protocols on field dressing and skinning deer?"
"Do I just want to bone it out or do I want to saw off body parts? Do I get the meat off without ever cutting the bone?"
The Game and Fish Commission's website recommends deboning the meat. The agency plans to post additional information before the start of deer season this fall.
Stanley has noticed that the agency's website seems careful in talking about the potential spread of chronic wasting disease to people.
"It says 'as far as we know,' there's been no deer-to-human transmission, that sort of thing," he said.
As people learn more about chronic wasting disease, Stanley added, he said he "can't help but think it's going to have a really strong trickle-down effect, in some ways we don't perceive yet."
SundayMonday on 06/05/2016