As the Rev. Ronnie Floyd nears the end of his second term as president of the 15.3 million-member Southern Baptist Convention, he's often asked if he'll be glad when it's over.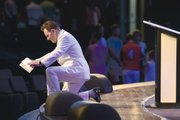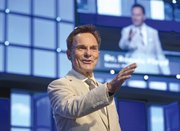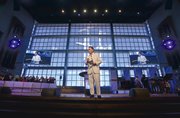 After all, it's a demanding job to serve as the public face of the largest Protestant denomination in the country.
Floyd, 60, is often called on to articulate the denomination's stance on major issues, from same-sex marriage to immigration. Then, there's the travel. In the past two years, Floyd has crisscrossed the country meeting with Southern Baptists in churches large and small to listen to their hopes, concerns and needs.
He has traveled to Cuba to meet with Southern Baptist missionaries spreading the Gospel in the communist nation. He has pushed for unity in the denomination of autonomous churches as membership continues on a downward slide. He and others in the denomination also have pushed for an end to racism and emphasized the need for Southern Baptists to spread the Gospel to the world, all while tending to his own Cross Church flock spread across five campuses in Northwest Arkansas and southwest Missouri.
Despite the demands of the job, Floyd said he's sorry to see his time as president end. Delegates will elect a new president when they gather in St. Louis on Tuesday and Wednesday for the denomination's annual meeting.
"I will miss everything, the entire experience," he said. "I have no regrets other than I wish I had two more years to serve."
According to convention rules, presidents are elected for a one-year term and can serve a maximum of two consecutive terms. That means another term is not an option.
Even though his term is ending, Floyd isn't counting down the days like a kid waiting for summer vacation. He's thinking about what still needs to be done. With more time Floyd said he would emphasize the need for evangelism even more.
"Prioritizing evangelism again in our lives and churches is imperative," he said. "We need to emphasize personal evangelism as well as church evangelism. We must hold high the dynamic need of reaching our own town, community, or city for Jesus Christ."
During his terms and throughout his more than 38 years as pastor, Floyd has consistently emphasized the Great Commission. The Great Commission is found in the Book of Matthew. Jesus, resurrected from the dead, tells his disciples what they must do: "Therefore go and make disciples of all nations, baptizing them in the name of the Father and of the Son and of the Holy Spirit and teaching them to obey everything I have commanded you."
To Floyd, the commandment is a call to action. He's so passionate about the need for increased evangelism that he calls it the denomination's No. 1 need.
"We must reach people that do not know Christ personally," he said. "This begins with personal evangelism, but also involves our churches in the vision of winning their towns to Christ. Being able to return to the priority of evangelism will take care of other challenges before our churches."
With more time, Floyd said he would also encourage churches to get lay people more involved in the life of the church.
Recently released statistics from LifeWay Research shows that the denomination has 15.3 million members but an average worship attendance of 5.6 million, which means millions of Southern Baptists aren't actively involved in their churches.
Doug Sarver, minister of global missions at Cross Church, has worked alongside Floyd for almost 25 years. He said he thinks Floyd has done an exceptional job as president.
"Last year when he gave his presidential address the title was 'Now Is the Time to Lead' and that's exactly what he's done," Sarver said. "He leads by conviction, and not a lot of leaders do that. ... He's leading from a strong biblical conviction. It's not what he wants. It's not his agenda. It truly is what he senses God has put out there in front of churches and the convention and him.
"That's what makes me want to follow him."
Sarver said he knows his friend is physically and emotionally tired but he has been doing what he loves.
"He has such a God drive in him, more than any person I've ever known," Sarver said. "He really cares. He's a genuine man, and he honestly cares for the church. He cares for America."
As for Floyd, after the annual meeting he plans to be ready to do whatever God calls him to do.
"I am planning on giving my life and vision to Cross Church and our mission together, until Jesus comes, He calls me home, or calls me away to do something else somewhere else," Floyd said. "Whatever God wants, the answer is yes!
"My prayer daily is 1 Chronicles 4:10, 'Jabez called out to the God of Israel: 'If only You would bless me, extend my border, let Your hand be with me, and keep me from harm, so that I will not cause any pain.' And God granted his request."
Religion on 06/11/2016