Pixar, the former boutique animation studio that could, began churning out modern kids masterpieces beginning in 1995 with Toy Story. In the 21 years since they started making full-length films, the studio has made 17 features. Included in that list are five sequels of their previous hits, including the other two Toy Story films (widely held as some of the studio's best work), Cars 2, Monsters University and now, Finding Dory, the sequel to one of the studio's least surprising entries, Finding Nemo. As good as Pixar's overall track record has been, the sequels, short of the Toy Story pair, have fared somewhat less well.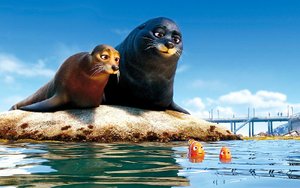 Rudder (voice of Dominic West) and Fluke (Idris Elba) are a pair of cockney sea lions in Pixar's Finding Dory.
Sadly, as with virtually all sequels, this is certainly the rule, rather than the exception. As the other major animated studios began to step up their game to compete, Pixar began churning out fewer innovative originals, instead pouring more resources toward their previously established properties, much as literally every other studio has done increasingly over the last couple of decades. It doesn't mean the studio is totally spent -- keep in mind Inside Out, released last year, was deservedly hailed as an absolute triumph -- but it does drag the former can't-miss kids back to the rest of the pack a bit.
Finding Dory
83 Cast: (voices of) Ellen DeGeneres, Albert Brooks, Ed O'Neill, Kaitlin Olson, Hayden Rolence, Ty Burrell, Diane Keaton, Eugene Levy, Sloane Murray, Idris Elba, Dominic West, Bob Peterson, Kate McKinnon, Bill Hader, Sigourney Weaver
Directors: Andrew Stanton, Angus MacLane
Rating: PG, for mild thematic elements
Running time: 97 minutes
Cars 2 was something of a dud, but Cars was no great shakes either; Monsters University wasn't as thrilling or imaginative as its predecessor, but it roughly held its own. Dory plays a bit more like University, a lively rehash of most of what the original offered, sandwiched around what could be considered a standard Pixar plot at this point (see Dinosaur, The Good): A character's heartfelt search for his parents. Call this Pixar's default formula: Take a group of unlikely creatures, set one off from the others, and follow his search for home, learning more about himself and what makes up a family along the way.
Our protagonist, as the title suggests,
is Dory (voice of Ellen DeGeneres), the scatterbrained little blue tang with short-term memory loss. Still living alongside best pals Marlin (Albert Brooks) and Nemo (Hayden Rolence), Dory keeps having little flashes of memory of her loving, doting parents, Jenny (Diane Keaton) and Charlie (Eugene Levy), whom she was separated from at a very early age. Eventually, she finally remembers a crucial bit of information -- they are somewhere off the California coast, at a place she can only remember in brief snippets, and convinces Marlin and Nemo to join her on this new epic quest.
The trio eventually make their way to the spot she thinks she remembers, which turns out to be right outside the Marine Life Institute -- for all our sakes, it's just as well it wasn't at a SeaWorld -- a massive aquarium where thousands of fish are taken in, rehabbed and released back into the wild. Naturally, shortly after arriving, Dory is separated from the other two, and various simultaneous adventures ensue. She meets some new friends, including Hank (Ed O'Neill), a resourceful octopus, who very much wants to go to a permanent marine installation in Cleveland for some reason; Destiny (Kaitlin Olson), a whale shark, whom Dory knew as a small fish; and Bailey (Ty Burrell), a beluga whale, with extremely useful, all-powerful sonar abilities.
Eschewing the pell-mell location pace of the first film, here co-writer/co-director Andrew Stanton, alongside Angus MacLane, confine the action primarily to the marine park, which, like the day care center in Toy Story 3, allows the characters to all interact in relatively tight quarters. There are scenes of derring-do, one of which involves fish jumping from fountain blast to fountain blast in order to get to a different exhibit tank in the park, and more than a few inspired character bits (a seal wanting to lounge around on the warm rock permanently occupied by a pair of walruses voiced by Idris Elba and Dominic West has several snappy moments).
As with the original, the film's sizable pathos is secured mainly by the vocal talents of Brooks, playing the ever-neurotic and inflexible Marlin, and DeGeneres, who, in the friendly, bubbly, innocently scatterbrained Dory, has possibly found the perfect animated foil for her enduring personal brand. It is her inspired line readings that give Dory the sense of personality that made her stand out so much in the first film, and here, in a starring role, she brings even more to the table. A character with a chronic dysfunction, so willing to accept her limitations and so quick to apologize in advance for its effect on everyone she meets, is almost unbearably sympathetic to begin with, but DeGeneres turns Dory into more than a simple vehicle for audience compassion. By dint of her extraordinary resourcefulness and ability to see things clearly, without a hint of Marlin's neurotic over-planning, she's the driving force in everything that happens in the narrative.
The film never spells any of this out, of course, but in Dory's continued forgetfulness -- which, as in one powerful scene near the climax, results in her suddenly being all alone and unsure of herself, in a wide expanse of green, murky water -- one could certainly see an analogy to those living with Alzheimer's, including the panic-inducing fear that you can find yourself so alienated from all the life teeming around you. That Dory seems to be able to make improvements in her condition portends to a slightly more optimistic possibility for her character, but whether or not the filmmakers intend it to, it offers its audience, young and old, insight into just how distressing and debilitating it must be to lose your sense of everything around you.
Still, there's an unmistakable whiff of the reheated and previously stated to the proceedings. The film, offering more platitudes about the nature of families and staying together through difficult journeys, thematically doesn't have anything much more to say than Nemo, which makes the resulting action, as clever as it can often be, somewhat less than scintillating. It's not bad -- certainly, the worst Pixar films are still eminently watchable -- but nor is it particularly inspired. The freshness is mostly gone, you might say, like three-day-old fish in a dusty market stall.
MovieStyle on 06/17/2016