BIRDEYE -- A pristine veterans cemetery nestled in the hills of rural northeast Arkansas has a solar-powered irrigation system, a state champion oak tree and a funeral pavilion overlooking a pond, but it's mostly missing one thing: veterans.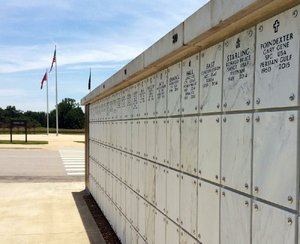 Photo by Hunter Field
Several rows of columbaria provide a final resting place for the cremated remains of veterans at the state Veterans Cemetery in Birdeye. The cemetery has 474 remaining aboveground graves.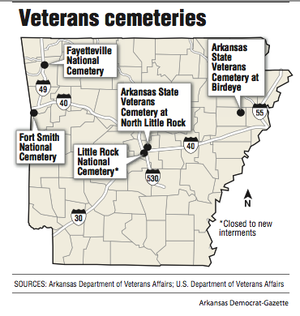 Photo by SOURCES: Arkansas Department of Veterans Affairs; U.S. Department of Veterans Affairs / Arkansas Democrat-Gazette
Map showing the location of Veterans cemeteries in Arkansas
Four years after opening, 240 veterans and their spouses or dependent children are buried at the Arkansas State Veterans Cemetery at Birdeye. Its counterpart in central Arkansas buried 580 in 2015 alone, while operating at less than a quarter of the cost to the state.
About 900 veterans are preregistered to rest at Birdeye, but even that pales in comparison with the 2,795 veterans eligible for burial in North Little Rock.
The discrepancy is easily traced to population. The Arkansas State Veterans Cemetery at North Little Rock sits in the most populated region of the state. Birdeye, on the other hand, is a small, unincorporated area in Cross County -- the type of place where cellphone service fades as rows of crops increase.
Birdeye wasn't included in the most recent U.S. Census, and the nearest town, Cherry Valley, has a population just over 600. A pass through Birdeye offers a handful of homes and a crown-jewel of a cemetery.
"It really is a beautiful, perfect place for a cemetery; I just wish it was closer," said Doyle Batey, former deputy director of the Arkansas Department of Veterans Affairs. "Then, I could visit it more often."
It all begs the question: Why build a veterans cemetery in Birdeye? According to Batey and others involved in the cemetery's planning, it was a combination of location, persistent locals and some well-placed supporters.
The U.S. Department of Veterans Affairs provides burials for veterans who were honorably discharged from the armed forces. Burial benefits include a grave site, interment, perpetual care, a government headstone, a burial flag and a Presidential Memorial Certificate at no cost. Spouses and eligible dependents also may be buried with veterans, but in most cases a small fee applies.
Arkansas has about 247,900 veterans, according to the VA.
A grass-roots effort to place a veterans cemetery in Wynne, which is about 15 miles south of Birdeye, started about 15 years ago. Aging members of the Cross County Veterans Memorial Committee lobbied for a cemetery in Cross County because the nearest ones were in Memphis or Little Rock -- both more than an hour away.
Six years later, the state had purchased 100 acres of cattle land from the Maurice Smith family of Birdeye on Arkansas 163 for $150,000 and secured a federal grant to cover the cost of the cemetery's construction.
The deal was sealed with the help of Jerry Bowen of Jonesboro, who served as the VA undersecretary during Bill Clinton's presidency, former Gov. Mike Beebe and former state VA Director Dave Fletcher.
All three men are from northeast Arkansas.
The state settled on Birdeye after looking at numerous properties along the east side of the Natural State, said Mark Frank, the administrator of the cemetery. The property, in addition to meeting federal cemetery standards, was situated perfectly in the middle of a region in need of a final resting place for veterans, he said.
Thus far, however, the cemetery hasn't lived up to its billing, but the department in charge of the grounds expects burials to increase as it gains familiarity.
"We do recognize that Birdeye is a remote location and many people are not aware that it's there," state VA spokesman Sarah Jones said. "We are working on getting the word out. Mark Frank, the cemetery manager, does a great job engaging with the community and providing information on the cemetery. We are also working on creating new marketing materials."
Arkansas' veterans cemeteries
The cemeteries in Birdeye and North Little Rock are the only ones under state control. The federal VA operates three others in the state.
The U.S. constructed its first national cemetery in 1862 to accommodate the large number of Civil War casualties, according to the U.S. Veterans Affairs Department. Today, it maintains 134 national cemeteries.
States started operating their own veterans cemeteries 38 years ago after the creation of the State Cemetery Grants Program, which was formed to target areas in need of veterans cemeteries, according to the VA.
To date, the department has helped establish, expand, improve or operate 95 cemeteries in 47 states and territories, totaling $665 million in contributions.
Arkansas opened its first state veterans cemetery in North Little Rock 15 years ago with the help of a $5.5 million federal grant. It developed 28 acres of the close to 80 acres available, and earlier this month completed an expansion that raises the developed acreage to 40. The state expects to apply for another federal expansion grant in three years.
Arkansas covers the operating costs, but the federal VA reimburses the state for veterans' burials. The North Little Rock cemetery costs the state much less than the one at Birdeye, because it receives more federal money because of a higher number of interments.
Just more than 7,150 people are buried at the North Little Rock cemetery. After the recent expansion, there are about 4,000 graves available.
The North Little Rock cemetery, which opened in 2001, shouldn't fill up in the next decade, Jones said. It's expected to reach capacity at 37,000 burials.
The state VA spends about $70,000 a year for upkeep there.
At Birdeye, about 3,440 graves remain until expansion is necessary, Jones said. Once full, it will hold 45,000 graves.
The state allocates about $320,000 per year to maintain the grounds at Birdeye.
The Fayetteville National Cemetery, established in 1867, buried 358 people last year, raising its grave total to 10,102. Cemetery administrators project to have open grave sites until 2046.
Some of the first burials in Fayetteville included remains disinterred from Civil War battlefields at Pea Ridge and Prairie Grove.
A pre-existing cemetery in Fort Smith was designated the Fort Smith National Cemetery in 1867. About 260 were buried there last year to raise the total burials to 17,650. The cemetery should have graves available until 2037.
Little Rock National Cemetery is Arkansas' third veterans cemetery operated by the federal VA, but it reached capacity in 2001. Today, 26,112 are buried there.
It became a national cemetery in 1868 to accommodate the remains of Union soldiers, more than 2,300 of which were unidentified.
Always 'Beautifying'
The drive to Birdeye -- an hour from Interstate 555 in Jonesboro and 30 minutes from Interstate 40 in Forrest City -- winds down a two-lane highway. For the most part, farmland stretches to the horizon.
The cemetery is unmistakable. The grass suddenly turns greener, and instead of old plantation-style homes, two modern buildings appear.
The cemetery road bends past several clusters of graves organized by burial type. The headstones are arranged in perfect rows, resembling the way the veterans resting below learned to stand on their first day at boot camp. There's not a weed in sight, and the grass is perfectly manicured.
It's important to maintenance supervisor David Ramsey that the cemetery look its best anytime a deceased veteran's family visits.
"If we're not doing interments, we're out here beautifying," the former Army mortar platoon commander said after stepping off his lawn mower. "That's what I call it."
The Birdeye cemetery grows its own sod, and the sun powers its watering system. A large, state champion Southern red oak tree still grows in the southwest corner of the property.
For Ramsey, the cemetery's upkeep is a duty and privilege he doesn't take lightly. He'd do it for free out of respect for fallen veterans. Ramsey, who already has registered for a grave at Birdeye, takes the slightest imperfection personally.
"I'm sorry about that," he said, as he spotted a weed unnoticeable to the untrained eye.
If current projections hold and a new cemetery isn't built, Birdeye will be Arkansas' only veterans cemetery with available graves in a few decades. For veterans and their families then, it may be a long drive, but the cemetery at Birdeye still will be beautiful. Ramsey will make sure of that.
Metro on 06/19/2016