Perhaps no one was more surprised by the choice of the Grand Award winner at the Arkansas Arts Center's 58th annual "Delta Exhibition" than the show's juror.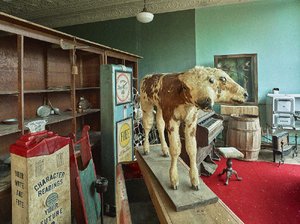 Photo by Courtesy of Arkansas Arts Center
Pocahontas, AR, a chromogenic print by photographer Tim Hursley, won the top prize at this year's "Delta Exhibition" at the Arkansas Arts Center. The image was taken at a storefront in Pocahontas in Randolph County.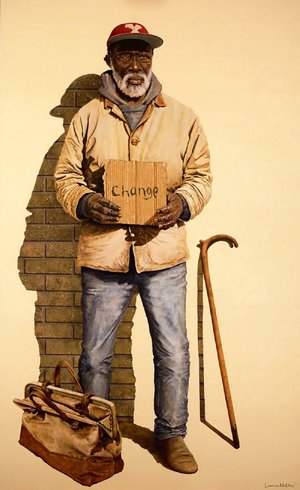 Photo by Courtesy of Arkansas Arts Center
Lawrence McElroy of Alexander ended a 37-year painting drought with his award-winning Portrait of Gabriel Sword.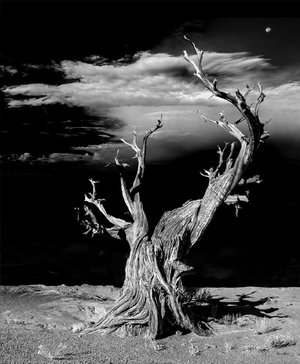 Photo by Courtesy of Arkansas Arts Center
The intense digital infrared photograph Juniper and Moon won Michael Elliott-Smith an honorable mention in this year's "Delta Exhibition."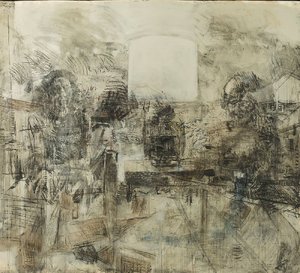 Photo by Courtesy of Arkansas Arts Center
David Bailin won his fourth Delta Award with the charcoal, pastel and coffee on prepared paper work titled LAMP.
And that might even include the winner himself.
The 58th annual "Delta
Exhibition"
Through Aug. 28, Arkansas Arts Center, MacArthur Park, East Ninth and Commerce streets.
Hours: 10 a.m.-5 p.m. Tuesday-Saturday, 11 a.m.-5 p.m. Sunday.
Info: arkarts.com or (501) 372-4000.
"I didn't think I'd be choosing someone who worked in [photography] as the overall winner," says Elizabeth K. Garvey, director of Garvey/Simon Art Access in New York.
"But that image ..."
That image, Pocahontas, AR, captures a storefront display featuring a two-headed calf, a squirrel diorama and other aging objects.
Tim Hursley says he jumped to his feet when he heard Garvey call his name as the winner at the show's opening June 9.
"I yelled 'wow!' I was really thrilled and ready to tell the story about that image."
And what a story it is. It's a classic Arkansas story, one Bill DeClerk, who owns the storefront and set up the display that caught Hursley's attention, was all too happy to share.
"In the early 1940s, a man came into my dad's business and resolved a debt with this two-headed calf," DeClerk says. The owner of DeClerk LP Gas says the taxidermied calf was in his uncle's liquor store until Randolph County went dry. It then took up residence in a warehouse.
"As a kid, I'd see this calf in the rafters of the warehouse and ask my daddy what it was. My kids have used it in a school freak show fundraiser; they charged a dime to see it."
Earlier this year DeClerk moved the calf and other objects to a storefront he owns next to his propane gas business on the square in downtown Pocahontas. He set up a display in the window.
That's where Hursley comes in. An internationally renowned architectural photographer, Hursley and his wife, painter Jeanie Lockeby Hursley, were driving back from Michigan to their Little Rock home in February.
"We had been on the road three days, collecting stuff. The car was full and my camera was buried under a bunch of stuff."
The couple drove through downtown Pocahontas and Hursley spotted the calf in the window. He took a few snaps with his smartphone.
"I found Bill, he showed me in and there it all was. I wasn't thinking about a photograph. I was interested in buying the squirrel diorama at first; then I became interested in the calf."
The couple returned home, but a day or two later, Hursley says he knew "I had screwed up ... what was important was to make a photograph of it."
After talking to DeClerk on the phone, he headed back to Pocahontas with his camera ... and his checkbook.
"Bill liked the idea of the calf being photographed. When I got there, he took me to the courthouse, the museum, the hardware store and a restaurant. We went to the church he grew up in and then back to the storefront to shoot the photograph. After getting that done, I made an offer for the two-headed calf and he said yes."
Hursley says he thinks DeClerk visited his website and realized he wasn't going to "flip" the calf just to make money.
"There were other collectors circling around," Hursley said. "I told Bill I thought that calf just had to stay in Arkansas."
Hursley says his wife was skeptical.
A warm chuckle fills his voice. "She was on the fence about it. But she's starting to warm up to it."
Jeanie Hursley posted a message on Facebook: "The Grand Award!!! When Tim purchased this taxidermy calfx2, I was more than a little creeped out, but now it's looking golden."
Garvey understands Jeanie Hursley's response.
"It's surreal, like something haunting and not OK is going on," she says of Pocahontas, AR. "The whole composition, color, light, feeling of nostalgia ... the way even little objects on shelves were captured by the artist reminded me of details in a northern Renaissance painting. And it kept drawing me back in. It was, in the end, what I found the most compelling and that was a real surprise to me."
The calf is on a table in Hursley's studio, right at home with his collection of Americana objects such as vintage signs, architectural models, outsider art and tramp art frames. The walls also display his work, including a breathtaking view of the Museum of Modern Art in New York.
So, how does a man who earns his living shooting photographs for world-class architects such as Moshe Safdie, I.M. Pei, Fay Jones and Kyu Sung Woo wind up taking a photograph of a two-headed calf?
"I drive around a lot, especially in the South," he says. "I make time to take photos en route."
Hursley has shot plenty of images on his way to Rural Studio in Newbern, Ala., where he has done pro bono work for the project, part of Auburn University's architecture department, for more than two decades.
As he collected images, several people encouraged him to do a thematic series, he says.
One of his first, a series of photographs of Nevada brothels, became a book, one of four he has published.
In his images taken in small Southern towns, there are photos of run-down funeral homes. Hursley's second piece in the "Delta Exhibition," Train Ride/Vicksburg MS, is one of them.
"When I drive into a small town, I hit the smartphone ... 'funeral homes near me.'"
A native of Michigan, Hursley, 60, apprenticed as a teenager with Balthazar Korab, a pioneering architecture photographer.
"I wasn't interested in schools; that apprenticeship was my school. He was at the top of his profession."
Hursley's career was taking off when he moved to Little Rock in 1980. He and his wife, who is from England (Lonoke County), are the parents of twin sons who are architecture students at the University of Arkansas at Fayetteville.
When he was in New York on business in the 1980s, Hursley also spent a lot of time at Andy Warhol's Factory before the artist died in 1987.
The Arkansas Arts Center hosted a Warhol exhibition in 2008 and Hursley's images were displayed in the atrium. "Tim Hursley: Warhol After the Silver Factory" focused on the architecture of Warhol's Factory at the Con Edison Building after moving from the Silver Factory studio in midtown Manhattan.
While Hursley has been in several group shows around the country, he hasn't exhibited his solo show in the state since. That may change in the next few years. Hursley is in discussion with the Fay Jones School of Architecture and Design at UA for a retrospective and a book.
Hursley's architectural photography career takes him all over the world, including a recent trip to South Korea to photograph the Asia Cultural Center in Gwangju.
But Hursley, who also has clients in Arkansas, says he likes having other photography projects "in my own backyard, like my rundown Southern funeral homes. It's like a Southern landscape."
That landscape includes a two-headed calf that is the star of an award-winning photograph.
"The calf is pretty awesome, but the photo of it is really cool. It speaks more than the calf itself."
...
Lawrence McElroy's confident, sophisticated Portrait of Gabriel Sword belies a rather shocking fact: He says it's the first oil painting he has produced in 37 years.
"I entered a large-scale figurative painting in 1979 and was accepted into the 'Delta'," the Alexander resident says. "Then I stopped painting. I was right out of school and I needed to make a living; I also realized I didn't have much to say as an artist. I was 21, with few life experiences. I felt ... and still feel ... paintings need to have content, not just be well-painted."
McElroy considered becoming a medical illustrator, but wound up working in medicine. In October, he says, he left his post as director of the ultrasound department at Arkansas Heart Hospital.
"I had done a few drawings and watercolors; I always planned to return to art, but I didn't think it would take this long."
Portrait of Gabriel Sword is a composite of several reference photographs. The portrait, which won the Contemporaries' Delta Award, was inspired by a 2006 encounter with a homeless person.
"I was driving by, he was holding a sign that said 'CHANGE.' I felt it was a message for me."
...
One of the things we've come to expect from the annual "Delta Exhibition" is the unexpected.
And, starting with Tim Hursley's Grand Award-winning photograph, the exhibition delivers.
This year's exhibition, which continues through Aug. 28, seems particularly strong; there are works of great beauty, insight, deep emotion and whimsy. There are pieces to inspire laughter, reflection and a little puzzlement.
The beautifully installed exhibition flows smoothly, with the four major award winners placed in different parts of the gallery. There is space where it is needed, giving the viewer ample room and time to reflect and absorb particularly potent works.
Juror Garvey, who said she wishes she could have chosen artists rather than individual works, picked 52 pieces by 30 artists; 22 of whom have two pieces each. She says she wanted us to get to know these artists, and her approach works.
Hursley's startling, Southern Gothic/nostalgia-tinged chromogenic print Pocahontas, AR, is compelling and invites repeated viewing. As Garvey says, it has a "wonderful creepiness." His second print, Train Ride/Vicksburg, MS, is one of his series of Southern funeral homes.
Another work certain to generate comment is Mountain View artist Dusty Mitchell's Home Sweet Home, in which the words are formed by flies trapped on flypaper. Viewed from a distance, it would seem inspired by an embroidered sampler. Up close, it's flies. On flypaper.
The emotional high point is Little Rock resident David Bailin's deep ruminations on memory, his Delta Award-winning LAMP (his fourth such award) and the startling SOFA, which speak of memory's loss and confusion. In SOFA, memories become a chaotic jumble. The somber works -- charcoal, pastel, oil and coffee on prepared paper -- require the viewer to invest some time to experience their power and absorb their depth. It is time well spent.
Other high points:
• Paula Kovarik's Pollinators, a fabric and thread work that quilt makers should find especially appealing. The Memphis artist's work received an honorable mention.
• Mark Lewis' graphite and paper collage, Admiral and Lewis. Also winning an honorable mention, Tulsa resident Lewis -- who is a past Grand Award and Delta Award winner -- makes collage a breathtaking experience.
• Pokey Alrutz of Springfield, Mo., also took collage to another level with 2121. The surreal, futuristic and colorful cityscape is virtually seamless. Alrutz also won an honorable mention. If you're skeptical about collage as an art form, Lewis and Alrutz just might change your mind.
• Michael Elliott-Smith of Alexandria, La., won an honorable mention for his intensely beautiful digital infrared photograph Juniper and Moon.
• Mia Hall, of the University of Arkansas at Little Rock art faculty, has a fascinating cast concrete sculpture of a sofa table topped with frames, candlesticks and delicate shells.
• Nathaniel Roe's haunting dry plate tintypes also evoke a sort of Gothic Southern horror. In Brass Knuckles & Baby's Breath, a man, in profile, stands with baby's breath enveloping his head and brass knuckles on his hand. The Little Rock artist's work evokes the intensity of Carroll Cloar's painting Joe Goodbody's Ordeal.
• Anais Dasse's Kids Are Terrible People Too and The Daughter -- gesso, charcoal, pencil and oil on paper -- are unsettling works that mix tribal-inspired patterns and symbols. The Little Rock resident's technique and skillful use of shamanic-inspired imagery impresses.
• Katherine Toler's intriguing Hush/Flux is a flowing installation of objects -- fiber, plastic, found objects -- that are bits and pieces of a life. The Little Rock resident's work was recognized with a Delta Award.
• Fayetteville's Sabine Schmidt has a pair of cool archival inkjet prints. Blue Goose Station, Gotebo, captures a fading, perhaps abandoned old gas station.
Style on 06/19/2016