A temporarily blinding light, deafening pop and smoke filled the room as an officer rolled a flashbang grenade into an abandoned house. Thirteen high school students in paintball masks stood in the corner -- most with hands to their ears -- during the mock hostage rescue.
Photo by Jason Ivester
Cpl. Will Gordon shows participants in the Bentonville Police Youth Academy the non-lethal bullets used by the squad's SWAT team on Friday during training inside an abandoned house in Bentonville.
"That was awesome," someone said seconds after.
At a glance
At least five area law enforcement agencies ran youth programs:
Bentonville Youth Police Academy
Fayetteville Youth Citizens Police Academy
Washington County Camp Rescue
Springdale Sandlot program
Bella Vista Law Enforcement Explorer
Source: Staff report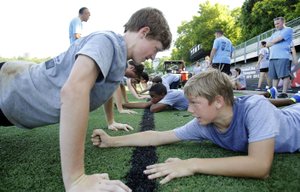 Photo by David Gottschalk
Reis Reed (right), 13, encourages Wyatt Core, 12, Thursday as they participate in a physical training test during the Youth Citizens Police Academy at Fayetteville High School. Twenty-seven junior high school and senior high school students completed the program that included tours of law enforcement facilities, training simulators and physical training.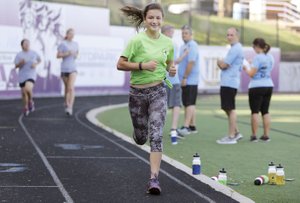 Photo by David Gottschalk
Sophia Small, 12, completes lap two of four Thursday as she participates in a physical training test during the Youth Citizens Police Academy at Fayetteville High School.
The students are part of a Bentonville Youth Police Academy, the first since a 10-year hiatus. Law enforcement agencies across the region hold similar programs.
Some resulted from the elimination of school-based programs, while others began to counter negative publicity about police and to educate students who might be interested in a law enforcement career.
"Law enforcement in the last couple years has kind of not been looked upon too favorably," said Cpl. Will Gardner of the Bentonville department. "You get a lot of negative feedback, but we want students to understand at an early age that we are moms, we're dads and we are normal folks. We just have a job to do, and we want to share that knowledge with these kids."
Community donations and business sponsors help pay for most of the labor-intensive programs.
Gardner said Bentonville's program, like Fayetteville's, is run by school resource officers. Until a few years ago, the school district only had one -- Cpl. Steve Vera. Gardner started about five years ago with Cpls. John Loncarevic and Josh Carlson joining two years later.
"Every year since I've been here, they have been talking about bringing it back. It's just so personnel intensive," said Bentonville officer Gene Page said. "We are starting it up as a grassroots effort again and try to get bigger and better every year."
Children learn in a classroom and on site about areas of police work like crime scene investigation, bomb squads, police dogs and special response teams. Information about the fire department also is taught. Gardner said the amount of interest and questions the students asked pleasantly surprised officers.
"My favorite part was touring the jail house. That was interesting," said Prissy Etheredge, who will be a senior this fall.
The program is open to all students who have completed the seventh grade. In all, 45 students were accepted this year. The department begins its junior high session today.
"It was a whole lot better than I thought it was going to be," said Dylan King, a 2016 high school graduate. "We got to go see how things worked and do a lot of hands-on stuff. It was really cool. Really, I'd recommend it to everybody."
Recruiting tool
With teeth clenched and fingers to their temples, the students worked to do as many sit-ups as possible Thursday, their partners counting, holding their feet in place on the turf at Fayetteville High School's Bulldog Stadium.
"Three, 2, 1, stop," a school resource officer shouted. Reis Reed, 13, stood up and proudly announced he had completed 39. Just minutes earlier, he shaved 1:30 off of his mile time from nine days earlier.
"Reis, I'm proud of you buddy," officer Kevin Carroll said.
Fayetteville's two-week Youth Citizens Police Academy is built for students to learn and discover whether law enforcement is a career for them, said Cpl. John Foster, a Fayetteville school resource officer. It accepts students who have completed seventh grade and above.
"It's kind of a recruiting tool," he said. "We want them to know after this if they are really interested in law enforcement or now do they know they are not," he said. "Also, we want to just teach them how to be good citizens, to just be good leaders in the community. It might not be law enforcement that they are interested in, but maybe some type of public service."
Reed and the other 27 teens were competing in a physical training test for the academy's fitness award, Foster said. The academy also teaches students about team building, practical police knowledge such as writing a report and drawing an accident diagram, quick and smart decision making and the different divisions in law enforcement.
Some of the students were from Prairie Grove and Rogers, not just Fayetteville, and most seemed to take the academy seriously.
"I think it was a little bit more than what I was expecting. They have definitely taught us a lot," said Kadeen Dickson, a home-schooled senior from Rogers.
Three minutes is considered a excellent time for a female on the Marine physical training test; Fayetteville senior Lora Castleman hit a 2:52.
"I don't know where it comes from, but she's got some kind of inner beast," Foster said.
"I'm just pushing myself the best I can," Castleman said. "I've really enjoyed it. It made me realize that law enforcement is something that I want to do."
The academy is in its sixth year and second consecutive year after a year gap.
The second session starts July 18 with 33 accepted applicants.
Longer-term option
The Bella Vista Police Department launched the Law Enforcement Explorer program May 26 with an open house. The career-oriented program is an extension of the Boy Scouts of America and is open to males and females ages 14 to 20.
Explorers can remain in the year-round program until they age out at 21. It focuses on hands-on experience in law enforcement -- including patrol, 911 dispatch and animal control -- while developing organization leadership skills. After training, students will be able to perform most of the same duties as a police officer, Sgt. Eric Palmer said.
"They'll be able to do anything but actually arrest somebody," Palmer said. "We are going to treat them just like we would treat a new police officer."
The teens are supervised by an adult board -- one they can join after they age out of the Explorer program. The Explorers are welcome to go on ride-alongs or volunteer at the station anytime during the week, he said.
The program costs $24 a year, but Palmer said he hopes it will soon become self-sufficient.
"I hoping that by this time next year the kids will have made enough through fundraisers they can pay with that money," he said. "The more money they can raise, the more extracurriculars they can do."
The Law Enforcement Explorer program has been around nationally since the 1970s, and other posts exist around Arkansas, but Bella Vista is the only one in Washington or Benton counties.
Other programs
The Washington County Sheriff's Office and Central Emergency Medical Services hosted the 14th annual Camp Rescue from June 13-18.
It has evolved from mainly a first responder and CPR certification course to a camp that includes a wide range of activities including rope courses, jail tours and impaired driving simulations.
"We were noticing that the kids just weren't having fun with it," said Tyler McCartney, who has worked Camp Rescue for four years.
Children 15 to 18 years old can attend the weeklong summer program. It has a fee of $50 per person, but McCartney said fees usually can be waived for children who need it with the help of local sponsors.
The Springdale Police Department also has a summer Sandlot program. It has been operating for four years with the mission of bridging relations between police officers and the community, according to its website. Officers travel to schools, apartment complexes and parks to provide activities for students during summer.
The program is now trying to serve another purpose after a June 9 fight at Keystone Crossing apartments led to one teen stabbing another. Lt. Derek Wright stressed in a statement after the stabbing the importance of deterring children from crime and said he hopes Sandlot can steer them in the right direction.
NW News on 06/20/2016