Regional leaders crossed the ocean in their quest for ways to make Northwest Arkansas' transportation network more conducive to all cyclists.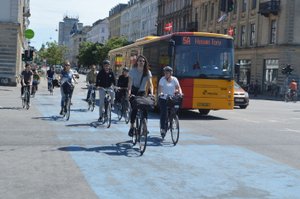 Photo by Submitted by Rob Smith/NWA Council
Commuters head to work just before 9 a.m. June 7 during a bicycle rush hour that occurs every weekday in Copenhagen, Denmark. Bicycle lanes are raised up a few inches or marked in blue throughout the city, making it clear which areas of roads are intended for cyclists.
The 15 Northwest Arkansas representatives traveled to Denmark where they gained firsthand knowledge of world-class bike infrastructure, learned from international transportation experts and networked with peers during this year's Citybuilder Symposium. The five-day study tour was June 6-11 in Copenhagen and was held by PeopleForBikes, a bicycling coalition and foundation.
Northwest Arkansas delegation
The 15 representatives that attended PeopleForBikes' Citybuilders Symposium in Copenhagen, Denmark were:
• Christopher Suneson, director of community development services, Bella Vista
• Nathan Becknell, street department project engineer, Rogers
• Chris Brown, city engineer, Fayetteville
• Justin Bland, city engineer, Siloam Springs
• Patsy Christie, planning and community development director, Springdale
• Monica Kumar, executive director, Downtown Bentonville Inc.
• Paxton Roberts, executive director, Bicycle Coalition of the Ozarks
• Misty Murphy, executive director, Downtown Springdale Alliance
• Meredith Bergstrom, executive director, Main Street Siloam Springs
• Rob Smith, communication and policy director, Northwest Arkansas Council
• Tim Conklin, transportation programs director, Northwest Arkansas Regional Planning Commission
• Kay Lewis, consultant and former CIO of J.B. Hunt
• Worth Sparkman, public relations - corporate affairs, Tyson
• Karen Minkel, home region program director, Walton Family Foundation
• Ryan Hale, senior program officer, Walton Family Foundation
Source: Staff report
Why Copenhagen?
Copenhagen was listed number one in the Copenhagenize Design Company's 2015 Index of most bike-friendly cities. Copenhagenize Design Company is a multi-disciplinary consultation company that works with cities on biking culture, planning traffic and communications. Its 2015 Index ranked 122 cities around the world in regards to bike advocacy, bike facilities, social acceptance, the perception that bicycling is safe, the number of people who used bikes as transportation and how large the gender diversity was among cyclists.
Source: Staff report
"This trip was an opportunity to help expose us to what is possible -- to take our infrastructure, to take our transportation options to another level," Paxton Roberts, executive director of Bicycle Coalition of the Ozarks, said during a recent gathering of several of the participants.
Study tours like this one have been a core element of PeopleForBikes' Green Lane Project, which helps cities build protected bike lanes, according to its website.
Bicycle Coalition of the Ozarks spearheaded the trip with a $106,882 grant from the Walton Family Foundation.
Transportation is a key component of preserving a sense of place, which is an initiative the foundation's 2020 Home Region Plan, said Karen Minkel, the foundation's home region program director. The plan is the foundation's blueprint for grant-making through 2020.
The Walton Family Foundation invested more than $50 million developing Northwest Arkansas trails between 2000 and November 2015, including $43 million for paved, multi-use trails and $8 million for natural-surface trails.
A trail usage study conducted by the foundation found Northwest Arkansas trails have a high usage rate per capita but aren't often used during peak commute times. A quality of life survey published in May revealed people are looking for more mass transit options, including biking.
Those two findings influenced the foundation's decision to fund the Denmark trip, where representatives from a cross section of Northwest Arkansas could learn first-hand in a country whose transportation network operates under a different paradigm than the United States, Minkel said.
The local participants included five city employees, four nonprofit or civic organization workers, and two each from regional groups, businesses and the Walton Family Foundation. Every sector brings a different perspective when it comes to placemaking -- the planning, designing and management of public spaces, Minkel said.
"This was an opportunity to bring those sectors together to have a conversation about shared goals," she said of the symposium.
What they learned
Planners in Denmark look at a street as a transportation corridor, not just an avenue for cars, symposium attendees said.
"I think what we've done, historically, is (look at) how to move cars, and our metrics and data and our research has been about how many cars can we move from point A to point B. That's where they've shifted the question to how many people can we get from point A to point B," Roberts said. "It's simply more efficient to have cars, bikes, sidewalks for pedestrians and buses."
Nathan Becknell, project engineer for the Rogers Street Department, noticed how transportation corridors separated vehicles from bicycles and bicycles from pedestrians.
"They see a bike as another type of vehicle," he said, explaining cyclists and pedestrians would mix on lower-speed streets. Photos from the trip illustrate the point. Cars are in the middle of the road with buses next to them. Bike lanes run between motor vehicles and sidewalks.
"They found that you get greater capacity if you divide it up and give people more options," Minkel said.
Denmark's biking culture makes it accessible to everyone in the community regardless of age, gender or background, whereas in Northwest Arkansas it's more of a niche recreational activity, a subculture that can be intimidating to those not in it, said Monica Kumar, executive director of Downtown Bentonville Inc.
Kumar wrote a blog about how the trip challenged her belief that cars are the most efficient form of transportation and helped her realize how beneficial bicycles can be as a transportation tool.
"It has all flipped my perspective so much," she said in an interview. "I've been biking ever since I got back. If I get it and am loving it, I know other people will."
Possible local implementation
"We tend to, as engineers, get pigeonholed, cars, cars, cars," Becknell said. "Fortunately, the profession has well moved beyond that, but when it comes to infrastructure, there's a long lag for when implementation happens."
The infrastructure in place now has taken decades to build, but decisions being made now will be more conductive to bicycle infrastructure, he said.
Re-evaluation of road widths is one practical application in Northwest Arkansas, participants said. Rogers already changed its standard lane width from 12 feet to 10 feet, Becknell said. Standard interstate lane widths are 12 feet, which allows for a semitrailer to move 70 mph.
"If you have a four-lane or a five-lane road, that immediately gives you two feet per lane, which is eight to 10 feet that gains you in asphalt, which we already have out there," he said.
There are many roads in the area that can be narrowed and have bike lanes added, participants said. Doing so provides an alternate route of transportation, more safety as narrower roads cause motorists to drive more slowly, and it provides on-street connections between destinations and trails.
Cars don't have to be inflexible with their routes, but bikes often do because of some gaps in connectivity, said Rob Smith, communication and policy director at Northwest Arkansas Regional Council. The Razorback Regional Greenway is a great alternative transportation corridor, but connections to other destinations off the Greenway can be complicating.
Smith said he could likely identify 10 places were a connection of less than a quarter-mile could be built that would create better access.
Worth Sparkman, with Tyson Foods public relations, said additional trail connections could provide an additional commuting option to the company's 9,200 Benton and Washington county employees. He said several of the five plants in the two-county area are near the Greenway.
From a corporate standpoint, having amenities "as grand as the Greenway" helps attract talent for any company in the region, he said.
Tyson is launching a program Tuesday that will focus on encouraging employees to use the trails as a way to be physically active.
Experts in Denmark also emphasized that pilot projects can be done relatively inexpensively, Minkel said. A project can transform a street for a set period of time while officials collect data and test the design.
"That you can test these things, and you can refine your design, before you ask for any significant investment stuck out to me as a really feasible way forward," she said. "It made it seem manageable."
Cultural mindset
The cultural mindset that roads are just for cars is also something that can be improved in Northwest Arkansas, a couple of delegates said.
"Our streets are owned by all of us, because we all pay for them," Meredith Bergstrom, executive director of Main Street Siloam Springs, wrote in a blog about how the group's experience in Odense in the Danish countryside taught her how streets are public spaces to be used in various ways.
Prior to the trip, Bergstrom said she would feel uncomfortable when she would occasionally ride on the street.
"I feel like I'm trying to invade someone else's space. Since coming back from the trip, I'm on the road like I own this," she said with a friendly laugh. "I've never had that confidence before as a cyclist."
More programming can help with overcoming that mindset, Bergstrom said. Downtowns are an ideal place for bicycle education programming as they are typically higher density areas with slower traffic speeds.
"There's already events going on like that, but how do we contribute to those events and make it a meaningful way to have a good first experience on a bike and teach them about road safety and how to occupy the space?" she asked.
Symposium participants were taught signals and bicycle etiquette basics the first day in Copenhagen.
Roberts said several ideas they were exposed to in Denmark also were mentioned as the Bicycle Coalition of the Ozark's created a strategic plan.
"There's a willingness in our area to move toward this," he said. "As much as people like to talk about culture and (being) car centric, yes we are, but we're also excited about potential change."
NW News on 06/26/2016