Off and on rain -- even a short hailstorm in central Arkansas -- marked Tuesday's primary election.
RESULTS
FULL ELECTION COVERAGE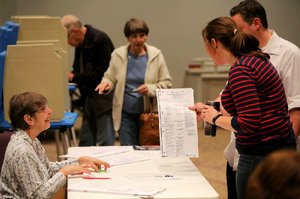 Photo by Stephen B. Thornton
Election worker Linda McFall (seated) hands a ballot to Courtney McNally, who was voting with her husband, Ryan McNally (right), at a polling site at Pulaski Heights United Methodist Church on Tuesday morning in Little Rock.
The election also had some typical glitches of the mechanical and human variety across the state.
Bryan Poe, Pulaski County election coordinator, said some batteries and one machine had to be replaced early Tuesday. And there were cases of some new poll workers not showing up, which caused some last-minute shuffling to ensure that all of the stations were covered, he said.
Additionally, the chief judge for the polling site at the Levy Church of Christ in North Little Rock was late arriving, which caused the polling place to open 15-20 minutes late, Poe said.
By 6:30 p.m., Poe said, about 20 of the 112 polling places in Pulaski County had run out of paper ballots that are typically used on election day. Voters were directed to vote on electronic machines instead.
Election day turnout Tuesday in Pulaski County was pretty heavy, even in light of early voting numbers that were triple what the early voting totals were in 2012 and 2014 -- just under 9,000 in both years. There were 26,073 early voters in Pulaski County for Tuesday's primary election. Early voting ended Monday.
"As far as early voting goes, it's a record-breaking primary for us," Poe said. "I think it just has to do with the interest in the presidential race. There are good candidates on both sides. They are battling it out on TV. That has people engaged and coming out to the polls today and for early voting, as well."
In Jefferson County, Election Commissioner Stu Soffer said Tuesday afternoon that voting in general was going smoothly, although the turnout there was on the "low side."
"I think that is because a lot of people early voted yesterday -- over 1,000 -- in anticipation of the foul weather this morning. All of our voting equipment is working fine," he said.
Soffer said the Jefferson County Election Commission would investigate a couple of reports regarding Pine Bluff mayoral candidates. In one, a candidate is reported to have entered a polling place to talk with poll workers in violation of the law. In another, a candidate reportedly stopped voters in their cars to campaign as the voters pulled into the polling place parking lot.
He said violations would be discussed by the Jefferson County Election Commission for possible referral to the prosecuting attorney.
In Faulkner County, some voters complained about a sign at polling centers telling voters to have their identification ready for verification and were asked for identification before voting. In 2014, the state Supreme Court voided Arkansas Act 595 of 2013, which required voters to show identification before they could cast ballots.
The state Election Board voted to require poll workers to ask for identification from voters, but voters' refusal to supply it would not prevent them from voting.
"It's not against the law," said Paul Foster, Faulkner County Election Commission chairman. "We've had our city attorney and an outside attorney check and then double-check. It is absolutely correct and legal."
Foster said nobody is being turned away if he does not have identification or refuses to supply it.
"We will rethink the sign for the general election and maybe add that you do not have to have the ID to vote," Foster said.
Another sign also caused a problem early Tuesday, Foster said. This one referred voters from a Vilonia church polling place to the courthouse to cast their ballots.
"It was put up for early voting and never taken down," Foster said. "We were voting on the other side of the building today, so we had some that showed up at the courthouse. Once we got word of it, we took that sign down."
Foster said voter turnout in Faulkner County was at record levels. He attributed the increase to the new "voting centers." Ballots can be cast at any voting center in the county regardless of a voter's assigned precinct.
There were about 25,000 voters in Faulkner County on Tuesday. In the previous presidential election, Faulkner County residents cast 23,000 ballots.
"This is fantastic," Foster said. "The voting centers made it easier for people to vote."
Another election problem was reported in Fort Smith. An election worker at Orr Elementary School turned away a voter who could not provide an identification card, said Sebastian County Election Coordinator Meghan Hassler.
Hassler said poll workers received training from the state and that Tuesday's error was a misunderstanding. Members of the county election commission talked with people at the polling site to make sure they understood state laws, she said.
Hassler said that as far as she knew only one person was kept from voting Tuesday and that voter later returned to cast a ballot.
Charles Eick of Cabot, chairman of the Lonoke County Election Commission, said Tuesday afternoon that the election in that county was going "OK," but "we have had equipment failures, and we have had people who couldn't follow instructions running machines."
Asked if there were long lines as a result of that, Eick said "no" and that people were able to vote because he personally was going to polling sites to fix the problems.
"See, Lonoke County won't get an election coordinator, and so it falls on the election commissioners to try and do everything," Eick said. "It's not right."
The Arkansas Board of Election Commissioners last week approved two requests for an election monitor in Lonoke County to observe absentee-ballot processing and election-result reporting in Tuesday's election.
The requests came from state Sen. Eddie Joe Williams, R-Cabot, and Lonoke County clerk candidate Courtney Ruble. Ruble is challenging Lonoke County Clerk Dawn Porterfield for the Republican nomination. Williams is being challenged by Lonoke County Justice of the Peace R.D. Hooper for the District 29 state Senate seat.
Jon Davidson, educational services manager for the state Board of Election Commissioners, said Tuesday afternoon that he was unaware of any unusual problems with the election around the state, including in Lonoke County.
"You always have little things here and there, but nothing that has been outstanding, for sure," Davidson said.
He noted the assignment of an election monitor in Lonoke County.
"I haven't heard anything from them," he said. "They will do their monitoring and report back to us but nothing unique to them, either."
"There is a good turnout, of course," he said about the state in general. "Things seem to be going normal for an election day," he said.
Metro on 03/02/2016