According to Josh Hyber of the Sporting News, Washington Redskins quarterback Kirk Cousins is no stranger to awkward drug testing moments.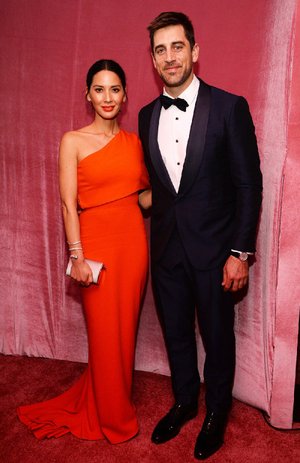 Photo by Al Powers / Invision/AP
Olivia Munn, left, and Aaron Rodgers attend the Governors Ball after the Oscars on Sunday, Feb. 28, 2016, at the Dolby Theatre in Los Angeles.
The latest in what the quarterback calls his "Drug Test Diaries" occurred Friday morning, after spending Thursday night at his in-law's house.
On his Sqor Sports profile, Cousins outlined what happened:
"Drug Test Diaries: My inevitable off-season drug test occurred this morning with a knock on my door at 6:45 a.m.
"The tester's last words to me before the collection: 'You can't give me too much.'
"The final curveball was a leaky beaker which forced a refill. You can only imagine the mess created at my in-laws home. #DrugFreeSport #JustSayNo"
This isn't the first, or second time, Cousins has had a strange drug test experience.
Cousins also commented on a drug test last season, according to the Redskins team website. That time, he was invited to the drug tester's house. In 2013, Cousins was tested while visiting his grandmother's house.
Hyber wonders, "What's more creepy -- Cousins making this information public or the NFL being able to find him in random places?"
Rock on
British hard rock band Def Leppard is scheduled to play Verizon Arena in North Little Rock on May 11, and one Central Arkansas resident has an idea for how the band can spend some of its downtime.
Cary Tyson, a program officer at the Winthrop Rockefeller Institute, has started an online petition at Change.org, suggesting that the rockers take a little time to show their support for an area school -- Arkansas School for the Deaf.
Why there? ASD's athletic mascot is the Leopards, and pictures of the school's football field scoreboard have been maiking the rounds on the Internet for years.
"What better place for a band photo?" wrote Tyson. "Help me convince the band to take a band photo in front of the scoreboard by signing this petition. Bring attention to a school that deserves it and does great work as well as a great band."
As of Sunday evening, Tyson's petition had nearly 100 signatures from supporters, with many wondering why it hasn't happened already.
According to ASD's website, the school has been using the name Leopards since at least 1941. The band, which formed in 1977, was not named after the school, although, in its first incarnation, it was called "Deaf Leopard" before they tweaked the spelling in an effort to avoid being confused for a punk band.
That's one heck of a coincidence.
Colors
Green Bay Packers quarterback Aaron Rodgers wore a navy-blue tuxedo to the Academy Awards and actress/girlfriend Olivia Munn wore an orange dress, leading to this Twitter exchange:
Chicago Bears: "Everyone wants to wear the #BearsBlueandOrange."
Ex-Packers tight end Tom Crabtree: "Well, he owns you, so he can do what he wants with your colors."
Wrote Dwight Perry of the Seattle Times, "Talk about dialing up a snappy comeback pattern."
They said it ...
• Brad Dickson of the Omaha (Neb.) World-Herald, on Shaquille O'Neal getting his own statue outside Staples Center: "For nostalgia's stake, it will be erected in the general vicinity of where his free-throw attempts used to land."
• Syndicated columnist Norman Chad, on Steph Curry's NBA wizardry: "He's Picasso and everyone else is painting-by-numbers."
• Greg Cote of the Miami Herald, after Gianni Infantino was elected FIFA president: "Infantino immediately thanked all of the voters who'd accepted his bribes. Oh, I'm just kidding! Probably."
Sports quiz
Washington Redskins quarterback Kirk Cousins played college football at Michigan State. In his first season there, he was the backup to which other current NFL quarterback?
Answer
Houston Texans quarterback Brian Hoyer
Sports on 03/07/2016