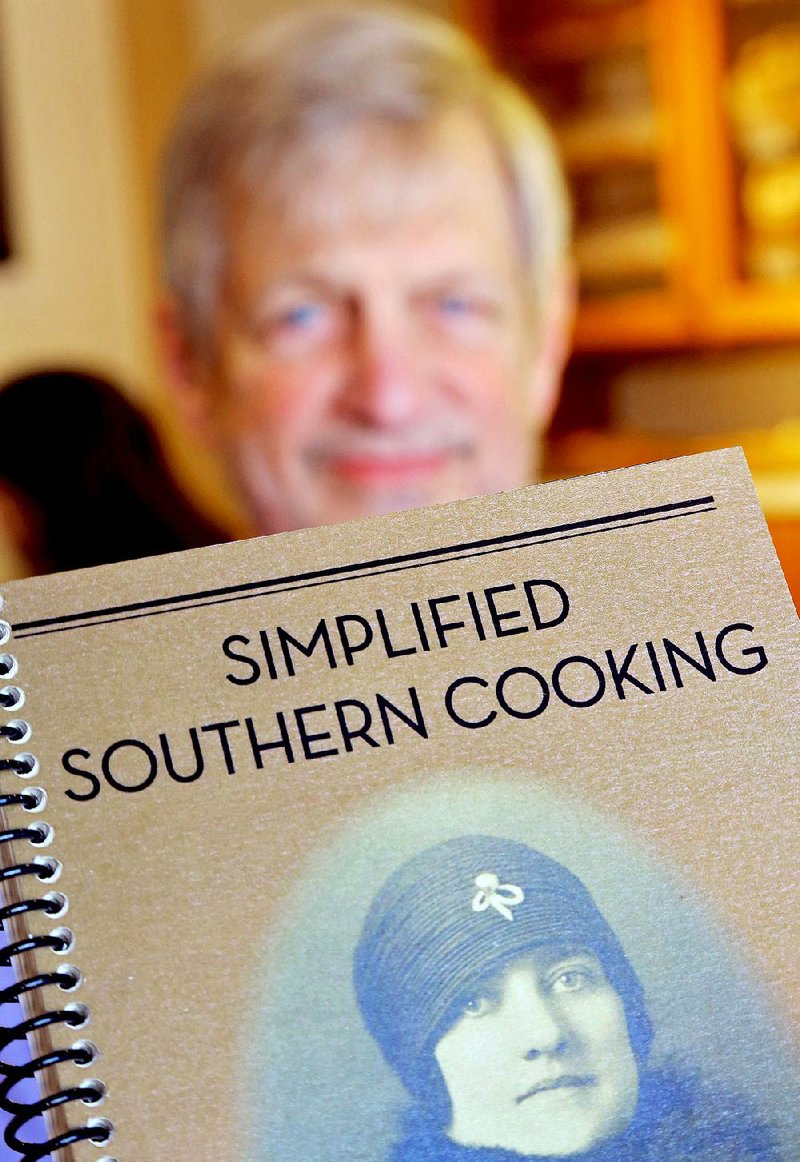 After discovering his grandmother Kate B. Stafford had a cookbook published in 1936, Jim Rule of Little Rock made reprints, donated the original to a research library at Harvard University and is selling reprints in two Little Rock stores. ( John Sykes Jr.)
The title of Kate B. Stafford's cookbook, Simplified Southern Cooking, sounds current, edgy, hip. After all, simplicity is chic and Southern fare is hot.
Factor in that the 95-page spiral-bound cookbook is being sold at Moxy Modern Mercantile store in the recently revitalized, hipster-friendly downtown Little Rock neighborhood of South Main Street as well as Eggshells Kitchen Co. specialty store in the upscale Heights for $22.
Don't be too quick to judge a book by its cover, though. The book's copyright date is 1936, making it 80 years old. And when Stafford wrote it, she was a middle-aged Southern lady and newly divorced back when divorce was more rare.
In the first reprinting of the book, the first clue that it's vintage is an inside page with sepia-toned photo of the author dressed in period 1930s attire. The second reprinting of the book alerts readers even sooner, with an even more dramatic sepia-toned portrait of Stafford, described as a "Southern food expert," wearing a cloche and a fur-collared coat, on the cover.
Her grandson, Jim Rule of Little Rock, didn't acquire the cookbook by having it passed down through his family.
The semi-retired dealer of antique and rare books didn't even know his grandmother had written it until a few years ago. It arrived unexpectedly at the conclusion of his 71st birthday dinner celebration -- call it a surprise serving of serendipity.
A little heirloom with those tomatoes?
In December 2012, at a fundraising event for the Quapaw Quarter Association, Rule bought an auction item -- a dinner hosted by Bitsy Davis at her circa-1835 historic home in Scott.
Davis hosts private din-
ners, weddings and other events at the Ashley-Alexander Plantation House, using her family's antique silver, china and furniture, Rule explains, adding that the two families had known each other and been friends for years.
"We had a lovely meal around the table which seats 14 in this wonderful plantation home which sits in the middle of a pecan orchard," he says. "At the end of the meal, she said, 'I have a surprise for you.' She brought out the book, gave it to me and said, 'The Waldorf salad you had for dinner came out of your grandmother's cookbook.' I nearly fell out of my chair."
"I had no idea she'd written this book. It was like having my grandmother at my birthday party."
Davis, 80, explains how she came to have the cookbook.
"My mother was a fabulous cook and was friends with Mrs. Stafford and Jim's mother, Dora Rule , and Mrs. Stafford gave it to my mother," Davis says of her mother, Virginia Alexander, who was born in 1907 and passed away in 2012 at 105.
"I made a copy of the book for myself and gave Jim the original one," she says. "I thought he knew about the cookbook and was surprised to find out that he didn't."
Her life's ingredients
Later in life, Stafford worked as a home economist. She traveled, offering classes and demonstrations in cooking and homemaking.
"She did cooking demonstrations in public theaters before the movie started," Rule says. "She had no professional degrees and didn't go to college, and I'm not even sure if she finished high school."
Stafford was born in Florence, Ala. , in 1883. She married James Marion Stafford in 1900. Her husband was a Presbyterian minister and she moved with him, first to Pine Bluff from 1924 to 1928 and later to Stuttgart.
"She discovered, shortly before writing her cookbook, that he wasn't practicing what he preached," Rule says. "She divorced my grandfather in 1933 or 1934."
At the time, the couple had three grown children, including Rule's mother.
"She somehow got the idea that she had to re-create herself from a minister's wife to someone who could support herself. She knew she could teach cooking," he says, adding that her outgoing personality helped her to succeed. "She had a twinkle in her eye, and was very easy to get to know."
Hired by Standard Brands of Chicago, she moved to that area of the country and never remarried. She traveled often for work and came back to Arkansas to visit her family.
"She would just drop in at various times and stay for several days or several weeks," Rule recalls of his grandmother, whom family members called "Nanny Bun." "Her greatest joy was being in the kitchen cooking for us. The dishes that stand out most in my mind are the breads she would make for us. And she taught me to like vegetables; she used to cook them with ham hocks, especially her collard greens."
Retiring in the early 1960s, Stafford returned to Arkansas. She lived in Hot Springs for several years and later lived in a duplex on Little Rock's Country Club Boulevard until becoming too fragile to be on her own. She moved into Presbyterian Village and passed away in 1977 at 94.
Sharing the bounty with a second helping
After receiving the cookbook from Davis, Rule had 10 copies made to share with relatives.
He says, "If you read the dedication, it's not for fancy people who live in big houses; instead, she's writing for people trying to learn how to cook during the Depression. It's just basic stuff."
Published by Parke-Harper Co. of Little Rock, Stafford's book is dedicated "to progressive homemakers who appreciate leisure and have an eye for thrift" and "to bachelors of both sexes who are tired of eating out." She also dedicates it "to the discriminating who dislike leftovers," " the wise who eat to live" and " the American Homemaker" with the hope that all will "look back with pleasure at the cooking school sessions" and "carry the new ideas gathered there into everyday usage in your own home."
In the foreword, she explains the recipes were gathered "with a view to helping the modern woman to a keener appreciation of the art that is truly Southern -- that of good cooking." She writes that the recipes, which had been tested by her as well as "Southern culinary masters," cover "a range sufficient to fully gratify the demands of the modest as well as the exacting tastes of the most pronounced epicure."
While stressing the importance of fresh, high-quality ingredients, she writes in her introductory instructions that her first aim was to be frugal: "Good materials, accurate measurements, and a reliable stove save the housewife much grief and disappointment in her cooking."
The cookbook is divided into categories including cocktails (vegetables, fruits, and fish rather than liquor), soups, breads, pies, cakes, meats, sauces and more.
The names alone are enticing -- Almond Bisque, Yum Yum Gems, Heart's Delights, Tomato Aspic, Ice Box Rolls, Lemon Sponge Tartlets. Some conjure Southern images (Veranda Punch, Pecan Potatoes). Others are intriguing (Frozen Pudding, Layer-Cake Sandwich, Wool Cakes With Calico Topping, and Coffee Nut Pie). Meat dishes range from classics like Meat Loaf and Southern Fried Chicken to the more exotic Fried Rabbit and Deviled Brains. One chapter offers menus for events ranging from church and club gatherings to special occasions like wedding receptions, buffet luncheons and morning and afternoon parties.
Feeding the multitudes
After receiving his grandmother's cookbook, Rule ran across a New York Times article about a special collection of books at Harvard University in Cambridge, Mass., that focuses on women's history and included cookbooks.
"I thought what better way to enlighten the public and memorialize my grandmother than to have her book included in that collection for the history of women in America," he says of the Arthur and Elizabeth Schlesinger Library on the History of Women in America at Radcliffe Institute for Advanced Study at Harvard.
Rule, a Yale graduate, made the donation earlier this year.
"I debated on whether to send a copy or the original and sent both up there this past January," he says.
Marylene Altieri, curator of books and printed materials for the library, says, "We have the largest library collection of women's history." The library, which is open to the public, currently has about 100,000 items. The library's culinary collection includes about 20,000 items -- historic cookbooks, vintage magazines, pamphlets and even a collection of menus. Donors to the library's collection include the late chef Julia Child, who lived in Cambridge and gave thousands of cookbooks and papers from her personal collection.
The cookbooks, especially community cookbooks that were created as fundraisers for various organizations, offer a glimpse into women's history.
"We have thousands of community cookbooks in the collection going back to the mid-19th century from the end of the Civil War to World War II," Altieri says. "Southern cookbooks are something we don't have as many of as we'd like to have. This is one we didn't have and I was thrilled to have it."
She adds she found it interesting that Stafford stressed the importance of fresh ingredients.
"That's something you didn't see back then when people had begun using canned and prepared ingredients. She knew the difference in the outcome if the ingredients weren't fresh. Today, we talk about raw food, vegetarian, and eating locally but there's nothing new with that; all of these things have been [done] before."
Altieri adds that the library was fortunate that Rule chose to donate another recipe book his grandmother owned -- Choice-Tested Recipes, a fundraising cookbook published in 1928 by the Mission Society of First Presbyterian Church in Griffin, Ga.
"She used it heavily. She wrote all over it, it's falling apart, and has food stains all over; it's a wonderful thing," Altieri says. "This is the type of book we love to have."
Having his Kate and eating it, too
During a recent visit to talk about his grandmother, Rule brought several items to share -- vintage photos of her, newspaper clippings and printed advertisements of some of her appearances. He also brought a square cake -- his grandmother's Dixie Ginger Cake (Page 39) baked by his wife, Anna Cox.
The sweet treat was as delightful as Stafford's story of success in the face of adversity.
The irony of discovering this book in light of his profession, is not lost on Rule.
He says, "After spending so many years dealing with expensive and rare books, this book is the rarest one I could ever hope to find because it's priceless to me."
Style on 03/08/2016
Print Headline: Recipe for remembrance: Surprise encounter with 1936 cookbook by rare book dealer's grandmother leads to reprinting
Sponsor Content