Gov. Asa Hutchinson on Tuesday proposed a $142.7 million increase in the state's general-revenue budget to $5.33 billion for the fiscal year that starts July 1.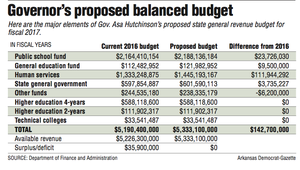 Photo by SOURCE: Department of Finance and Administration / Arkansas Democrat-Gazette
Information about the Governor's proposed balanced budget for 2017.
Most of the increase would go to the state Department of Human Services and to public schools. Most state agencies' budgets would get no increase under the Republican governor's proposal for fiscal 2017.
Department of Finance and Administration Director Larry Walther said Hutchinson's proposed budget would "fully fund the needs of the state" while factoring in about $100 million in individual income tax cuts for middle-class Arkansans that were enacted by the Legislature in 2015.
Hutchinson's proposed 2.7 percent increase in the state's current $5.19 billion general-revenue budget is below the average annual 3 percent increase in the past five years, the average increase of 3.1 percent during the past 10 years, and average increase of 3.7 percent during the past 20 years, Walther told the Legislature's Joint Budget Committee on the first day of budget hearings in Little Rock.
The Legislature's fiscal session starts April 13.
Senate President Pro Tempore Jonathan Dismang, R-Searcy, said Hutchinson's proposal "is a conservative budget."
"There is no doubt that the legislative body wants to put its stamp in some different areas in this budget, and we are gathering that information," he added.
Hutchinson told reporters that he proposed a conservative budget with "minimal growth in spending to meet the essential needs of our state."
"I think the big savings can come from Medicaid reform that I have advocated with the Legislature," he said, referring to his plan to turn to managed-care companies to reduce the cost of care for the disabled and mentally ill. He has estimated that that would save $1.5 billion in state and federal funds over a five-year period.
On Monday, members of a legislative task force split over his proposal.
Hutchinson said his budget factors in the state continuing with its version of Medicaid expansion in fiscal 2017. He said the state would have "over a $100 million annual shortfall" if the Legislature fails in the fiscal session to reauthorize funding for what has been called the private option. The governor wants to change the private option and rename it Arkansas Works.
Under the private option, the state uses federal Medicaid dollars to purchase private health insurance for low-income Arkansans. Hutchinson has called a special session, to start April 6, during which he wants the Legislature to change the private option to encourage recipients to work and take more personal responsibility.
During the Joint Budget Committee meeting, state Sen. Alan Clark, R-Lonsdale, said he was disappointed that Hutchinson didn't propose an alternative budget to cover the possibility that the Legislature doesn't reauthorize funding for the private option.
"If we are going to do what we did in 2013 and 2014 and try to force something through, that's what I am kind of hearing right now, I think that's a bad strategy on everybody's part," said Clark, an opponent of Medicaid expansion.
Hutchinson told reporters that he didn't propose an alternative budget because "it is easier to digest one budget, and because of the momentum that we have achieved for Arkansas Works. I wanted to present one budget that includes the premise that we have Arkansas Works as part of that budget and the savings that are associated with it."
"We have prepared alternative consequences if Arkansas Works is not adopted," he said. "It would mean that we would have to cut significant services in education and prisons and public safety, and diminish our services to our citizens. I would have to work with the Legislature to determine what the cuts would be.
"It could be a 6 percent across-the-board cut [exempting state funding for public schools]. In addition to reducing the turnback [funds] to counties and cities, it would mean we would not be able to provide the enhanced funding for foster care that is important for the children of our state."
Joint Budget Committee co-Chairman Rep. Lane Jean, R-Magnolia, told reporters that House leaders hope to develop an alternative budget plan before the April 6 special session.
He said House leaders are drafting a general-fund alternative that includes a cut of 3 percent to 6 percent "spread over all agencies and try to take care of those who can't take care of themselves -- children and [the elderly], physically and mentally -- and public safety," and exempt state funding that goes to provide an adequate education for public school students.
Hutchinson's proposed budget would increase general-revenue funding for the Department of Human Services by $111.9 million to $1.44 billion.
The proposal would increase the budget for the department's grants, including Medicaid, by $88 million to $1.06 billion; increase the budget for the Children and Family Services Division by $20.4 million to $91.5 million; and increase the Division of Behavioral Health's budget by $3.5 million to $82.3 million.
State Budget Administrator Duncan Baird said the increase for the Medicaid program covers the state's required increased match of about $50 million a year for federal funds in fiscal 2017.
The state's $40 million match required for the private-option program for the final six months of fiscal 2017 will be covered by increased insurance premiums, resulting largely from the private-option insurance policies, he said.
On Jan. 1, the state will begin paying 5 percent of the cost of the private option, and its share will gradually increase to 10 percent by 2020.
Baird said the funding increase for the Children and Family Services Division is needed partly because of a 15 percent increase in the number of children in foster care. Also nonstate funds for the program have either been capped or are declining.
Hutchinson proposed increasing the public school fund's general-revenue budget by $23.7 million to $2.18 billion in fiscal 2017 and increasing the state's share for school buildings by $9.5 million to $51.3 million.
The governor proposed increasing the state Department of Correction's general-revenue budget by $4 million to $340.7 million and keeping the Arkansas Community Correction agency's budget at $78.6 million while cutting funding for county jail reimbursement by $11.4 million to $16.4 million.
Baird said the latter is proposed because the number of state inmates held in county jails has declined.
The proposed budget doesn't include a cost-of-living raise for state employees, he noted.
Hutchinson proposed not increasing the budget of $733.5 million for the state's two- and four-year colleges.
Arkansas State University System President Chuck Welch said he was pleased that Hutchinson "continues to strongly advocate for level funding for higher education.
"While I would certainly welcome new revenue, as higher education has experienced a 0% increase over the past five years, I am also realistic about the many financial challenges our Governor and legislators face," Welch said in a written statement.
Dismang told lawmakers that the state has a "very small" rainy-day fund that would not be sufficient in the event of an economic downturn. The state should budget for "a true rainy-day fund," he said.
The state's rainy-day funds totaled $39.7 million as of March 1, said finance department spokesman Jake Bleed.
As of March 1, the state had a surplus of $50.2 million in unobligated General Improvement Funds from fiscal 2015, Bleed said. Also, the state is projecting a $35.9 million surplus in fiscal 2016.
Metro on 03/09/2016