HOT SPRINGS -- Riverview is the state's only undefeated team in girls high school basketball this season.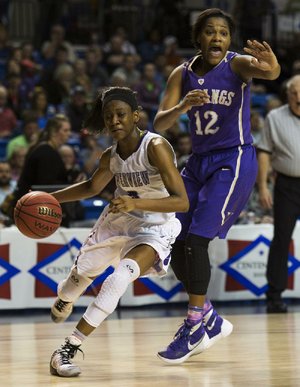 Photo by Melissa Gerrits
Riverview's Erykah Johns drives past Central Arkansas Christian defender Lauren Peoples during the Class 4A girls state championship game Friday at Bank of the Ozarks Arena in Hot Springs.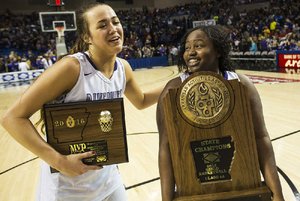 Photo by Melissa Gerrits
Riverview's Madison Riley, left, the team's MVP and Chacoila Brown, hold the teams trophies after winning their 4A championship game against CAC at the Hot Springs Convention center March 11, 2016.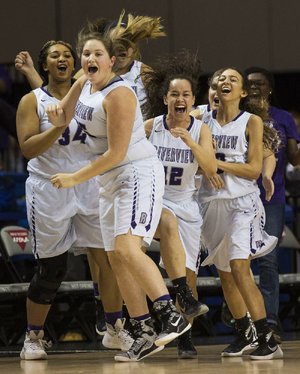 Photo by Melissa Gerrits
Riverview's JaKaylan Banks (34) and Mollie Morgan celebrate with teammates after the Lady Raiders defeated Central Arkansas Christian 64-58, capping an undefeated season with the Class 4A state title.
The Lady Raiders capped a 38-0 season with a 64-58 victory over Central Arkansas Christian on Friday afternoon in front of 3,945 at Bank of the Ozarks Arena.
MVP
MADISON RILEY
RIVERVIEW
The Riverview senior guard scored 19 points, with 14 coming in the first half. She shot 6 of 12 from the floor, including 5 of 7 from threepoint range. "I was really confident in my shot," Riley said. "I was really confident in my team." Riley also had 5 rebounds, 1 assist and 1 steal for the Lady Pirates, who finished 38-0 this season.
AND ONES
This is Riverview's second consecutive Class 4A state championship. The Lady Pirates beat Ozark in the 2015 4A final. … Riverview went 5-0 against Central Arkansas Christian this season, including two regular-season victories and victories in the 4A-2 District and 4A-East Regional tournaments. … CAC was making its fifth state championship game appearance. The Lady Mustangs won state titles in 2005, 2006 and 2007.
— Jeremy Muck
Riverview Coach Ryan Smith, who has led the Lady Raiders to 49 consecutive victories since a Jan. 30, 2015, loss to CAC, was overcome by what his team accomplished Friday.
"Perfection, it doesn't hardly ever happen," Smith said. "These girls, that was their 49th game in a row they've won. Players make plays. They keep making plays every single game. We need a bucket, somebody steps up.
"That's what makes this group so special. They're so balanced. Everybody can score. They're all great ball handlers. Most importantly, they love each other."
Senior guards Kayla Young and Madison Riley combined for 45 points. Young had 26 points on 9-of-17 shooting to lead the Lady Raiders. Riley finished with 19 points, including five three-pointers. Erykah Johns, also a senior guard, added 12 points.
Riverview went 5-0 this season against their 4A-2 Conference rivals this season. Young wasn't concerned about facing CAC a fifth time in the Lady Raiders' biggest game of the year.
"Fifth time's a charm, right?" Young said. "I felt like we had it when we first walked in here."
With Connecticut women's associate head coach Chris Dailey in attendance, sophomore guard Christyn Williams -- the nation's No. 3 recruit in the Class of 2018, according to ESPN.com -- had a game-high 35 points and grabbed eight rebounds in the loss for CAC (24-14). Williams shot 11 of 26 from the floor and 10 of 14 from the free-throw line.
CAC cut the lead to 47-43 with 6:44 to play on sophomore forward Jenna Davis' layup. Riverview answered, with Young scoring nine of the Lady Raiders' next 11 points to stretch the lead to 58-49 with 3:10 left.
The Lady Mustangs weren't done, as Williams hit two three-pointers, her second one pulling CAC within 58-57 with 45 seconds left. Riverview, though, closed out the game at the free-throw line, making 6 of 8 to seal the victory.
Williams did as much as she could to help the Lady Mustangs win their first state title since 2007, but it wasn't enough to knock off a Riverview team that has been a thorn in CAC's side.
"We worked really hard. We prepared for this game this whole season," Williams said. "It's tough. I worked really hard to get those 35 points. It wasn't enough."
The Lady Raiders jumped to a 13-3 lead midway through the first quarter thanks to 3 three-pointers. CAC cut the lead to 13-11, but Riverview made it 18-13 before the end of the first quarter on Young's layup.
Riverview extended its lead to 27-15 on Riley's three-pointer with 5:57 left in the first half. It was the Lady Raiders' largest lead of the game as they went into halftime with a 32-23 advantage.
The Lady Raiders led 43-34 with 1:34 left in the third quarter, but CAC cut the lead to 45-39 by the end of the quarter with a three-point play by junior forward Lauren Peoples (12 points) and a layup by Williams.
CAC Coach Steve Quattlebaum had coached against Riverview four times this season before Friday's state championship game. What he saw in the first four games was the case again at Bank of the Ozarks Arena.
"There's no one out there that you don't have to guard," Quattlebaum said. "It makes them really tough to defend. They're a good team. They're well-coached.
"We enjoy playing against them, but we would've liked to have won it at the end. We were close."
Sports on 03/12/2016