STAR CITY -- TheL̶e̶e̶/̶D̶r̶a̶k̶e̶ ̶C̶e̶m̶e̶t̶e̶r̶y̶ Leek/Drake Cemetery*, a mile or so out of town, is divided into three sections within its chain-link fence -- left, right and center.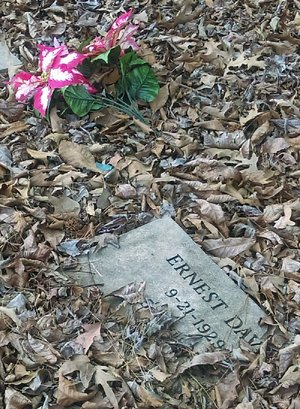 Photo by Jeannie Roberts
Leaves cover an inmate's grave at Leek/Drake Cemetery outside Star City, where bodies of prisoners not claimed by family or others are often buried.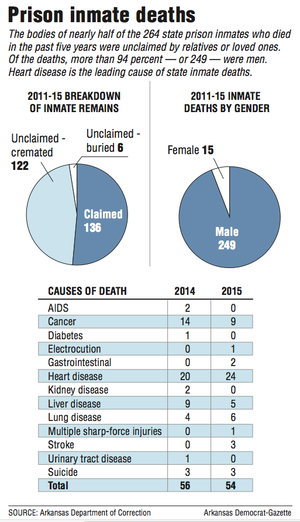 Photo by SOURCE: Arkansas Department of Correction / Arkansas Democrat-Gazette
Charts and information about prison inmate deaths.
A dirt road with smatterings of gravel winds around the final resting places of many of this small Delta town's finest citizens.
A single granite headstone with "Bailey" and scrolls of flowers etched in the stone stands sentry over two plots: one for Dr. Buford L. Bailey (born Jan. 14, 1872, and died Aug. 5, 1952) and the other for his wife, Nettie S. Bailey (born Feb. 16, 1872, and died March 19, 1947).
Grave markers are intricate and elaborate throughout. Many headstones are paired with granite benches surrounded by makeshift gardens, with flowers hanging from shepherd's hooks on either side.
Endearing epitaphs abound.
"Beloved Mother."
"Papa."
"Heaven's Angel."
For some, single headstones encompass the graves of numerous members of the same families -- with individual markers nearby for mothers, fathers, sons and daughters.
Bouquets of flowers and angelic stone statues are bountiful. Strong oaks shade visiting mourners.
A quarter-mile down the cemetery's dirt road, the lushness fades. Past tall piles of fresh red dirt and clusters of plastic trash barrels spilling over with faded grave flowers, is the cemetery's left section.
Down the slope stretches a sea of graves marked simply with flat, 6-inch-by-12-inch concrete slabs.
Chiseled on the face of each man-made stone are four simple lines bearing the same information for all of the nearly 130 graves: first and last name; birth and death date in digits only; and the deceased's Department of Correction inmate number.
The plots are unkempt. Some of the prison-made headstones are no longer decipherable. Leaves from the forest lining the cemetery's back fences swallow the plots under them. Flowers blown from the trash barrels rest haphazardly on a few of the graves.
These generic plots are the burial sites of state prisoners whose bodies were never claimed. The cremated ashes of hundreds more have been scattered over the graves of their fellow inmates. Inmates who are cremated receive no cemetery markers.
Cost of death
The remains of nearly half of the 264 state prison inmates who died between 2011 and 2015 were not claimed by families or loved ones. With no one to take them, the bodies of murderers, drug sellers, sex offenders became state property, their final arrangements paid for by taxpayers.
The prisoners' unclaimed bodies are cremated unless the inmates had advance directives or religious beliefs that require their funerals.
Last year, Griffin Funeral Home in Star City -- which has provided the final arrangements for a number of years -- cremated 24 unclaimed inmate bodies at $660 each and buried two others at $2,695 each.
According to the National Funeral Directors Association, the average cost of a funeral and burial runs about $7,000, while the average cremation service costs in the $6,000 range.
An unclaimed inmate's funeral is much more process than ceremony.
"Pick up remains at State Crime Lab and transport to Crematory."
"Remove pace maker if necessary."
"Dressing and Casketing of body."
"Scattering area for Cremains."
"Cemetery grave plot."
"Everybody deserves a decent burial," said Jimmy Hawkins, the manager of Griffin Funeral Home and the coroner for Lincoln County. "It's not for us to judge. We always try to provide a nice service. It's very well handled. They have the tent, chairs and grass just like for anyone else. The chaplains always do a good job. They say a little about the inmate. Even if nobody else shows up."
It's the personal, down-home service that Griffin Funeral Home provides that George Wilson, prison medical services administrator, said ensures that the funeral home keeps the state contract year after year.
"We've been contracting with them as far back as I can remember," Wilson said. "They're local. They've been doing business with the agency for so many years, and we haven't had any problems."
Also, Wilson said, the funeral home staff responded graciously about a year ago when Rory Griffin, the prison's deputy director of health and correctional programs, started a new service to help families who could not afford the cost of claiming the bodies of their loved ones. It ships the cremated remains to the families free of charge.
"We still have a real reasonable contract, and it provided a service to the family," Wilson said. "It made it easier for everybody. If the family were not there and the body was not claimed, we would cremate the body. The funeral home would hold the cremains for 90 days, and then they would scatter them in one of their plots."
Rory Griffin -- who negotiated the contract for the new service -- is no relation to the owners or operators of the Griffin Funeral Home in Star City, according to Department of Correction spokesman Solomon Graves.
The cost of a funeral has not increased since a 2011 contract, but the funeral home's cost for cremating an inmate increased by $100 to $660, according to a Feb. 1, 2015, contract obtained by the Arkansas Democrat-Gazette.
Hawkins said that before the new service, family members of inmates whose bodies were not claimed at the prison could either pick up the cremains at the funeral home free of charge, or pay the postage and handling to mail the ashes.
Graves said the prison does not keep records on which families ultimately claim the ashes of "unclaimed" inmates. Hawkins said the funeral home does not keep such records either.
"It was important to the prison that the families not be charged at all," Hawkins said.
Hawkins said the funeral home keeps the prison's costs to a minimum to "try to help the state out" and because the prison employs a large number of the county's residents. And it's a service to a fellow human being, he said.
"It's a sad thing when a person has gotten to a low point in their lives, and they have nobody showing up at their funeral," Hawkins said. "I feel badly for that person or for that family. Either the family can't afford to show up, or they've lost touch."
The search
The 2,210 population of Lake City comprises generations of families who have made the small, northeast Arkansas town their home. It's the kind of small town where everyone knows everyone -- and can rattle off their occupations, marital statuses and family lineages.
But nobody around his hometown knows much about Kevin Defries.
"Did he have a brother? I think I saw them at the car wash one time."
"Is he the one that has that transmission repair shop up at Marmaduke?"
"I think he was Mildred's boy. Didn't she die though?"
Kevin Defries, 54, committed suicide on New Year's Eve in his cell at the Maximum Security Unit in Tucker prison. He was serving a 20-year sentence for a robbery conviction in Greene County.
In cases like his, "that's where we wake the chaplains up in the middle of the night," said Josh Mayfield, the prison's chaplaincy services administrator. The push begins to find the deceased inmate's loved ones.
"We pull the file. We can go to any length we can think of to find somebody. We call sheriff's departments in other states to locate next of kin. It can take a few minutes or we can never find somebody, but we always try. We always exhaust every possibility."
Defries' body, unclaimed by his family, was cremated.
Griffin said it's common for some inmates to not have any family or connection to the outside listed at all.
The chaplains "will go out and knock on doors. We've looked through inmate's property to see if there's any correspondence or anything like that," Griffin said. "We ask the inmates who were friends with him, do they know anything."
The deaths and the searches for deceased prisoners' families can be sobering for other inmates and their own chances of dying behind bars with no outside connections, Mayfield said.
"It's a reminder that that time is precious," he said. "Regardless of how healthy or fractured their relationship is with their family, today is a valuable day in terms of improving it, in caring for it."
Dying in prison
With an aging prison population, the number of inmate deaths is likely to rise. Since 1995, the number of prisoners over the age of 55 has quadrupled, according to statistics from the National Institute of Corrections.
Of the 54 Arkansas inmates who died in 2015, about 70 percent, or 38, were over the age of 50. Half of those deaths, or 27, were from heart disease or stroke.
The longer a prisoner has been behind bars, the tougher his death is on other inmates and the prison staff, Mayfield said.
"When someone who has done a lot of time, like decades of time, passes away, the other inmates who are longtime inmates, I mean that's a group that has gotten to know each other," Mayfield said. "And they're affected. They grieve."
Sometimes a brief memorial service is held during one of the general population worship services at the deceased inmate's home unit.
"The ones who are more mature, particularly in those cases where they're grieving a fellow inmate who they've known a long time, they band together. They support each other," Mayfield said. "They sit down with a cup of coffee, and they share memories of that inmate. Sometimes it's very encouraging to see [the] staff support that; to have [the] staff recognize that as healthy, that it promotes peace, and it promotes general health."
Wilson, the prison medical and dental administrator, said it's also a blow to members of the medical staff when a prisoner dies.
"They're service-oriented. They became nurses and doctors because of that in the first place," Wilson said. "No matter how much they complain. They really enjoy practicing medicine or providing nursing service. They feel the loss of that inmate who died. There's something more that they feel they should have done to save someone's life."
Mayfield recalled a particular inmate who had been around for decades and was well-liked.
"He died a few years ago when I was at Tucker unit. The sense of loss was not different from inmates to staff. It was a unit loss. It was a facility loss. And so I felt it, too," Mayfield said. "This was a guy I saw on a daily basis. Spoke with, joked with, laughed with, so I had a sense of loss as well. That's true of our chaplains in many, many cases."
Mayfield said the emotions surrounding a death are magnified if the inmate's body is unclaimed.
"Sometimes the tragedy of there not being anybody left in that person's life outside that prison fence is a really, really tragic thing. It's just depressing," Mayfield said.
"That sounds trite to call it depressing, but it is."
Metro on 03/13/2016
*CORRECTION: The Leek/Drake Cemetery, located a mile or so outside of Star City, contains about 130 graves of inmates whose remains were not claimed by families or loved ones. This story misspelled the cemetery's name.