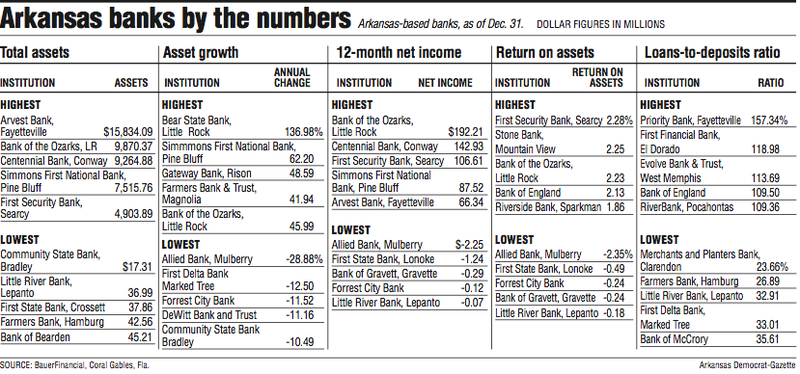 Graph showing Arkansas banks by the numbers. (Arkansas Democrat-Gazette / SOURCE: BauerFinancial, Coral Gables, Fla. )
The number of banks in Arkansas has fallen by 35 percent over the past decade and with the problems facing small banks in the state, the number could drop another 30 percent in the next 10 years, said Phil Baldwin, chief executive officer of Citizens Bank in Batesville.
There were 161 banks based in Arkansas at the end of 2005 and 104 at the end of 2015, a decline of 35 percent.
If Baldwin's prediction is correct, there would be only about 70 banks in the state in 2025.
"I think at some point in time the number of banks won't shrink anymore," said Baldwin, whose bank has about $725 million in assets.
The lack of succession planning is one of the causes of bank mergers, said Garland Binns, a Little Rock banking attorney with the Dover Dixon Horne firm.
"There are so many older families that own financial institutions," Binns said. "The younger members of the family move away and gravitate to larger metropolitan areas, where there is more opportunity for employment."
It's difficult to have succession planning when there are no younger members of the family moving into management, Binns said.
Other reasons for declines in banks include "financial and regulatory problems, overhead costs associated with compliance with federal banking laws, computer costs related to the threat of cybersecurity breaches, the lack of management succession and [the lack of] acquirers offering to pay a good price," Binns said.
Small banks are the most likely to have difficulties with these problems, Binns said.
In Arkansas, there are 11 banks with more than $1 billion in assets, 35 between $970 million and $205 million and 58 with less than $200 million in assets.
"For those with $200 million or less [in assets], a lot of those are in small communities and are still family owned," Baldwin said.
At some point in the future, some banks may have to close, Baldwin said.
"I think for really, really small banks in very small markets, there could be a time when there is no value there anymore," Baldwin said. "The bigger banks in Arkansas right now are probably not interested in buying small banks. They're so big it doesn't matter. They are out buying big banks."
Competition is making it harder for small banks to keep up, Baldwin said.
"Now the biggest competitors for banks are probably Wal-Mart and Rocket Mortgage," Baldwin said.
Rocket Mortgage, a subsidiary of Quicken Loans, is one of the largest mortgage lenders in Arkansas, Baldwin said.
"[Rocket Mortgage does] everything online and they have no branches," Baldwin said. "And small banks are competing against that."
One small bank is succeeding despite having a difficult start.
Ozark Heritage Bank of Mountain View began in 2009 when a group of investors bought tiny First National Bank of Altheimer, which had only $12 million in assets, and moved its headquarters to Mountain View.
When it opened, Ozark Heritage was the seventh bank in a town of about 3,000. By the next year, the bank received a cease-and-desist order from federal regulators. One problem was that the bank had grown too fast, going from $12 million to more than $60 million in assets in less than two years.
It was not until last April that the sanction was lifted.
The bank's name was changed to Stone Bank last year. It has about $100 million in assets.
Marnie Oldner, who has years of banking experience in Arkansas, has been chief executive officer of the bank since 2011.
Stone Bank has been focusing on farm lending, one of its best avenues for loans. The bank gets federal Farm Service Agency guarantees on those loans, Oldner said.
It also has increased its lending to poultry farmers who work with Ozark Mountain Poultry and Peco Foods, and to cattle ranchers, Oldner said.
Stone Bank is now second in deposit market share in Stone County and first in mortgage filings, Oldner said.
"So I guess if you keep trying hard it will pay off," she said.
She is one of the smartest, most innovative bankers in Arkansas, Baldwin said of Oldner.
"And Stone Bank is one of the one or two most profitable banks in the state," Baldwin said.
Stone Bank had the second best return on assets in the state last year, 2.25 percent, trailing only First Security Bank of Searcy, which had a 2.28 percent return on assets. Return on assets is net income as a percent of assets.
Oldner has been able to hire several top executives, including Bruce Upton, who had owned a bank technology company, and Steve Ragland, a former executive at Acxiom, who is chief financial officer.
The bank is building a branch in White Hall and has bought land in Harrison for another branch that should open next year, Oldner said.
It also has a lending office in Little Rock, she said.
Small banks need to work together in the future to be successful, said Sean Williams, chief executive officer of First National Bank of Wynne, which had $290 million in assets on Dec. 31.
"They need to form partnerships with other banks," said Williams, who will begin serving as chairman of the board of the Arkansas Bankers Association this year. "In a lot of cases, because of the size of the banks in rural areas, there are less [commercial] borrowers than there were."
Some of the small banks don't have the capability to finance larger operations, particularly larger agricultural operations, Williams said. Banks need to partner in loans and also help each other with compliance issues, he said.
"We've got to figure out how to help one another," Williams said. "It's going to be a challenging environment."
SundayMonday Business on 03/20/2016
Print Headline: 57 Arkansas banks closed in past decade
Sponsor Content