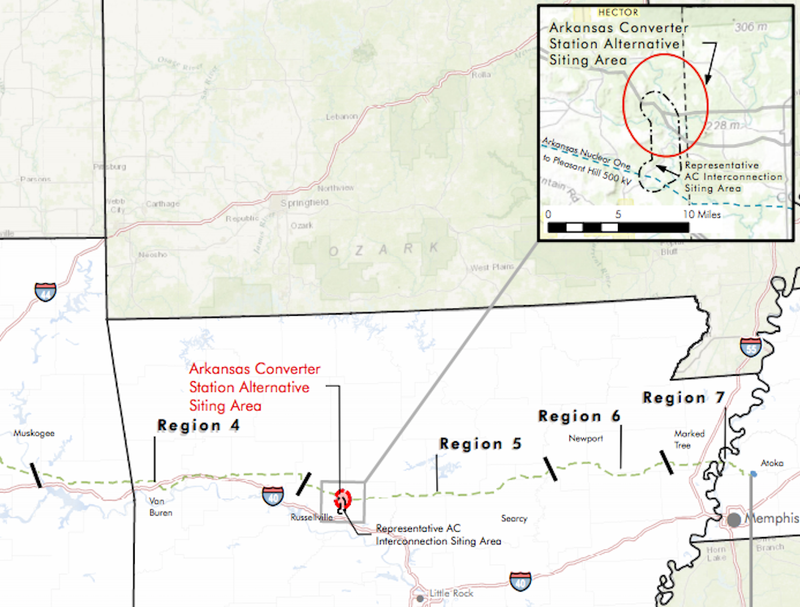 A preferred route for the Clean Line Energy Partners project to transmit wind energy enters Arkansas through Crawford County, makes its way through north-central portions of the state and exits at Mississippi County.
Members of Arkansas' delegation Friday issued a joint statement condemning the approval of a clean-energy project that is expected to cut a path across the state's Ozark Mountain, River Valley and Delta regions.
The U.S. Department of Energy earlier in the day said that its agency would be participating in Houston-based Clean Line Energy Partners' Plains & Eastern Clean Line project, which is expected to "tap abundant, low-cost wind generation resources."
Friday's announcement also marked the completion of a department review into the electrical line plan.
Energy officials say the project will utilize about 720 miles of power lines to transmit 4,000 megawatts of low-cost wind power from Oklahoma wind farms to southeastern portions of the U.S.
U.S. Sens. John Boozman and Tom Cotton, as well as U.S. Reps. Rick Crawford, French Hill, Steve Womack and Bruce Westerman, all Republicans, said the project "marks a new page in an era of unprecedented executive overreach."
The delegation added that the Clean Line Energy project usurps the will of Arkansas residents.
"Despite years of pushback on the local level and continuous communications between our delegation and Secretary [Ernest] Moniz, DOE has decided to forgo the will of the Natural State and take over the historic ability of state-level transmission control through this announcement," the statement reads in part.
According to a Clean Line Energy map, Arkansas counties along the project's preferred route are: Crawford, Franklin, Johnson, Pope, Conway, Van Buren, Cleburne, White, Jackson, Cross, Poinsett and Mississippi.
A converter station has been proposed by Clean Line Energy in either Pope County or Conway County. It would add flexibility in the delivery of wind energy, according to a project application.
In December, Arkansas' delegation met with Moniz and issued a joint statement shortly after expressing "serious concerns" that the project would erode local rights, the Arkansas Democrat-Gazette previously reported.
"It is our firm belief that the DOE has overstepped its bounds, and reversing this decision through the passage of the [Assuring Private Property Rights Over Vast Access to Land Act] remains a top priority," the state's delegation said Friday.
Read Saturday's Arkansas Democrat-Gazette for full details.
Sponsor Content