Little Rock Fire Capt. Steve Kotch rescues an unidentified woman whose car was caught in flooding Wednesday afternoon in Boyle Park. Though attached to a safety line, Kotch and the woman were knocked off their feet at least twice. Storms dumped heavy rain on parts of the state, prompting several rescues, damaging a major North Little Rock roadway and sending water pouring into a section of the Arkansas Arts Center in Little Rock. ( Stephen B. Thornton)
Storms Wednesday dumped more than 4 inches of rain on central Arkansas, causing widespread localized flooding that led to several water rescues and damage to a major North Little Rock street.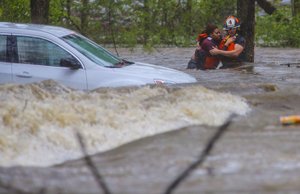 Photo by Stephen B. Thornton
Little Rock Fire Capt. Steve Kotch (right) grips an unidentified woman as he rescues her from her flooded car in Little Rock's Boyle Park during Wednesday afternoon's heavy rainfall. Kotch and the woman were on a cable safety line but it appeared as though the woman, in panic, pulled the two off their feet at least twice during the rescue.
Turbulence from the storm system forced an American Airlines airplane to make an emergency landing in Little Rock.
American Eagle Flight 3358 was headed to Memphis from Dallas/Fort Worth when it encountered the stormy weather and diverted to Little Rock at 12:02 p.m., said Shane Carter, a spokesman for Bill and Hillary Clinton National Airport/Adams Field.
The plane landed safely, Carter said.
Two flight attendants received minor injuries and were taken to a Little Rock hospital, Carter said. None of the 60 passengers on the flight were injured, he said. Flight 3358 passengers were flown to Memphis on a replacement flight later in the day, Carter said.
The storms caused some delays of flights at the airport, Carter said.
Storms pushed into the state late Wednesday morning as a warm, upper level system met Gulf moisture, said National Weather Service meteorologist Dennis Cavanaugh of North Little Rock.
The National Weather Service in North Little Rock said at 9:30 p.m. Wednesday that 4.7 inches of rainfall had been recorded in North Little Rock and 3.3 inches in Little Rock.
The weather service issued at least two tornado warnings Wednesday evening for southwest Arkansas and in Cleveland and Jefferson counties after radar indicated rotation in the storms.
The weather service also issued flash-flood warnings Wednesday for much of central and northeastern Arkansas. The southern half of the state was placed under a tornado watch, meaning conditions were capable of producing twisters.
Localized flooding prompted the University of Arkansas at Little Rock to cancel its evening classes Wednesday. Rising water also led to closures at Kanis Park and Boyle Park, where Little Rock firefighters rescued a woman from her car Wednesday afternoon after she drove into high water.
Little Rock Fire Department Capt. Jason Weaver said the storm kept emergency personnel busy Wednesday. The department also rescued three people who abandoned a vehicle in floodwater at 1024 S. Mississippi St., just north of South Rodney Parham Road. No injuries were reported.
"It was just a little scary for them," Weaver said. "It pushed them off a low-water bridge and started sweeping the car away, and they got out of the car and latched onto a tree and the car continued downstream."
Emergency personnel responded to several other calls of vehicles stalled in floodwater.
Homes on West 26th Street and Gristmill Road reportedly caught fire after separate lightning strikes, but firefighters found only light smoke when they arrived.
Weaver said an apartment complex off Kavanaugh Boulevard and a residence on Hill Road reported lightning damage, as well. Firefighters responded to those addresses in between numerous fire alarms at businesses that were likely triggered by lightning strikes, he said.
"There was so much going on all at once when the storm came through," Weaver said.
In North Little Rock, rainwater caused a culvert to cave in on John F. Kennedy Boulevard between Cedar Creek Road and Pontiac Drive, city communications director Nathan Hamilton said Wednesday night. The collapse closed three of the street's four lanes and caused the roadway to sag, he said.
Hamilton said police put up barricades and the city is waiting for a crew from the Arkansas Highway and Transportation Department to assess the damage. The section of JFK, which is also Arkansas 107, will be closed this morning.
Entergy of Arkansas reported about 8,300 customers without electrical service early Wednesday afternoon. Most of them were in Independence and Pulaski counties.
"We've got power knocked out all over," Batesville Mayor Rick Elumbaugh said. "I've never seen as many bolts of lightning now."
A second round of storms disrupted power to nearly 1,700 customers in Hot Spring County on Wednesday evening, Entergy reported.
Reported failures had fallen to 2,319 in 30 counties by 10 p.m. Wednesday, according to Entergy.
The weather service's Cavanaugh said isolated storms popped up across much of Arkansas, and he expected them to intensify Wednesday evening, especially along the state's southern border.
State Desk on 03/31/2016
Print Headline: Hard rains slam state, LR area, flood, rip streets
Sponsor Content