QUAPAW, Okla. -- The latest trend in cuisine at Downstream Casino Resort might be considered a regional farm-to-poker-table system.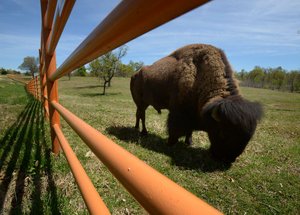 Photo by Ben Goff
A bison grazes in a pasture near the main entrance of Downstream Casino Resort near the Arkansas border in Quapaw, Okla.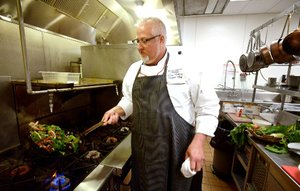 Photo by Ben Goff
Greg Bolton, Downstream Casino Resort banquet chef, prepares a salad with ingredients grown on-site at the Red Oak Steakhouse kitchen.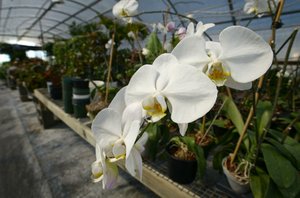 Photo by Ben Goff
Downstream Casino Resort in Quapaw, Okla., has several greenhouses where flowers are grown for decorating the casino, spa and restaurants.
Cuts of beef and buffalo, sourced from the tribal cattle company, are featured at the Red Oak Steakhouse. Exotic flowers and tropical plants raised on the casino grounds create a splash of color in the hotel lobby. Bees that buzz a short distance away from the casino complex provide honey featured in poultices at the resort's Nee Spa.
It's all part of a plan to create jobs, establish sustainable products, and keep down costs, all while luring customers from nearby states, including Arkansas.
"We have a market here," said Quapaw Tribe Chairman John Berrey as he stood by five greenhouses, all within an easy stroll of the casino-hotel. "If we can, we do it ourselves."
The greenhouse operation at Downstream Casino Resort began in 2013, next came Black Angus cattle and buffalo from the newly formed Quapaw Cattle Co. in 2014, then the bees moved in last year.
Berrey said that's all just a start.
The tribe plans to add a coffee roaster, establishing its own coffee company in the near future, and it's looking at adding its own beer brewing and distilling operation, along with agricultural additions, possibly laying hens and hogs.
According to the "What's Hot 2016 Culinary Forecast" by the National Restaurant Association, locally sourced meats and seafood were the No. 1 food trend, with locally grown produce at No. 3, hyper-local sourcing at No. 4, natural ingredients/minimally processed food at No. 5 and environmental sustainability at No. 6.
Kelly Way, associate professor of hospitality innovation at the Dale Bumpers College of Agricultural, Food and Life Sciences at the University of Arkansas at Fayetteville, said the moves made by the Quapaw tribe at Downstream Casino represent good, basic agricultural practices that seem to have been put aside in modern times.
"People forget what good food tastes like," Way said. "A good steak can be a real surprise to today's consumer."
She said the strategy is a conscious shift toward quality fare and away from the cheap, fast and generally unappetizing food found in many casino operations.
"It's not just about the gambling floor anymore," Way said.
Five Oklahoma tribes operate casino hotels along Arkansas' western border all set up with a variety of amenities, offering more to visitors than flashing slot machines. Experts say while gambling is still the key revenue source, modern casinos have to offer a gamut of experiences, from dining to lodging to entertainment if they want to stay competitive.
Arkansas has no tribal-owned gambling, but betting is allowed on greyhound races at Southland Park in West Memphis and thoroughbred races at Oaklawn Park in Hot Springs. State law allows gambling on electronic devices at the racetracks that are similar to devices offered at out-of-state casinos.
The Downstream operation, less than an hour's drive from Northwest Arkansas, sits right at the corner of Oklahoma, Missouri and Kansas. It is the largest casino complex close to the Arkansas border, with 374 hotel rooms and suites in two tower buildings, more than 2,000 slot machines, 36 table games, a poker room, a variety of dining options, a full-service spa, and several entertainment venues.
The tribe employs about 1,100 at the casino-hotel with 300 of those employed in the food services. The hotel books more than 121,000 guests annually, the resort's restaurants serve a little more than 900,000 meals each year and the complex sees about 2.1 million visitors annually. About 8 percent of Downstream Casino Resort's business comes from Arkansas.
Oklahoma's American Indian-owned casinos saw revenue growth in 2014 twice as great as the tribal industry average and saw nongambling revenue increase at an even stronger pace, according to Casino City's Indian Gaming Industry Report, released in March.
Nationwide, Indian gambling in 2014 produced $28.9 billion in revenue, a new record and an increase of nearly 2 percent for the year. Revenue at Indian casinos also outpaced the commercial casino sector in 2014, which saw a 2 percent drop for the year.
In 2014, Oklahoma ranked second nationally among American Indian-owned casinos for total revenue of $3.95 billion, a nearly 5 percent gain from the year earlier. Oklahoma trails California, which booked $7.3 billion in revenue.
Nongambling revenue for Indian-owned operations across the U.S. stood at $3.8 billion for 2014, up 5 percent to an all-time high and more than double the percentage gain of gambling revenue. Nongambling revenue for Oklahoma was $637.2 million for 2014, up nearly 10 percent from the year earlier. Oklahoma ranked third in the percentage gain of non-gambling revenue, behind Wisconsin and South Dakota, which both had significantly less revenue in the category.
The Downstream Casino greenhouses produce vegetables and herbs used by the casino restaurants including several varieties of heirloom tomatoes, along with carrots, cucumbers, bell peppers, watermelon, radishes, gold and blood beets, greens, micro greens, Swiss chard and 14 different herbs.
The greenhouses also are used to grow tropical plants and some of the flowers are used inside and outside the casino, in the spa, and for decorating during outdoor concerts. Nine outdoor raised beds produce cabbage, broccoli, cauliflower, potatoes, onions, green beans and seven types of lettuce. They are also used to grow edible flowers used in the restaurants as garnishes.
"We do a lot and we love doing it," said Gilbert Johnson, the greenhouse manager.
There are a handful of beehives on the casino grounds. The tribe hopes to have more than 100 hives set up by the summer.
The honey and herbs, along with some of the vegetables that Johnson and his staff grow, end up at the Nee Spa where Manager Markeeta McGehee uses them in scrubs and poultices when customers come in to be pampered.
"People enjoy the fact that the ingredients are local and grown right here, " McGehee said. "You can just see them melt."
The majority of the produce ends up in the domain of Lucas Setterfield, executive chef and food and beverage director at Downstream Casino Resort.
The casino's Red Oak Steakhouse, which prominently features beef and buffalo from the Quapaw Cattle Co., gets first crack at the fresh produce, with the remaining items going to other restaurants in the operation.
He notes that not all the produce used in the casino restaurants is grown by the tribe but much of it is, something unusual in a food operation the size of Downstream Casino Resort.
He said customers are pleased when the wait staff points out how many items on the menu are sourced from the tribe itself. Setterfield said meat and vegetables provided through the tribe allow his staff to offer meals with a unique, high-end version of Midwest cuisine that can't be duplicated, even by the much larger casino operations in Las Vegas.
"We feel it's better than they can do," Setterfield said of his competitors, his arm waving in the direction of the greenhouses and the tribe's buffalo herd. "Because the secret is right out there."
SundayMonday Business on 05/01/2016