Hundreds of Arkansas Republicans in four cities gathered Saturday morning to elect 12 delegates for their party's presidential nominating convention in Cleveland.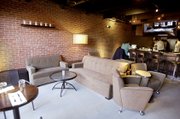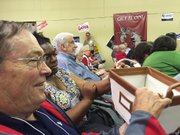 Six are pledged to Donald Trump, the New York businessman who narrowly won the state's March 1 primary. Five back U.S. Sen. Ted Cruz of Texas. The other is bound to vote for U.S. Sen. Marco Rubio of Florida, who suspended his campaign after losing his home state primary March 15.
Those who were selected are longtime Republicans who have served the party for years.
In most cases, the winning delegate candidates had been vetted and recommended by the candidates they sought to represent.
"It's a big turnout. We're seeing that everywhere," said state Republican Party Chairman Doyle Webb.
Unlike in some states, the meetings were free of rancor, officials said.
"I've heard nothing negative from any of the locations, everything went very positively," Webb said, after attending one of the sessions in Hot Springs.
Officials in Northwest Arkansas said things went smoothly there, too.
"This could have been a very contentious meeting, and I'm proud of the civil, courteous and very professional way our members have acted," Keith Gibson of Fort Smith, party chairman in the 3rd Congressional District, said after the meeting.
"It's a dogfight going on out there" in the wider national campaign, Gibson said. "Here, we all know what the goal is. We're going to support our candidate whoever is chosen in Cleveland."
Under state party rules, Trump was entitled to two delegates each in the 1st, 3rd and 4th districts after capturing first place in each of them. Second-place finishes for Cruz earned him one delegate in each of those districts. He received two more delegates by winning central Arkansas' 2nd Congressional District; Rubio's second-place finish there allowed him to capture one delegate.
In Jonesboro, 123 1st District activists selected Dorothy Crockett, the party's chairman in Mississippi County, and Sarah Dunklin, the Desha County chairman, to represent Trump. State Sen. Linda Collins-Smith of Pocahontas will represent Cruz.
At the 2nd District convention in Little Rock, 112 district activists picked state Sen. Jason Rapert of Bigelow and longtime Republican volunteer Charlann Reely of White County as the Cruz delegates. U.S. Rep. French Hill of Little Rock will represent Rubio in Cleveland.
Things were calm and orderly.
"I did not detect any controversy whatsoever," Rapert said.
In Rogers, 3rd District Republicans chose Gibson and Washington County GOP chairman Lance Johnson of Springdale as the two Trump delegates. John Carr, a Cruz supporter and chairman of the Benton County Republicans, was elected as Cruz's delegate.
According to a flier distributed at the meeting by the Cruz campaign, the Trump delegate candidates preferred by that campaign were Rob Deal of Rogers and Kelly Procter Pierce of Fort Smith. Those were elected as alternate Trump delegates, who will attend in the event that the chairmen elected as Trump delegates cannot go to the convention.
A total of 135 district-level delegates cast votes during the event at Centro Cristiano Church in Rogers.
In Hot Springs, 4th District Republicans selected congressional staff member J.D. McGehee and Clark County Republican chairman Eddie Arnold as Trump delegates. Drew County Republican chairman Diana Harton was picked to represent Cruz. Ninety people voted.
Overall, 12 delegates and 12 alternates were picked Saturday.
An additional 25 delegates and 25 alternates will be selected at the Republican state committee meeting May 14 in Hot Springs.
The Republican National Convention takes place July 18-21.
Webb, the state party chairman, predicted the convention will be a momentous gathering.
"This will be my 10th convention," he said, adding, "this will be the most exciting convention I will have attended."
No matter who leads the ticket, Webb predicts Republicans will band together to stop another Clinton from winning the White House.
"We will unify to elect our nominee because we don't want Hillary [Clinton]," he said.
Metro on 05/01/2016