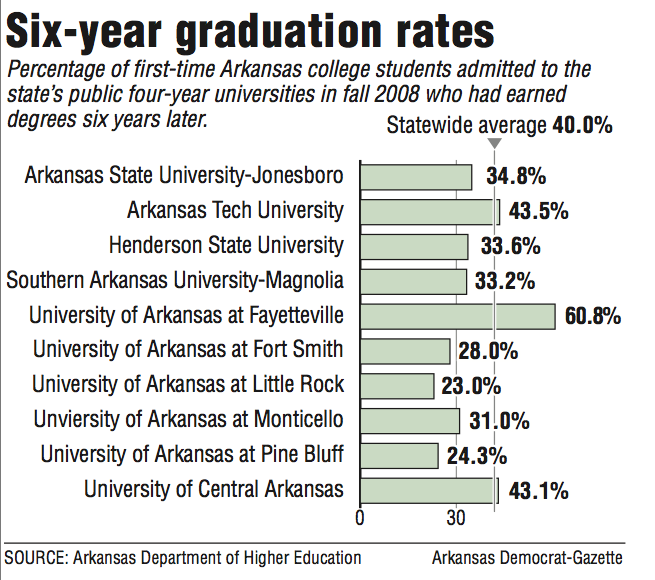 Graph showing six-year graduation rates. (Arkansas Democrat-Gazette / Source: Arkansas Department of Higher Education )
Some 23.6 percent of the 15,066 students enrolling for the first time at an Arkansas four-year institution in fall 2009 graduated in four years, while 39.7 percent of those students graduated in six, according to data from the state Department of Higher Education.
The four-year graduation rate has steadily increased in the past five years. It went from 23.1 percent of 14,442 first-time students who enrolled in fall 2007 and earned a degree in four years to 27.6 percent of 16,627 students who enrolled in fall 2011 and graduated at the same pace.
The state's 10-year graduation rate has remained steady for the past five years, with 42 percent of 14,532 first-time students starting in fall 2005 and graduating a decade later.
Meanwhile, the six-year graduation rate for all first-time students -- typically those who come directly from high school -- fell slightly in 2015 compared with the previous year, but it has remained steady in the past five years.
"There are a number of areas that institutions are working on like remediation to make sure that we're getting students in the right courses, getting them the right support," Higher Education Department Director Brett Powell said. "The progress looks great. We definitely want to see more of that, but it's also about looking at are we meeting the state's needs in what happens."
Arkansas officials have been trying to improve the college graduation rate, which lags behind the nation. A better-educated workforce attracts higher-paying jobs to the state and helps improve Arkansans' standard of living.
The state has consistently fallen below the national average, which was 59.6 percent for first-time, full-time students who began seeking bachelor's degrees at four-year institutions in fall 2007 and earned degrees six years later, according the U.S. Department of Education's Integrated Postsecondary Education Data System. The center will have the national average of the six-year graduation rate for the fall 2009 cohort in September.
Arkansas still ranks fifth-lowest in the nation, according to the National Center for Higher Education Management Systems.
National data count only first-time, full-time students in a certain cohort, but Arkansas' data includes part-time students.
Another report ranks the state 45th in the nation in attainment -- an aggregate of the state's working age residents, between ages 25 and 64, who have graduated and, for the first time ever, an aggregate of the working age residents who have technical certificates. The report -- A Stronger Nation -- is published annually by the Lumina Foundation, a private foundation seeking to increase the number of Americans who hold higher education credentials, which range from certificates to degrees.
The report shows that nearly half of Arkansans have a high school degree or lower and that some 355,280 working-age residents have some college credits but never finished. The state's ranking comes from a 38.8 percent total attainment rate, with 29.8 percent having a degree and 9 percent having earned a "high-quality" certificate.
The state ranks fourth in the nation in certificate attainment, an area where state officials have predicted the greatest job shortage by 2020.
That's where the Regional Workforce Grants come in, Powell said. Higher education institutions have partnered up with school districts, economic development offices and businesses to start programs that will give adults the necessary skills to fill the available jobs in the region.
Still, higher education officials are pushing for better student success rates, with a goal of having 60 percent attainment rate by 2025. And they're putting together plans -- ranging from easing state-to-state transfers to retooling developmental education -- to help move that along.
The graduation rates matter for students and for the state, officials said.
"It's important personally to the individual in that there are so many personal benefits that come from a post-secondary credential," Powell said. "Salary is an obvious one. There are definite wage differences for every credential that you earn. I looked at Census data probably a month ago to see what's that look like in Arkansas and there's a step up at average wage at every level."
The personal effects can stretch even further than that, said Marla Strecker, a senior associate director of research and technology at the state Higher Education Department.
"The quality of life, for example, to individuals who make $50,000 a year, the individual with credentials typically has more of a savings account, a better health care plan and also, as statistics show, less likelihood of divorce," she said. "So there's a quality of life that's not related to income."
Collectively, the more educated a state is, the more it can earn in revenues, Powell said.
"That generates tax revenue to the state that's economic development," he said. "We grow as a state, and as we grow as a state, there are more jobs that are available and the more need for education, and it's just a cycle that builds on itself."
Of the state's 10 public universities, three are above the state average for graduating within six years: the University of Arkansas at Fayetteville with 61 percent of 3,006 students, Arkansas Tech University with 42 percent of 2,264 students and the University of Central Arkansas with 43.5 percent of 1,933 students.
At Arkansas Tech, the No. 1 concern has been student outcomes, said Jason Warnick, the director of the university's Center for Excellence in Teaching and Learning.
"Yeah, we're doing good," he said, "but how can we do better?"
The Russellville school has buttressed its first-year retention efforts year to year, from having instruction-oriented advising and mandatory orientation with a curriculum for entering freshmen, he said. Incoming students are also given a faculty mentor.
It also takes a hard look at its instructors, he said.
"Part of it isn't even, 'you need to be a better instructor,'" he said. "But what is something that could reinvigorate the instructor?"
That could range from using creativity in the classroom, such as moving around tables to having group activities, he said.
The university recently completed a strategic planning process and plans to carry it out in the next few years, he said. Some of that will include retention efforts in later years. For example, he said, there will be an emphasis on student engagement in and out of the classroom, such as internships and externships.
Leaders are also looking at having a Student Success Center that will have resources for students in a one-stop shop.
Six of the public universities reported increases from one year to the next. The biggest jump was at the University of Arkansas at Little Rock, which rose from 23 percent of 731 students in 2014 to 27.7 percent of 739 students in 2015.
The university wants to reach a six-year graduation rate of 40 percent in the next five years, Provost Zulma Toro said.
UALR has taken several approaches throughout the years to help students be successful, leaders there said.
UALR's chancellor, Joel Anderson, has also started a small group focused solely on "high-touch" retention efforts. For example, when students are admitted to the university, the college of their choice will call them to figure out class scheduling long before the first day of class, said Sherry Rankins-Robertson, associate vice chancellor for academic affairs of student success and online education.
The university also knows which courses have the highest "DFW" rates, or those in which students typically earn D or F grades or withdraw. With that information, advisers can make sure students don't take too many of those types of courses at once, she said.
Students are now required to meet with their advisers every semester to review degree plans. And instead of having class registration stretch out several weeks, the university has moved up those deadlines and lumped them closer together, she said.
And since 2013, the university has used its own institutional funding to offer scholarships for students who have finished at least 90 credit hours so they can finish and earn a degree, Toro said. The scholarship knocks off 50 percent of the student's tuition for up to 15 hours.
The university has also been using Civitas for the last two years, something that won't be reflected in the graduation rates for about five years. Civitas provides software that allows universities to predict what students may have certain risk factors and a greater likelihood of dropping out. The predictive analytics allows the university to direct more resources to those students that need it most.
The school has also redesigned its remedial courses and its first-year experience courses.
"UALR student success is a shared responsibility by faculty, staff and administration and students as well," Toro said. "We are very passionate about that."
Arkansas State University also had an increase from 34.8 percent of 2,179 students to 36.4 percent of 1,959 students graduating in six years.
In part, the increase happened because ASU raised its admission standards to include a score of 21 on the ACT college-admission exam along with a 2.75 high school grade-point average, said Jill Simons, dean of ASU's University College. The Jonesboro school has also intertwined the "first-year experience" course for freshmen with the student's major, she said.
Last year, the university began using a software program called Starfish that aims to help students in need. For example, she said, if a professor thinks a student is having an emotional problem, the instructor can place a "flag" on the student's name to get the right outreach and resources for that student.
Teachers can also use the system to give "Kudos" to students who are doing well in class, she said.
"It gives our students that needed boost," she said. "Students are very receptive to a pat on the back along the way."
The University of Arkansas at Monticello also saw an increase with 31 percent of 922 students graduating in six years in 2014 and 32.6 percent of 1,047 students graduating in 2015.
"I would not say that there is any one thing we have done with this particular cohort," Chancellor Karla Hughes said. "We're helping students through advising as well as mentoring them so that they were more successful. It has coincided with the realization on campus that we do need to be more intensive or directed in the way we do things."
The school is the only public university that has open-enrollment, accepting all students. Hughes said she doesn't see that changing in the years to come.
"I think in this region of the state and the type of institution we are that we have to give opportunity to students who are capable but their test scores may not show it," she said. "I really have a commitment to providing opportunity."
The university has hired an institutional research professional, who does data analysis on which to base strategies for areas of improvement, she said. UAM is also looking at increasing the number of general advisers, from one up to four, Hughes said.
Hughes has also pieced together a group who will start after graduation to create "a very focused, very comprehensive student success initiative." The team's first steps will include the addition of general advisers and training for them, as well as communication strategies between different facets of the school, she said.
It will also start redesigning the first-year experience for incoming freshmen and even similar programming for sophomores, juniors and seniors, she said.
"I truly think we're going to see -- it may not be big differences -- but in 12 to 18 months, we're going to see some real movement in basically changing the direction of the university," she said. "We will be a model open-enrollment institution compared to our peers."
Metro on 05/02/2016
Print Headline: State colleges seek to increase graduation rates
Sponsor Content