BENTONVILLE -- More than 20 filmmakers and actors discussed why they were drawn to the Bentonville Film Festival during a roundtable discussion Friday morning.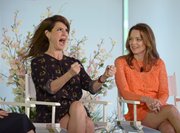 Many pointed to an accepting nature that waved in movies with unique storylines and unexpected characters, as well as providing a place for female directors, producers and diverse casting.
Movie distribution
Three winning films at the Bentonville Film Festival earn guaranteed distribution through Walmart, VUDU and AMC Theaters. Films also have the opportunity to end up on cable channels Starz and Lifetime.
Source: Bentonville Film Festival
Carving out a place for stories not seen elsewhere, like those in The Mad Ones, Floyd Norman: An Animated Life, Swing Away and Josephine, seemed to be the specialty.
Ani Pandit, director of The Mad Ones, said he wanted to create a film that properly conveyed the modern, millennial angst felt by a generation that attended college, found jobs in their fields of study and yet feel like there's something missing.
"I didn't feel that was ever reflected in films about people in their early 20s," Pandit said. "Usually there are just movies about the stoner kid who hasn't grown up or the secret artist that just needs to get out of his deadbeat job and [get] inspired. I wanted a more realistic take."
Pandit began to contemplate the odd, caught-in-between generation during a corporate stint in his career.
George Stephanopoulos and Michael Nickles, the producer and director of Swing Away, said they originally imagined the film featuring a young boy trying to make it into golfing fame in Greece, a very unlikely place for such a feat. They changed directions and designed the film around a couple of female characters so it would simultaneously make the story of rising to professional golf fame more of a challenge and would attract greater talent.
"We said to ourselves, 'Isn't [the story] much more interesting, modern or challenging to make the child a girl?' That's why we ended up here," Nickles said.
Following the birth of his daughter, Nickles began to think about the representation of women in media differently.
"I thought 'How do we make this film something that can be challenging that unconscious bias, but also provide positive role models for young girls as they grow up?'" he said. "Hopefully they find this movie and see something they can see themselves represented in."
Stephanopoulos said changing the roles from male to female opened up casting possibilities.
"There's not good roles for women. When people think of golf, they're not thinking women's professional," he said. "We thought it would be original and challenging to see a kid play, to see a girl be competitive with boys and adults."
Co-directors of documentary Floyd Norman: An Animated Life Erik Sharkey and Michael Fiore said their subject, the first African-American Disney animator, speaks for himself. It was more than 15 years before Norman was joined by any other people of color in the company. After decades of flying under the radar, they simply found the appropriate way and outlet to tell his story.
"Every time something amazing [in animation] happens, he's somehow there participating," Sharkey said. Norman worked on Sleeping Beauty, The Jungle Book and 101 Dalmations and later with Pixar. And "he just keeps going. I thought, 'Why haven't I heard about him before?'"
Josephine, directed by county music singer Rory Feek, is based on the true story of a woman who disguised herself as a man to fight in the Civil War. The film features actor Boris McGiver of such shows as House of Cards, The Wire and Person of Interest.
"Our film is about a special story of a girl overcoming incredible obstacles to reach her goal," Feek said. "That's what this festival is all about. Lifting up those stories, those kind of filmmakers and underdogs, this is where our film is supposed to be."
Female directors Maris Curan (Five Nights in Maine) and Margaret Byrne (Raising Bertie) favored the festival for its openness toward women who produce, direct and write these films, which often have a more diverse cast.
"Five Nights in Maine was hard to finance for reasons even we couldn't foresee," Curan said. It has "a first-time female director, the material was challenging and it has cast of color. [BFF] felt right. It not only says 'Look at the work being done,' but also 'We need this work and need audiences to demand it,' which I think is true."
Raising Bertie, a documentary which focuses on three young African-American men in a coming of age story, "is a film about a community of color. That's a story you don't see very often in the media: of these rural minority communities," said Ian Kibbe, its producer. "It's not something people [would otherwise] have any access to, or be able to talk about, so shedding light on that is important."
NW News on 05/07/2016