St. Louis resident Gail Hudson spotted a tea-colored, 1.8-carat diamond recently at the Crater of Diamonds State Park near Murfreesboro.
Hudson and friend Pat Warmack have known about the Crater of Diamonds for years and visited the park for the first time in April, Hudson said.
"Her birthday is in March, and mine is in April, so we decided that we needed to do something," Hudson said.
A trip to Arkansas' diamond mine would be the celebration, she said.
Hudson and Warmack arrived at the Crater of Diamonds visitor center April 22 and purchased admission to the park's 37.5-acre diamond search area, the eroded surface of an ancient, diamond-bearing volcanic crater.
"We came down late on Friday to get our bearings and pick where we wanted to come back and search on Saturday morning," Hudson said.
About five minutes after entering the search area, Hudson noticed something shiny in the dirt.
"It was partially buried, so I used my finger to scoop it up. Once I had it in my hand, I knew it was different from anything else I'd ever seen," Hudson said.
She said the rounded stone felt unusual.
"It had a different weight to it. The weight felt more dispersed than a rock of that size. It's hard to explain," she said.
Hudson found the stone near the east drain of the search area, and she continued searching for another half-hour before having her rocks and minerals identified at the park's Diamond Discovery Center. The park staff confirmed that her first find was a large brown diamond, weighing 1.8 carats.
"Miss Hudson's diamond has a light brown hue similar to iced tea and is about the size of a green pea. It has a brilliant shine and rounded facets characteristic of crater diamonds," said Waymon Cox, park interpreter.
"About 15 percent of the diamonds certified at the park each year are found right on top of the ground. So far this year, 13 visitors have found diamonds on the surface, including Miss Hudson."
Park workers plow the diamond search area periodically to loosen the soil and assist with natural erosion, he said.
Hudson's diamond is the 176th to be certified by park staff members this year. It is the largest brown diamond found at the park in more than two years and the largest diamond registered since September, when a visitor from Carl Junction, Mo., found a 2.29-carat white diamond.
Hudson plans to keep her diamond uncut and have it mounted in a piece of jewelry, Cox said.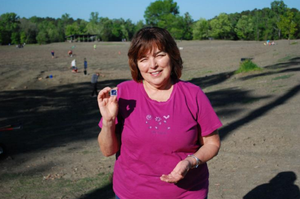 Photo by Crater of Diamonds State Park
Gail Hudson holds a 1.8-carat diamond found at Crater of Diamonds State Park.