My mom gave me a nickle.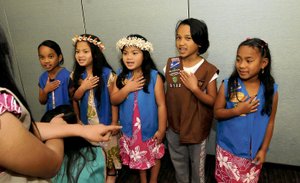 Photo by Flip Putthoff
Girl Scouts Serlynn Nunen (from left), Loretta Alberttar, Regina Alberttar, Serina Nunen and Elinar Jetton practice the Pledge of Allegiance before their flag presentation. Troop 5132 includes girls of all ages and Scout classifications.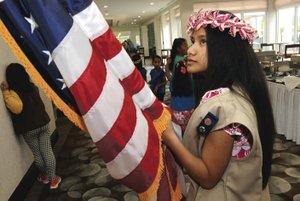 Photo by Flip Putthoff
Henity Harry prepares to bring the American flag into the local convention of the American Association of University Women. Troop leader Heather Butler and her assistants work to build in the girls leadership skills, independence and self-confidence.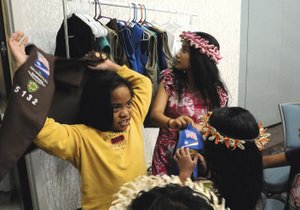 Photo by Flip Putthoff
Betsy Masha dons her Girl Scout vest for the flag presentation. "I am so impressed with these girls," said Heather Butler, leader of Troop 5123. "They are the kindest, most respectful girls. They know how to make decisions and goals. This is one of the most rewarding things I've experienced."
She told me to buy some pickles.
Facebook
Marshallese Girl Scout Trop 5132
But I didn't buy no pickles.
Instead I bought some bubble gum.
Bazooka! Bazooka! Bubble gum!
"It's called a 'round game' [because the girls stand in a circle]," said Heather Butler, of the bubble gum song. "They can play these games forever."
Girls of varying ages clapped their hands, danced and sang along through several different round games.
Henity Harry, 13, put her hands over her ears as the group sang another song. "It's going to get loud," she said.
Butler serves as the leader of Girl Scout Troop 5132 in Springdale, a new troop that has been meeting since October. Members listed their favorite activities for the year: making soap for a Christmas gift, a first aid class, camping and ... S'mores! That's all typical stuff for a Girl Scout troop.
However, Troop 5132 in Springdale is special, one of a kind, Butler said. The 28 registered members make up what she thinks is the first troop of Marshallese girls in the world. Requests to the Girl Scouts of the United States of America for confirmation were not answered.
"There is a troop in the Marshall Islands, but it is made up of American Girl Scouts living overseas," Butler said. A few Marshallese natives are members of that troop, she noted.
The troop is also unique because it counts among its members girls attending kindergarten to eighth grade. "I have Daisies, Brownies, Juniors and Cadettes," Butler said.
CULTURE PRESERVED
Butler was a registered nurse in the John Bates medical clinic, working with Marshallese patients "all day," she said.
She also was an experienced scout leader, leading troops for several generations of girls in her family.
Butler realized girls in the Marshallese culture needed an avenue to learn leadership skills and how to use them in Northwest Arkansas.
"The Marshallese is a matriarchal society," she said, "and they need to learn these skills because these girls are going to need to lead real soon."
"In the cultural landscape [of the Marshallese], land rights are given through the maternal side," explained Anita Iban, a longtime liason between the two cultures in Northwest Arkansas. The reasoning is that "strong men" can do other things to support themselves, she said.
"Compared to the Marshallese culture and the American way of living, I don't feel like they have the organization to be leaders, to be experts," Iban continued. "It's hard to teach them a way to acquire them. But these are skills they could use as a nurse, or a lawyer, or even an older Girl Scout."
Butler had to sell the idea of Girl Scouts to older women in the Marshallese community -- which she did with the help of Iban.
"They know their kids are supervised and safe, and that satisfied most of their concerns," Butler said.
Others were concerned the Girl Scouts would pull the girls from their native culture. "It's very, very important to me to keep their culture. I want to make Girl Scouts fit into their culture," Butler insisted.
The troop's uniforms vary from those of other scouts. The vests on which they display their badges and pins include the flags of both the United States and the Marshall Islands. And for a recent flag presentation, Butler asked the girls to wear their vests over the traditional colorful dresses of the Marshall Islands and "a wut" (Marshallese wreath of flowers) in their hair.
The girls also learned to sing the national anthem of the Marshall Islands and led 350 women in the song, Butler noted.
Scout Rona Masha, 14, currently works with Marie Demeroukas, an archivist and librarian at the Shiloh Museum of Ozark History in Springdale, to create a museum exhibit on Marshallese celebrations, which also will endure online. The exhibit will fulfill the requirements for the Girl Scouts' Silver Award, the second-highest for the scouts. Rona said she plans to continue in scouting and earn the Gold Award (comparable to the Boy Scouts' Eagle Award), which can earn her college scholarships.
"It's an honor for me," Masha said of the exhibit.
"And We're on island time," Butler did admit with a laugh. At a recent meeting, some troop members arrived at 7:30 p.m. to a meeting that began at 6 p.m.
"They are who they are," Butler said. "We want to meet people where they are."
MEETING TIME
At a recent meeting, the Girl Scouts practiced the flag ceremony they would present April 30 to a gathering of the American Association of University Women. All the girls happily practiced the ceremony again and again, with each girl playing every role and taking it very seriously.
"Who moves first," Butler asked the girls. Annie Samuel, 11, knew. "The flag bearer," she said.
Elinar Jetton, 7, got the chance to first carry the flag -- which was taller than she was. As the color guard advanced, Elinar looked backward to older girls for assurance.
"Girl Scouts, honor the colors. Step back in salute," said the caller Anna Keornj, 10.
Henity helped some of the youngest scouts -- Angel Makroro, 6, and Miana Capelle, 5 -- place the correct hands over their hearts as the pledge was recited.
Even Loretta Alberttar, 6, got her turn at caller, with Anna helping her say words like "attention," "advance" and "retreat."
"I didn't do a lot of badge work in this first year," Butler said of her leadership. "I want them learning how to be Girl Scouts, the culture of the Girl Scouts."
For example, the girls had to learn the language of the flag ceremony. "Wherever we gave the flag ceremony it was right," Butler said proudly.
Other lessons for the year included knife safety, fire safety, first aid and even changing a tire and checking the oil with Joel Gardner, executive director of Ozark Regional Transit. "They got so dirty," Butler said, smiling at the memory. He also volunteered his time and his bus to drive the girls to see the Lights of the Ozarks on the Fayetteville square and then fed them pizza, Butler reported.
"We're up for whatever," Butler continued. "We've been swamped with super support [from the community]."
Six of the older girls and Butler recently returned from an overnight at Camp Noark, where they gave each other camp names, hiked, sang Girl Scout songs and tied double knots to put up their own tents, said Lillyanna Boaz, 12. "I liked walking by different trees and seeing different lands," Lillyanna said. "There were different tags on each tree. Oh, and I'm scared of snakes."
The annual Girl Scout cookie sale was another opportunity for the girls to gain leadership skills, Butler said. They had to approach people about buying cookies. They had to calculate their money. And they had a lesson in money management. "They earned it, and now they have to decide how to spend it," Butler said.
The troop leader set a personal goal for each girl to sell 10 boxes of cookies, but the girls came back to meetings with their forms full of 80 or 90 orders. "That's amazing for a culture that never heard of Girls Scouts -- let alone Girl Scout cookies," Butler said.
CHANGING
Iban said she is noticing a change in the scouts. They display "leadership, independence and self-confidence," she said.
"When they started to attend, they were really shy in church," said Iban, whose husband is the pastor of Anij Emman Church Assembly of God where the troop meets. "I see that a lot. But the Girl Scouts is bringing out the best in each and every one of these girls and providing a place for the Marshallese community."
Butler sees the older girls helping the younger girls more and more each week. And the women of the church told her the girls are helping clean up after church services without being asked.
Butler has taught the girls to serve the community and the church. Each week during the Girl Scout meeting, the girls pick up trash in the church parking lot and Butler urges them to encourage others not to litter.
"Did you notice how much less trash there is than last week," Butler asked the girls.
"Yes, we are a very civilized people," Henity joked.
"We are making the church more cleaner," said Annie, who attends services there. "Me and Heather and the girls clean up. We picked up a lot of trash. I want to make the church a better place."
NAN Our Town on 05/12/2016