FAYETTEVILLE -- As with many new graduates, the job market remains uncertain for Andrew George.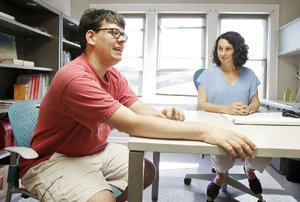 Photo by David Gottschalk
Andrew George, a member of the 2016 graduating class at the University of Arkansas, sits with Aleza Greene, director of the Autism Support Program, on the campus in Fayetteville.
But earning his degree from the University of Arkansas at Fayetteville marks an important milestone for George, one of the first students to enroll four years ago in UA's Autism Support Program.
Coming out of Bentonville High School in 2012, "I knew that I needed a lot of help," said George, 22, who was diagnosed with Asperger's syndrome before he started grade school.
The UA program's five-days-per-week, hourlong coaching sessions helped George earn a bachelor's degree in communication and a minor in business, he said.
"I wouldn't have had nearly as good a grades or enjoyed college as much without the program. It would have been a lot harder," George said.
He will participate in a campus graduation ceremony today, one of two students earning degrees this spring out of an initial group of five in UA's autism program.
Only a few dozen universities nationally offer such a program. The University of the Ozarks, a private school in Clarksville, also began a program for autistic students the same year as UA.
"We've got these young adults in our population, and they're capable of college with the right support," said Julia Frost, director of the Jones Learning Center at the University of the Ozarks.
College programs for autistic students have begun to increase as greater numbers of autistic young adults leave high school, said Dave Kearon, director of adult services for Autism Speaks, a nonprofit advocacy organization. But at four-year universities, "the number is probably somewhere between 20 and 25" programs, Kearon said.
Programs like UA's provide accommodations, but "we would definitely prefer, though, for students to be able to get the services they need at any college, even if the college doesn't have a separate support program," said Julia Bascom, deputy executive director for the Autistic Self-Advocacy Network.
The programs vary in their approach and cost. Students in the UA program pay $5,000 extra per semester.
Autism Speaks has donated $50,000 to UA's program for scholarships, and Kearon called it "a great example for other universities to try and replicate." But Bascom said her organization has concerns about isolating students and also the cost of such programs.
"If a program has a monetary component to it in addition to tuition, that's not equal access," Bascom said, adding that disability centers at college campuses should be better at supporting autistic students.
Kearon said the number of autistic young adults leaving high school each year is estimated at 50,000. He cited a Drexel University study that found only about one-third of young adults with autism ever attended any type of educational program after high school. About 11 percent attended a four-year school like UA, according to the study.
Aleza Greene, director of UA's Autism Support Program, said the program now enrolls 15 students while serving "a very specific slice of the spectrum." Students must have the ability to do college work, she said.
"There are folks who have a diagnosis with autism who perhaps never learn functional communication," Greene said.
People on the autism spectrum may have learning abilities that range from gifted to severely challenged, according to the federal Centers for Disease Control and Prevention. Autistic people may have challenges with communication and behavior. Conditions such as Asperger's syndrome are considered to be part of the autism spectrum.
In college, "a lot of times, it's less obvious what people with autism might need to succeed," Kearon said, listing as key supports help with time management, planning and setting priorities. But support needs to be highly individualized, Kearon said.
Greene said some autistic students do not need the support of the UA program, which serves as a liaison between students and other parts of campus, including advising.
"We want to make sure that communication is clear," said Greene, a clinical assistant professor at UA and the program's only full-time employee. Her son, Avi, is enrolled in the program, and she said students have come from Arkansas, Missouri, Oklahoma and Texas.
The program's six academic coaches, each part-time workers with at least a bachelor's degree, meet with students to review due dates and academic assignments.
"Some days, though, what the student needs in that hour is a pep talk," Greene said. The program also employs peer mentors -- undergraduate students who help the autistic students learn more about campus and with social activities.
"Part of this is also building relationships. That's a huge part of what we do," Greene said. This year, the program added an internship component for students who are juniors and seniors.
George worked about four hours each week handling front desk duties at UA's Center for Educational Access.
The center assists students with various support needs, including those with autism, said Katy Washington, the center's director. She said 86 students on the autism spectrum have registered with the center, including those in Greene's program.
Five years ago, the director of the center said 15-18 students with autism had registered.
Health authorities state that about 1 in 68 children nationally has been diagnosed with some form of autism as of 2012.
"The way my brain works, Asperger's basically tells me that body language isn't important, which is not true," George said. "Pretty much my problem is the social aspect of life."
His parents, Anne and David George, helped him prepare for college, he said.
"I figured out the main difference for college wouldn't be the actual schoolwork, it would be all the other things," he said.
The UA program helped not just academically, but also with the social part of life, he said.
"It just gave me much more opportunities, like directed opportunities, than high school did," George said. "It kind of gave me direction to be with people, made sure I had times where I was with people, especially people my age."
Students in the University of the Ozarks program pay $2,000 extra per semester for the residential program, which is generally for one year, plus $22,900 yearly for access to individualized coaching sessions and other support, according to Frost. The costs are on top of regular tuition and fees.
Two of the first three students to enroll are earning degrees this year, Frost said, and the other is expected to graduate next year. The university chose one enrollee, Kyle Eberhardt of Massachusetts, as its outstanding student in political science, Frost said.
The University of the Ozarks has enrolled 15 students in the program. Eight of them, including Eberhardt, are from out of state, Frost said.
"I think every college is going to have to figure out the best way to work with this population, because we all have these students on our campuses," Frost said.
Tom Moore, a spokesman for Arkansas State University at Jonesboro, wrote in an email that the university has begun a program to provide autistic students with peer mentors and weekly consultations with a disability services counselor. The program is "still in its infancy," according to a disability staff member.
George said his goal is to get a job this summer, but he's not sure what he'll end up doing.
"I like working with people. I like working with animals. I like a lot of different things," George said.
Metro on 05/13/2016