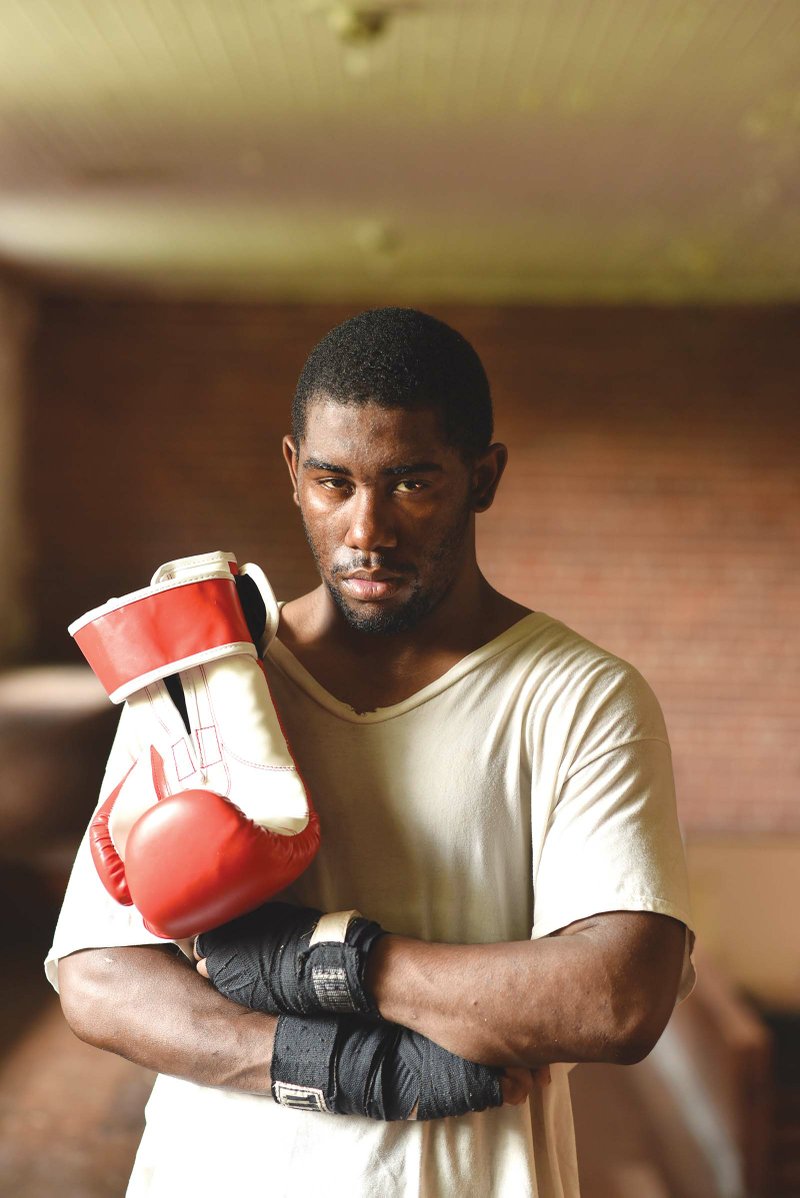 Middleweight amateur boxer Nelson Roberson, 23, a member of the Augusta Boxing Club, will compete this week in the National Golden Gloves Tournament of Champions in Salt Lake City. Roberson is the first Augusta boxer to make it to the national championship since Billy Ray Smith in 1956. ( Kelvin Green)
An open white door and a simple white sign with the word BOXING spelled across it using red tape serves as the invitation into the nondescript red-brick Laura Corner Gymnasium in Augusta.
Inside, where a red-white-and-blue boxing ring is assembled in the middle of the basketball court and jump ropes are scattered on the floor, three boxers — ages 9, 16 and 23 — train, but only one is headed to the National Golden Gloves Tournament of Champions, the first Augusta boxer to do so since Billy Ray Smith in 1956.
Middleweight amateur boxer Nelson Roberson, 23, works out his core on an ab bench with his eyes straight ahead, his white shirt drenched with sweat and his hands covered with black boxing wraps. Today, he heads to Salt Lake City for the championship, which will take place Monday through Saturday. He's come a long way from when he first walked into the gym at age 13.
Roberson joined the Augusta Boxing Club in 2006 with some encouragement from coach Bryon Hurford, who was Roberson's bus driver and agriculture teacher at Augusta High School. Hurford's father started the club in 1981 as a way to provide local kids an environment in which to build life skills.
Roberson, who grew up in the projects, was often teased about being smaller than his classmates. Some kids even poked fun at his mother, which made him angry. He got into about five or six fights at school, leading to a suspension. To release his anger, he turned to the boxing club.
"My mom always told me, 'You ain't coming home until you fight them because I don't want them coming to my house and starting no crap with me,'" he said. "I had to fight them in order to come home."
When Roberson first joined the boxing club, he had no coordination or natural athleticism, and Hurford told Roberson he could no longer fight at school, especially since a boxer's hands could be seen as a "lethal weapon."
Roberson consistently nagged Hurford about having his own chance in the ring but was turned down because he simply wasn't ready.
"I was frustrated, and I ain't know the basics," Roberson said. "I'd start lunging in, my footwork was not coordinated, and I didn't know what to do. I kept lunging in, falling in all the time, and I didn't have good footwork."
Eventually, Hurford decided to match Roberson against someone from his own team, which isn't typical but made Hurford more comfortable because he knew Roberson would have a safe fight. On Nov. 25, 2006, at 119 pounds, Roberson lost his very first fight — and the next 17 fights after that. Sometime after his 18th loss, Roberson said, he began watching his fights on a DVD to study his mistakes and correct them.
"We were just waiting on him to quit," Hurford said. "Some kids, they lose three or four and get discouraged and quit. He just wouldn't quit."
Even other teammates showed their doubts.
"At the first matches that we would go to, a lot of the little bitty guys, the 8-, 9-year-old boxers, they would come up and see Nelson fight, and they would sit around the ring — this is really kind of cruel — but they would be betting on how many times he was going to fall down," Hurford said.
Athleticism didn't come easy for Roberson, but he stuck to the sport and built his strength and coordination. In 2008, he won his first match, and even his opponent's fans were happy for him, Hurford said.
"It felt really good to win a first fight because I know I had the crowd behind me," Roberson said. "They kept screaming my name, 'Nelson! Nelson! Nelson! You can do it. Keep it going.' It felt real good to have fans that really truly, honestly loved me."
Since then, Roberson has won amateur boxing tournaments across the mid-South, including the Native American Boxing Championships. This year, in order to get to the National Golden Gloves tournament, Roberson won the Arkansas State Golden Gloves Tournament in March and the Mid-South Golden Gloves Tournament in April.
Hurford said that unlike Muhammad Ali, who was known for floating around the boxing ring, Roberson's style is more like Joe Frazier's, who was a "pressure fighter" who cornered his opponent in the ring.
Roberson's study of the sport is the reason many Augusta Boxing Club members drop out shortly after signing up. A pile of former members' passbooks, which record a boxer's fight history, sits on a windowsill in the gym. Some who have dropped out did so before even having a match.
"I'll tell you why I think he takes to boxing: He's old-fashioned," Hurford said. "He can just sit there and study something over and over and over again, just like we used to do in school. Boxing is just the same thing night after night after night. I think that's why we get a lot of turnover in this sport."
Club members are expected to do much of their training on their own, in addition to working out in the gym with Hurford three nights a week. Roberson runs a few miles each day, and Hurford said he also expects boxers to do 100 pushups and 75 leg lifts every night.
"I think he's a role model for these other kids because they know they've got more talent than he ever started with," Hurford said.
Roberson said he paces himself in a fight and doesn't get as tired as his opponents typically get. Longer rounds in a match are Roberson's strong suit.
"Third round, I always drown them in deep water, take them to the grave," he said.
Roberson is willing to fight any type of opponent, and he recognizes that some coaches have dodged him because of how much he's succeeded, but the coaches are going to have to face him sometime soon, he said. Roberson said the key is to work harder than your opponent.
"If I had never joined boxing, I'd have probably been doing something I wasn't supposed to do, hanging out with people I wasn't supposed to be with and probably have gotten in trouble," he said.
Roberson has a message for the kids who used to pick fights with him at school.
"If y'all still wanted to pick with me, y'all think y'all big and tough, why won't y'all come down to the gym, and we can settle it and get it in?" he said. "Either way it goes, if you want to be a boxer, just come down here and take your anger out because it ain't no pain like fighting in school or getting suspended or expelled or going to [in-school suspension]. But we can go ahead and put those gloves on; we can settle it right then and see how you feel."
One trick he uses in the ring is to think of areas his opponents would leave unprotected.
"Coach always tells me to hook to the body, and hook to the head, and come back up with the overhand right," he said. "After I hook them to the body, the body is always open. The body is the weakness, so they always drop their hands, so their head is automatically wide open."
Before leaving for the national tournament, Roberson's diet consisted of a lot of apples, oranges and pears. His diet was to ensure that he wouldn't go over 165 pounds, which would disqualify him from fighting in the middleweight class.
"I'm going to try to make Arkansas look the best it can be and at least try to put on for my city, no matter what," he said. "If I win, I done a good deed. If I lose, I'm going to show good support to the person I fought."
This year, Roberson graduated from Arkansas Baptist College in Little Rock with an associate degree in general studies. He hopes to someday further his education at his dream school, the University of Arkansas. His long-term aspiration is to be a boxing coach and open a nonprofit where other kids can receive the same training and mentorship he did.
"From a kid that was taking resources classes — and there's nothing wrong with that — to now, he's a college graduate. Nobody would have ever thought that," Hurford said. "He'd be the last person you would have thought when he'd come through these doors 10 years ago, this kid would get a college degree. I know he's persevered because he just won't quit."
After the National Golden Gloves tournament, Roberson will compete during Augusta Days, a festival that takes place May 27-29. He'll also compete in the National Title Boxing Championship that takes place June 8-11 in Hot Springs.
Hurford said he used to tell others that the boxing club remains in existence because you never know when the next world champion is going to walk in the door.
"Now I tell them, 'You never know when the next Nelson Roberson is going to walk in the door,'" Hurford said.
Staff writer Syd Hayman can be reached at (501) 244-4307 or shayman@arkansasonline.com.
Sponsor Content