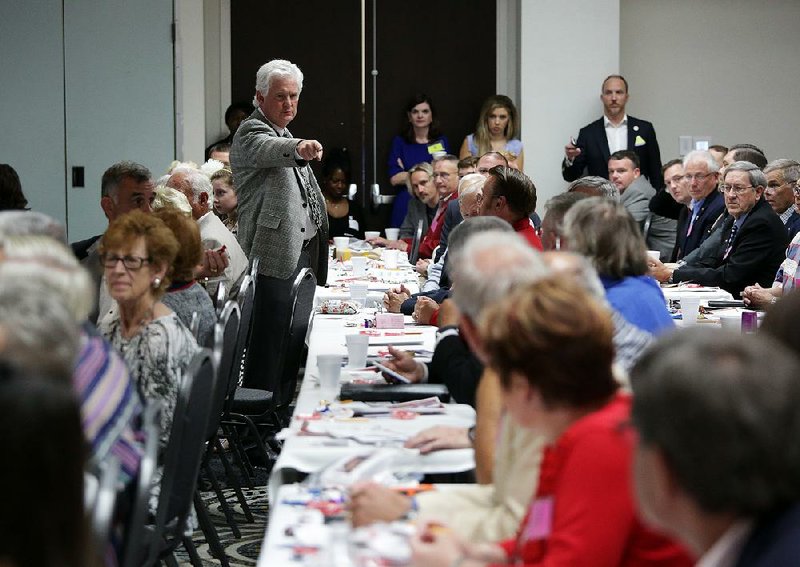 State Republican committee member Keith Gibson points to members Saturday in Hot Springs as they count out loud to determine the number of members eligible to vote on national convention delegates. ( Mitchell PE Masilun)
HOT SPRINGS -- With their presidential race settled, GOP activists in the state gathered Saturday to select delegates to the Republican National Convention.
FULL ELECTION COVERAGE
Photo by Mitchell PE Masilun
Members of the state's Republican committee cast their votes for Donald Trump delegates Saturday during their meeting at the Hotel Hot Springs.
Twenty-five delegates were elected Saturday -- nine for New York businessman Donald Trump, nine for U.S. Sen. Ted Cruz of Texas and seven for U.S. Sen. Marco Rubio of Florida.
Each candidate's share was based on the results of the March 1 primary, which Trump, the presumptive Republican nominee, narrowly won; the filing period to be a delegate ended Feb. 29.
Darren Morris, Trump's Tennessee state director, was on hand for Saturday's votes and expressed satisfaction with the outcome.
The Trump adviser said he had been to eight delegate selection meetings before the Hot Springs stop, and, "I've got to say this has been the most pleasant meeting out of the nine."
"I don't mean to talk bad about other states that I've been to, but this has been very nice, everybody was very kind," he told the crowd.
Six of the nine Trump delegates chosen Saturday had been vetted and recommended by the candidate's campaign. The other three are longtime party activists who have pledged to back the GOP ticket.
Roughly 200 people attended Saturday's state committee meeting, packing a room at the Hotel Hot Springs.
During the 5½-hour meeting, attendees listened to 30-second speeches by more than 100 would-be delegates and alternates.
In between ballots, they got pep talks from elected officials and heard updates from GOP county chairmen.
Instead of arguing over the now-settled presidential primaries, they spent their time bragging about their newfound success in the state.
They also used the time to denounce Democratic presidential front-runner Hillary Clinton.
Lt. Gov. Tim Griffin, a Rubio delegate, said the differences that arose during the primaries are fading as Arkansas Republicans look toward the fall campaign.
"I think that's a unified party in that room," he said in an interview. "Are there differences of opinion on a bunch of issues? Sure. Are there differences of opinion on who their first choice was or their second choice? Sure. Is there a difference of opinion as to whether we've got to beat Hillary Clinton in November? Absolutely not."
Other Republicans sounded a similar theme.
Rubio's Arkansas chairman, state Sen. Bart Hester of Cave Springs, and Cruz's Arkansas co-chairman, Rep. Bob Ballinger of Hindsville, said they were prepared to support their party's ticket.
"I don't share Trump's values on a lot of things, but at the end of the day, he's a better candidate than Hillary," Hester said.
Ballinger said Clinton would be "a disaster for our country," adding, "If there's not another alternative out there to keep her from being the president of the United States, then it may be that Donald Trump is the solution."
Throughout the day, would-be delegates for all three candidates promised to support their party's nominee and to work hard to prevent the Democrats from claiming the White House.
Early on, there was briefly confusion because the number of votes cast appeared to exceed the total number of eligible voters in attendance. After conferring and recounting, party leaders decided they had underestimated the number of people entitled to cast votes; the vote was declared valid.
As the meeting dragged on, a hungry delegate cried out, "I move we order pizza," sparking laughter.
"There's no Republican free lunch program," Arkansas party chairman Doyle Webb replied. He later announced that 50 pizzas were on the way, courtesy of newly elected Trump delegate Leslie Rutledge, the state's attorney general.
The 25 delegates selected Saturday are part of a 40-member delegation. Another 12 Republicans were picked during district conventions last month. Three high-ranking party officials are automatically entitled to cast ballots at the Cleveland convention July 18-21.
Once Saturday's tallies were complete, the new delegates posed for a photo and elected Gov. Asa Hutchinson as delegation chairman.
It's an honor Hutchinson, a Rubio delegate, gladly accepted. "That's something I've always wanted to do."
In an interview, Hutchinson said Trump is the presumptive nominee, but he must focus on unifying Republicans.
"He needs to work hard to bring our party together and to prepare himself for a general election," the governor said.
But the divisions aren't as deep in the Natural State, he said.
"I think there's a good spirit here. I think people are just excited about what we're doing in Arkansas ... and the opportunity to participate in a historic convention," Hutchinson said.
Webb said GOP activists are "coming together" after a "vigorous" primary.
"The state of the party is very good. We are unified to elect the Republican nominee."
National committeeman Jonathan Barnett senses enthusiasm among his fellow Republicans.
"I think everybody here today is ready to play ball and get this show on the road and focus on the general election in November," he said. "These people here want to win the White House and they want to beat Hillary Clinton, so they'll unify."
The delegates elected Saturday in Hot Springs are:
Trump: Rutledge; Barbara Webb, Benton; Reta Hamilton, Bella Vista; Joel Pritchett, Searcy; Susan Gessler, Fayetteville; Nancy Barnett, Siloam Springs; John Nabholz, Conway; Chase Dugger, Beebe; Barbara Deuschle, Hot Springs.
Rubio: Hutchinson; Griffin, Little Rock; Hester, Cave Springs; former state Rep. Ann Clemmer, Benton; state auditor Andrea Lea, Russellville; Arkansas Federation of College Republicans chairman Darren Ray Waddles, Mountain View; state Sen. Jim Hendren, Sulphur Springs.
Cruz: Ballinger; Tom Lundstrum, Elm Springs; Bobbi Dodge, West Memphis; Lisenne Rockefeller, Little Rock; Rep. Rick Beck, Center Ridge; Patricia Nation, Little Rock; Julie Harris, Springdale; Rep. Robin Lundstrum, Elm Springs; Will Rockefeller, Little Rock.
SundayMonday on 05/15/2016
Print Headline: GOP's gathering elects 25 for convention duty
Sponsor Content