Here's Junior League President Marisha DiCarlo walking the halls of the headquarters, the halls of the Arkansas Department of Health, the finish line of the Downtown Dash 5K/10K last month -- and there's the telltale Starbucks cup.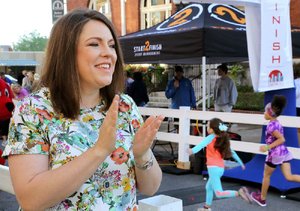 Photo by John Sykes Jr.
Marisha DiCarlo "Marisha is and was really funny, really smart — I have to say really funny again because I cannot overstate to you how funny she is," says Anna Palermo, DiCarlo's best friend from high school.
It's tall -- a venti -- and transparent, sweating with condensation, and roughly half full. Each visit, the same admixture -- ice, coffee Americano, nonfat milk, just a splash of Splenda. "Are you looking at my cup?" she says during an office visit.
SELF PORTRAIT
Marisha DiCarlo
DATE AND PLACE OF BIRTH: June 29, 1979, in Salem, Ore.
FAMILY: Husband, Tony; son Tony, 5, and daughter Savannah, 2 ½
A PET PEEVE OF MINE: When things are on signs with quotes around them but it doesn't say who said them. I also dislike finger quotes [but I do them].
FAVORITE HEALTHY SNACK: Banana
THE ANIMAL I FEAR MOST: I don't know that I would consider it an animal but I do not like cockroaches.
MY TRADEMARK EXPRESSION: "This too shall pass," and "Better busy than bored."
A SMELL THAT MAKES ME NOSTALGIC: I think it's called English Leather? It makes me think of my dad when I was young.
ONE ADVANTAGE I'VE HAD THAT MY GRANDMOTHER'S GENERATION DIDN'T: Education. Encouraging and valuing education in women was a huge advantage and change.
NICKNAME: "Rish," but only people from high school or earlier call me that.
WHEN I DRINK, I LIKE a Venti Iced Americano, nonfat milk, one Splenda. If you are referring to alcohol, I prefer Willamette Valley Vineyards wine.
WHAT'S ALWAYS IN MY REFRIGERATOR? Milk
LAST GOOD BOOK I READ: I'm getting through Anna Karenina.
ONE WORD TO SUM ME UP: Thoughtful
Starbucks should reach out to this kid -- communications chief for the Health Department, a doctorate in public health, Junior League president, wife and mother of two, Hurricane Katrina refugee. If this drink is the ambrosia of eternal energy and organization, Americans must know about Americanos.
"Like her coffee, her leadership style is direct, authentic and ... sweetened with a smile," says incoming President Amanda Richardson. "She looks for reasons to say 'Yes, and ...' rather than 'but.'"
"She has taught me to think more, speak less, and do, do, do," says Mary-Lee Smith, a member.
"She's someone who always fishes ahead of the boat," says past President Maggie Young.
The Junior League of Little Rock, once excused (privately if not publicly) as an afternoon club for women who weren't otherwise employed weekday afternoons, has become a prep academy for future (and current) board chairmen, local philanthropists, business entrepreneurs, politicians and civic leaders. In the last few years, league women have mingled with state legislators and policy makers, renovated the third floor of headquarters to facilitate fledgling nonprofits (low-rent space), and continued volunteer-intensive events promoting childhood literacy and family health.
Notable alumni include Arkansas Arts Center matron saint Jeane Hamilton, state Attorney General Leslie Rutledge, sisters-in-law Mimi Hurst and Stacy Hurst, real estate business owner Janet Jones and philanthropist Terri Erwin.
Each year the league elects a president-elect for the following term, so DiCarlo's presidency was actually decided by 2014.
Her theme is Women Empowered. It's not a small thing, the selection of these words. "First off, you think a lot on theme, and how to make it an entire year's worth, and what the Junior League does for women, and what it did for me that I would like to help make the experience for others."
One of the things these women will say, especially ones now on boards of directors, or municipal and state review boards, is the league taught them how to run meetings. It taught them the basics of parliamentary procedure -- aye and nay, quorum and majorities, motions and seconds. It familiarizes them with agendas and the pace of meetings.
"One thing that's really unique, with the leadership changes that happen every year, it sets the organization up for constant evaluation and improvement," says Jennifer Ronnel, who was president during DiCarlo's first year. "It works really well in a nonprofit focused on training leaders who are then going to stay involved" in nonprofit governance elsewhere.
MOVING COAST TO COAST
Marisha Boedigheimer -- yes, her surname married up -- was born to Mary Kay and Steve Boedigheimer on an idyllic plot of land overlooking Oregon's wine country, the Willamette Valley. For the last couple of years, her son Tony has cried on her birthday -- it's the day after his own and he mourns the passing of, not another year, but another day-long celebration of Tony.
In the middle of Marisha's fifth grade year, the Boedigheimers moved to the Eastern seaboard -- to Delaware, and the state capital, Dover.
High school "was a great time to really just learn joy," she says, "to really just appreciate victories and know that it's OK if that is your joy and not everyone else's."
And its corollary -- "To me, high school was a time when I learned, 'Well, they're not all going to like you.'"
Protect your happiness, she'd say now. When her Catholic Youth Organization basketball team won the state championship, a high school friend pointed out that CYO isn't the real deal, "and I thought, you know what, we worked hard, it was a good time, and I'm a better basketball player than I would have been -- it's OK to be happy, you know?"
In high school Anna Palermo became her best friend and, she says, "I really don't think I had any typical high school angsty stuff happen to me because Marisha was such a great support," and now Palermo's a psychotherapist.
At a chorus concert around this time a Biden kid competed against Marisha and Anna, and both women remember seeing then-Sen. Joe Biden in the audience. What happened? Nothing. He watched. Anyway, it's a memory.
"Marisha is and was really funny, really smart -- I have to say really funny again because I cannot overstate to you how funny she is," Palermo added.
Dad was a public health administrator not unlike DiCarlo; mom was a homemaker. Raised Catholic, she made the fateful decision in 1997 to attend Loyola University in New Orleans. There she met Tony DiCarlo, a vocal performance major. The two dated, split up and ultimately -- after college -- got engaged and married. "I did love his voice. I still do like his voice. I wish he had more time to sing."
Sometime before the millennium, a heavy rain moved in, flooding the campus so completely she waded back to her dormitory unsure if her next step would send her stumbling. "'This is crazy,'" she thought. "'That everything can fill up like this!'"
It's funny, that memory now.
In late August 2005, after she'd married Tony, a lawyer in St. Bernard Parish (and herself a director at the Louisiana Public Health Institute), a storm moved in that washed them all the way to Little Rock. It was Friday when the first alarming reports began. The couple had tickets that night to the Saints' last exhibition game of the preseason. The next day, they'd leave -- not forever, though. They'd take the opportunity to go to Disney World.
Tony went to his law office and moved his file cabinets away from the windows so that, should they shatter, his files wouldn't get soaked.
"Getting away for a hurricane was usually a chance to get a few days off of work," he says. "It's a precaution you take. You always get to go back."
After the storm, there was no going back. At least, not for a long time. Mary Kay and Steve Boedigheimer were living in Arkansas -- the Centers for Disease Control and Prevention stationed Steve in Little Rock -- and they took in Tony and Marisha, as well as Tony and Nona DiCarlo, grandma Nona DiCarlo, and even little Tony's kindergarten teacher.
Tony borrowed Steve's suit to go on an interview. He would eventually clerk for the Jack Lyon and Jones firm, now the Jack Nelson Jones firm.
A month later, the young DiCarlos were "allowed" to return home. They got some of their stuff back. They were fortunate -- the elder DiCarlos' St. Bernard Parrish house had been looted. It held so much water and mud that the family's china had to be excavated like an archaeological dig. They had to climb over a car to get into their house.
Tony and Marisha returned to Little Rock. Marisha found work in human resources at the University of Arkansas for Medical Sciences.
It took her longer to recover than Tony. The Junior League came after -- after "people were so kind to us" that she felt compelled to give a bit of herself back. "I called the Junior League. I didn't know what it was."
"Sometimes you can be so struck by something that is either upsetting or traumatic or that you think should've gone differently, it can be difficult to take a step forward," she says. "I think it's better to live life looking forward."
MARATHON
Marisha DiCarlo isn't the first president to preside over the league, a career and a household with small children. She is the latest.
Outside the league on a bright Saturday morning last month, children hustled about the new parking lot, playing carnival games like bag toss and football throw. A long table featured DiCarlo's favorite healthy snack, bananas, halved, and granola bars. Some of these children ran the new Kids' K, a 1-kilometer down-and-back along Scott Street.
"I loved watching the kids race," she says. "To see them so active at such a young age ... and to see Amanda Richardson in a Clifford costume at the end."
At a Sustainers Lunch a few days later, DiCarlo offered up the league's accomplishments for 2015-16. They included giveaways of school supplies for more than 3,000 during Stuff the Bus, 500 meals and diversionary entertainment for families at Arkansas Children's Hospital, a $425,000 fundraising haul at the 25th Holiday House, thousands of books given out at Little Readers Rock, and the accession of a new partnership with Keith Jackson's Positive Atmosphere Reaches Kids, or PARK, that will involve healthy cooking and an activity curriculum.
The league also "graduated" 22 from its nonprofit institute, in just its second year.
"I remain in awe of her," says past president Mary-Margaret Marks, "her, her husband and her entire family as they were true Katrina refugees who made a new home for themselves in Little Rock."
HEALTHY ACTIVE
On the second floor of the Health Department's '60s-era building between the University of Arkansas for Medical Sciences and War Memorial stadium hangs a promotional poster -- "Healthiest State in the Nation 2030, Arkansas," it says. It's messaging for a statewide healthy weight campaign called Healthy Active Arkansas, and DiCarlo's the lead.
Inside the state lines of the poster are a bunch of animated Arkansans doing healthy stuff -- playing baseball, visiting a farmers market, drinking water. Some of its depictions are out-of-the-box -- a woman paints a canvas because, presumably, painting raises psychological well-being while it reduces eating on the couch.
One image features a mother breastfeeding a baby on a park bench.
"What we know is that, in Arkansas, initiation is still fairly low for breastfeeding, and then, even for those who initiate breastfeeding, rates drop off after three months. That's not great for the health of our kids," she says.
Also, "One of the things we're trying to promote is making people aware of the importance of -- and in some cases, if you're working for a state agency, it's the law that requires it -- a space for women to pump or breastfeed that's not a bathroom stall." Act 680 of 2007 allows for breastfeeding in public.
Healthy Active Arkansas is a 10-year plan endorsed by Gov. Asa Hutchinson.
"She has very good vision," says Meg Mirivel, a spokesman (under DiCarlo) at the department. "When I say vision, [Healthy Active Arkansas] is brand new for the state, and she's kind of made a lot of it happen."
"The important thing is how to get the right people to do the right things," says the department's chief science officer, Dr. Namvar Zohoori, and that's marketing and promotion, which is DiCarlo's strength -- that and "her sweet personality, her ability to win people over."
A generation ago, maybe two, the league may have made health a pillar of its activism, but it likely wouldn't have elected president a woman who would, at the same time, be running a major statewide healthy-living initiative.
"You know, the Junior League used to start programs, build partnerships, and then spin off programs to be free-standing. We're operating differently now. We recognize we're not the first to the table -- no pun intended -- around hunger, health or obesity issues. We're not the first to talk about literacy and school preparedness.
"We have this amazing resource -- women who are trained volunteers, who are passionate about the community, who want to find a way to contribute."
Some of these amazing volunteers happen to be the people in power.
The league's influence is in a growth pattern.
High Profile on 05/15/2016