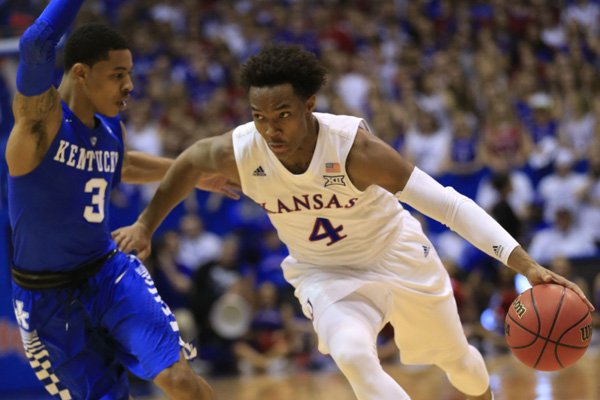 Kansas guard Devonte' Graham (4) and Kentucky guard Tyler Ulis (3) during the first half of an NCAA college basketball game in Lawrence, Kan., Saturday, Jan. 30, 2016. (AP Photo/Orlin Wagner)
BIRMINGHAM, Ala. (AP) — Kentucky will host Kansas in the marquee matchup in the next SEC/Big 12 Challenge, a one-day event that features 10 games on Jan. 28 at various sites.
The other SEC/Big 12 Challenge matchups announced Tuesday include Texas at Georgia, Baylor at Mississippi, Texas A&M at West Virginia, Florida at Oklahoma, Iowa State at Vanderbilt, Kansas State at Tennessee, Arkansas at Oklahoma State, Auburn at TCU and LSU at Texas Tech.
Starting times haven't been announced.
In this past season's SEC-Big 12 Challenge, Kansas beat Kentucky 90-84 in overtime at Lawrence, Kansas.
This marks the SEC-Big 12 Challenge's fourth season. The Big 12 owns a 20-10 record in the SEC/Big 12 Challenge and has won the event each of the previous three seasons.
Sponsor Content