Somewhere along my life's course I read that outside of the essentials a man needs three things in life: a barber, a lawyer and a favorite bar.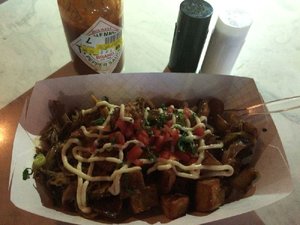 Photo by Bobby Ampezzan
Four Quarter Bar in North Little Rock's Argenta District serves bar food that goes beyond the norm, such as Pulled Pork Hash.
The first two are certainly valuable, but that last one is mighty crucial to a certain crowd (myself included) who likes a drink or so. In fact, more than one favorite bar is often necessary.
Four Quarter Bar
Address: 415 Main St., North Little Rock
Hours: 3 p.m.-2 a.m. Monday-Sunday
Cuisine: Bar food
Credit cards: AE, D, MC, V
Alcoholic beverages: Full bar
Reservations: No
Wheelchair accessible: Yes
(501) 313-4704
fourquarterbar.com
That right bar is a place where one feels relaxed either early in the afternoon or late at night. And it's a good spot for some serious reflecting alone or time with trusted friends or even unknown souls.
This bar's a place where preferable music is readily available but not too loud, and the bar should be dim, though not completely dark. The bartenders should be friendly when available, but cursory -- though not surly -- when busy. Conversations in this bar should be lively and come easily but also never infringe upon the business at hand.
The drinks should be good and strong -- with a decent selection of craft beers -- but nothing that entices sottish behavior. Such conduct should be dealt with swiftly though never violently.
And this bar should have food, although this last point is not entirely necessary.
Four Quarter Bar, which opened in late February in the Argenta District of North Little Rock, is designed to be this kind of bar. And it succeeds mightily in a neighborhood filled with several good drinking spots.
Four Quarter Bar is run by Conan Robinson, a longtime fixture at Little Rock's Midtown Billiards, which is perhaps one of the state's best drinking bars. Robinson's boss in the New Orleans-style bar and music venue is Margaret Hinson, proprietor of Midtown.
These two have an institutional knowledge of what makes a good bar, and Four Quarter, which takes the place of the former Sidetracks in Argenta, reflects that knowledge.
Like Midtown, Four Quarter allows smoking. It should be noted, though, that during two evening trips last week, the bar was not especially smoky. Sure, walking in, one knows it's a smoking bar but there's no layer of white smoke hovering up high and ceiling fans, tall tin-stamped ceilings and filtration systems keep the air tolerably clean.
Also, like Midtown, Four Quarter is a private club, with a yearly membership payment of $5 or so needed for entrance at certain times.
And finally, like Midtown, Four Quarter has a burger. And it's a burger that rivals that of Midtown's famed burger. Blasphemy? Well, the Four Quarter Burger ($8.50) is the Midtown burger's brother (or sister), a burger close in appearance, texture and flavor. Maybe not as greasy. Almost a twin. Just as savory, just as meaty, just as perfect as a bar burger can be.
A companion -- an experienced Midtown man who once lived two blocks from the bar -- said Four Quarter's burger "was, to the topping, a flavorful replica of the famous Midtown burger" that won't disappoint. But, he noted, the burger didn't quite hit the sublime greasy notes of the Midtown original. Perhaps that's because of the newness of the Four Quarter grill, he thought.
That's where the comparisons end, though.
Four Quarter Bar is its own animal. A bar where the walls are painted with large murals of Argenta in a former decade, and a couple of skylights and the big front windows flood the place with natural light.
There are eight tables spread across the uncrowded first floor and a stage in the corner that hosts music on the weekends. The upstairs area has more tables and includes a few bar games, including shuffleboard.
And Four Quarter's menu -- but one page in length -- is a lot more than just the Four Quarter Burger, including several barbecue offerings with pork sourced from Brown Chicken Brown Sow in Mountain Home.
The Four Quarter Pulled Pork Sandwich ($9.50) sits at the top of the menu, tempting diners, including me. The pulled pork's initial declaration was a subtle smokiness that was entirely pleasing but the flavor soon dropped off. The pork was tender and juicy, but lacked follow-through, and there wasn't enough house-made sauce on the sandwich to provide a tangy afterthought.
The house-fried chips with the sandwich are a fine side, but I upgraded to the house-made pork rinds and enjoyed a crunchy collection of bite-size pork rinds with just the right amount of seasoning providing a kick of flavor and spice.
The best two or three forkfuls I had during my first visit were of a second companion's Pulled Pork Hash ($9.50), a paper basket (the serving platter of choice at Four Quarter) with pulled pork topping still-crisped and well-seasoned fried potatoes and a layer of green onions, tomato, sauteed onions and cheddar cheese. Tying this jumble of flavors together was a brilliant garlic aioli.
The companion who ate it called it "late-night carnival fare with flair" and "a fine main course whatever the hour." He and I agreed the pulled pork was a tad tepid, though, on my sandwich and his hash.
On a second visit, a third companion and I enjoyed another meal of simple yet rewarding bar food.
I passed up sampling another pulled pork sandwich (Four Quarter offers three other toppings for the sandwich beyond the traditional slaw and barbecue sauce, including one with Gouda and caramelized onions) and went with the Porkaletta ($8.50). While an interesting sandwich in description and delivery, the smokiness of the pulled pork was overpowered by the pungency of the olive tapenade.
My companion on this trip ordered the Veggie Hash ($7.50), similar in spirit to the Pulled Pork Hash but instead of pork the topping is a mix of artichoke hearts and fried Brussels sprouts.
Calling it a "kind of deconstructed veggie baked potato," she said a vegetable option is to be praised on any bar menu, however "oddly composed" this dish might be. Still, the mishmash of ingredients worked, with the sour cream and cheese accentuating the other flavors in play.
This is bar food, of course, but there are touches -- a wondrous garlic aioli, a heavenly hash -- that uplifts Four Quarter beyond just a good drinking bar and into a place where one should grab a bite to eat (smoke or no).
And beyond the food, it's definitely a bar where one should spend some serious time. Get a shot or a craft beer -- there's an extensive collection for $5 a pop on draft. Listen to some music that is well-curated and fitting. Chat away with friends or strangers.
These are good things, and Four Quarter is the kind of bar for relaxing in these vices. It's a place where plans are designed and adventures are hatched. And it just so happens to have an enlivened and tasty array of bar eats.
Weekend on 05/26/2016