Author Richard Beck believes the devil has fallen on hard times.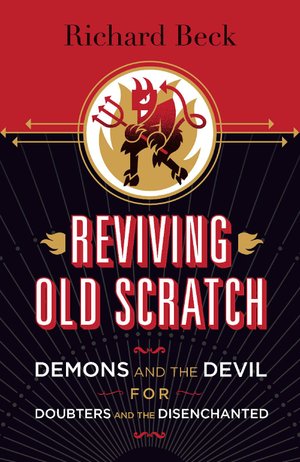 Book cover for "Reviving Old Scratch: Demons and the Devil for Doubters and the Disenchanted" by Richard Beck
As proof, he cites a Barna Research poll that shows that 59 percent of Christians don't believe the devil is real. To them, he's more of a symbol of evil than a literal being.
In his latest book, Reviving Old Scratch (Fortress Press), Beck examines current attitudes about the devil and writes that Christians shouldn't discount the existence of evil even if talking about such things as Satan, demons and "spiritual warfare" isn't easy.
Beck said he wrote the book, subtitled Demons and the Devil for Doubters and the Disenchanted, for Christians who doubt the "spookier aspects of faith." He counts himself among the doubters, but while ministering to prisoners in Texas he consistently heard them talk about the devil and demons. He also heard the same sort of conversations at a mission church he began attending.
"Behind prison bars, 'Old Scratch' is as real as can be," he said.
The nickname Old Scratch is one that Beck wasn't familiar with until he began a Bible study with the prisoners. He has since learned that the nickname for the devil or Satan is one found in literature, including in Mark Twain's The Adventures of Tom Sawyer, as well as in Charles Dickens' A Christmas Carol.
Beck said there are two camps of Christians when it comes to beliefs about the "prince of darkness."
On one side are the skeptics, Christians who shun supernatural talk of angels and demons in the Bible and even seem embarrassed by such talk. Thomas Jefferson was one of them. He famously created his own Bible by literally cutting out all references to the supernatural.
On the other side are Christians who believe the devil is a real being and that "spiritual warfare" or battling the evil forces of the devil and demons happens every day. Some, he said, seem to see a demon behind every door.
"It becomes obsessive," he said.
Even though the book's subtitle suggests it's only for the doubters and disenchanted, Beck said he also wrote the book for the believers, including friends who shared stories of demons and spiritual warfare with him.
"The book is written for people like myself, Christians who have increasingly found talking about the devil an awkward conversation," Beck said. "The book is my story on how I try to bridge that gap. I didn't think it was possible to totally shelve my skepticism or worries ... but I also wanted to honor the experiences of my friends."
Beck said society's views on the devil have changed over the centuries from a time when people were "enchanted" with all things magical and mystical.
"Five hundred years ago the world was very enchanted with the devil, monsters and ghosts and spells and witchcraft," he said. "Now we're very disenchanted. It's just the rise of enlightenment, the rise of modern technology and science. Those spookier explanations have given way to scientific explanations, and that has effectively disenchanted the world."
Beck said he had a realization about Satan during a Bible study with the inmates, specifically while talking about the Beatitude "Blessed are the meek for they will inherit the earth."
"They had a very skeptical response to that," he said. "They said, you can't do that here in a prison. That was the day I began saying being a faithful follower of Jesus is an uphill battle in the world. You are swimming against the tide, a dark tide, and it's going to take effort and risk and courage and struggle to be meek. ... That's what the word Satan means -- opponent or adversary -- and however we feel about what the devil is, skeptic to true believer, I think we can all agree that living in a kind, gentle, loving way is facing formidable forces and the Bible names that as Satan."
That realization made talk of the devil and evil less spooky and more practical for Beck.
"It became less about finding demons behind every doorway to how I treated my wife, my children and how I behaved with co-workers and this struggle became a practical, everyday effort," he said. "That's the part Christians have lost track of. We've turned it into a cult phenomenon and they miss the daily struggle to be kind that's happening right in front of them."
Beck said he hopes his book will help Christians learn to talk about the devil, to take Satan seriously and to find new ways to talk about spiritual warfare that isn't politically polarizing.
Ignoring the supernatural elements of the Bible reduces faith, he said.
"One of the things that happens is we tend to reduce the Bible and Christianity to morality," he said. "It becomes about ethics and being a good person. That's a part of it ... but when you reduce Christianity to being a good person you start to lose any sort of energy.
"If you cut that out you're left with what Jefferson had, which was a moral list. Any relevance of the faith as a vital aspect of your existence, you've sort of unplugged yourself from that."
Beck is professor of psychology at Abilene Christian University in Abilene, Texas, and author of the blog Experimental Theology (experimentaltheology.blogspot.com). He is also the author of several books, including Unclean: Meditations on Purity, Hospitality, and Mortality.
Religion on 05/28/2016