PINE BLUFF -- It's here. But it almost wasn't anywhere.
The owner of the facility called the Arts and Science Center for Southeast Arkansas to ask if they wanted the artwork. At the time, it was unclear whether the pictures were fine art or just a set of cheap posters, but the center agreed to accept the find.
Today, the art that was saved from the dumpster is the cornerstone of "Here. African American Art From the Permanent Collection," an exhibit that is showing through Oct. 15. Included are works that have been added in the intervening years, most of which are by students or teachers at the University of Arkansas at Pine Bluff.
It is a powerful and varied collection of images. Many of the works salvaged in 1982 are prints, which were favored by black artists because they could be produced and sold cheaply, but the show contains paintings and sculptures as well.
Courtney Taylor, assistant director/curator, firmly believes that the center in Pine Bluff is the perfect place for this artwork.
"It belongs to the community and it should be here," she says. She believes it is "fulfilling the mission that [the original owner] would have wanted."
Taylor says executive director Lenore Shoults "expressed her desire for an exhibition and research project related to the African American Collection upon my arrival in early 2013. ... In late 2014 we decided to plan the exhibition for early 2016 and pursue a publication as the best means of sharing the collection with the local and scholarly community."
Taylor began her research in 2015, which included a trip to Atlanta to visit Emory University's Stuart A. Rose Library archives. Also, she says, "I conducted phone interviews with artists Juan Logan, Kevin Cole, Danny Campbell, Manuel Hughes, Aj Smith, Camille Billops, Curlee Holton and Nelson Stevens in the fall and winter of 2015 and 2016."
What Taylor found in her six to eight months of research was a revelation.
"I was surprised at just how many incredibly important artists are gathered in this one collection. ... I was also surprised and impressed by how closely these artists worked together to bring African-American art together in group shows, into museums and to the people, and by the depth of their relationships with one another."
ARTISTS -- AND MORE
These artists did more than just make prints. They were sculptors, painters, community organizers and social activists, museum founders and filmmakers. They taught at prestigious colleges and universities and administered national art programs. Some were important members of organizations formed by black artists in the 1960s.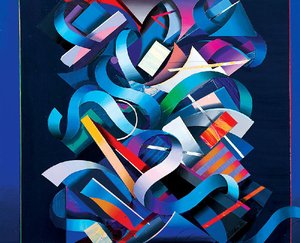 Photo by Courtesy of Arts and Science Center for Southeast Arkansas
Arkansas-born artist Tarrance Corbin's 1986 acrylic on paper painting is titled Boogaloo Beat: Blue Sonata.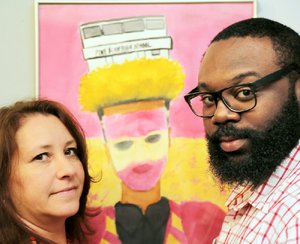 Photo by John Sykes Jr.
Arts and Science Center for Southeast Arkansas public programs director Rachel Cherry and museum intern Jonathan Wright stand in front of one of the works at "In the Style of … 2016 Pine Bluff High School Exhibition." It is inspired by the works in the museum's current exhibition.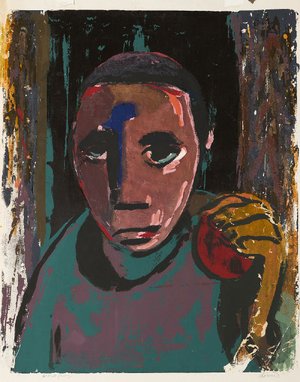 Photo by Courtesy of Arts and Science Center for Southeast Arkansas
Samella Lewis' print, Untitled (Man With Ball), is one of the featured works in the current exhibition at the Arts and Science Center for Southeast Arkansas. It is one of several important works that were discovered in 1982 at a Pine Bluff storage unit.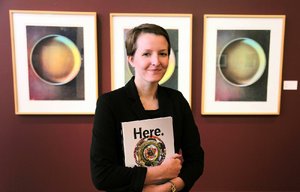 Photo by John Sykes Jr.
Courtney Taylor, assistant director/curator of the Arts and Science Center for Southeast Arkansas, stands in front of a triptych by Little Rock artist Aj Smith. Taylor curated the museum's current exhibition, "Here. African American Art From the Permanent Collection."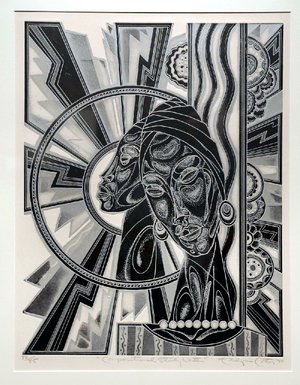 Photo by John Sykes Jr.
Eldzier Cortor's print Composition Study No. III has elements of art nouveau and psychedelia.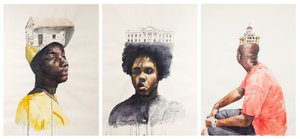 Photo by Courtesy of Arts and Science Center for Southeast Arkansas
Justin Bryant's 2015 watercolor All the King's Men hangs in "Here. African American Art From the Permanent Collection."
More than 30 years ago, an art collection of unknown origin was found in an abandoned storage unit in Pine Bluff.
"Here. African American Art fFrom the Permanent Collection"
Through Oct. 15, Arts and Science Center for Southeast Arkansas, 701 S. Main St., Pine Bluff
Hours: 10 a.m.-5 p.m. Tuesday-Friday, 1-4 p.m. Saturday
Admission: Free
Info: (870) 536-3375, asc701.org
There are works in the exhibit by Benny Andrews, a noted teacher who was active in social causes. A Georgia native, Andrews was once the director of visual arts for the National Endowment for the Arts. He died in 2006.
There are two prints in the show by Billops, an acclaimed filmmaker, and Elizabeth Catlett, who is best known as a sculptor. Catlett's radical views led her to leave the United States for Mexico. The Art Institute of Chicago notes that Catlett (who died in 2012) "had an undeniable influence in the art world through her dedication to social justice, women's rights and advocacy for literacy."
Margaret Burroughs has three linocuts in the show. She was praised by President Barack Obama for her "contributions to American culture" and her "commitment to underserved communities," when she died in 2010. Burroughs founded the DuSable Museum of African American History, one of the first museums in the United States devoted to black history and culture.
Samella Lewis is best know as an art historian and critic who founded the International Review of African American Art in 1975, and the Museum of African-American Arts in 1986.
AFRICOBRA
There are silkscreen prints here by Barbara Jones Hogu and Stevens, original members of the Chicago artist collective AfriCOBRA -- African Commune of Bad Relevant Artists -- a movement spawned in 1968 after Martin Luther King's assassination.
Jeff Donaldson, who studied art at UAPB, was one of the founders of AfriCOBRA, which continues today.
Hearne Fine Art in Little Rock will have an exhibition titled "AfriCOBRA NOW, Works on Paper" from June 8 to Sept. 3. Stevens' work is in the show and so is Cole's, a Pine Bluff native and former UAPB art student who joined AfriCOBRA in 2004. Cole, who has an etching in the Pine Bluff show, began his career as a teacher in Atlanta in 1985 and has had a successful career as an artist there.
ARTISTS FROM THE STATE
There are Arkansas-born artists in "Here" who have risen to prominence elsewhere, including Tarrance Corbin, who died in 2009, and Manuel Hughes, who moved to St. Louis at an early age and taught at the prestigious Pratt School for Design in New York for 30 years. Corbin mentored Cole when Corbin was a teacher at UAPB.
Artists in the show who have become prominent in the state include Campbell, Aj Smith, a professor of printmaking at the University of Arkansas at Little Rock, and Alonzo Ford. Campbell heads the art department at UAPB. A relative newcomer is the promising Justin Bryant, who is in graduate school at Louisiana State University in Baton Rouge.
Pine Bluff artists from years past are in "Here," including John Miller Howard, painter and the first art department head at what was then Arkansas Agricultural, Mechanical and Normal College (AM&N, now UAPB), and Earnest Davidson, who also taught at the school.
STRIKING IMAGES
There are striking images in the show by two AfricCOBRA artists. Two 1972 silkscreen prints by Stevens and one silkscreen image printed in 1971 by Hogu, immediately catch the eye. These three prints are done in a very graphic style and are filled with saturated color.
In Stevens' print Homer de Brave, the head of a black male is inset into a map of the United States. His print Encounter With Juju is another multicolored face constructed out of fragmented, anamorphic shapes.
In Hogu's print, Unite, a group of young black men stands with fists raised, with the word "Unite" patterned across the background. It's a powerful image that champions the black power movement.
Dialogue by John Wilson is a stark, black-and-white 1973 etching of a black youth. A large skull floats behind him, an ominous symbol of a dangerous world. Wilson died in 2015.
Horseman by Vivian Browne is a lively and subtly rendered 1974 abstraction of a horseman that has an apocalyptic feel. Amistad, also by Browne, who died in 1993, is a 1970 print based on the story of a slave ship revolt.
Vincent Smith's excellent 1974 print, The Triumph of B.L.S., combines tribal masks and statues with scenes of poor African villagers and swirling, abstract patterns. Smith, who died in 2004, had a style that has been called "hard-edged, socially conscious expressionism."
In Andrews' 1973 print Growing Up, a black youngster sits pensively in a chair. He also has an oil on paper in the show.
In a 1974 print by Eldzier Cortor, Compositional Study No. III, we see the heads and elongated necks of two black women drawn in an elegant, stylized manner, surrounded by a decorative framework derived from art nouveau and 1960s psychedelia.
Catlett's work is represented here by her 1979 print Two Generations, a careful rendering of an older black lady and a child.
Burroughs has three fine linocuts in the show, The Family (1964) The Student and Birthplace, St. Rose, LA, (both 1965).
There are two prints by Billops in the show, both from 1973. One is Had I Known and the other is the brilliantly titled I Am Black, I Am Black, I Am Dangerously Black.
Lewis' Untitled (Man With Ball) is an expressive 1950 silkscreen print.
The Annunciation #1 is by Romare Bearden, one of the most acclaimed artists in this exhibit. In a 1988 obituary, The New York Times dubbed him "the nation's foremost collagist."
Palmer Hayden (1890-1973) has a 1967 watercolor in the show titled That Mocking Bird, in which a black man sits at a table outdoors with a guitar in his lap. The moon and a house can be seen behind him through the trees.
There is a 1945 oil painting on glass by Bostonian Calvin Burnett (1921-2007) titled War Workers #6. The Boston Globe wrote in 1972 that his work is "the visual equivalent of the sound of Billie Holiday or Bessie Smith."
ARKANSANS' ARTWORK
In the large gallery are a trio of 1988 lithographs by Aj Smith. From a distance, Dream Macrocosm I, II, III, from 1988, seems fairly static. Yet, as you approach these large prints, they become increasingly compelling. The mark-making is vigorous and the colors are subtle but rich. Set against deep burgundy walls, they are a force to be reckoned with.
Campbell's contribution is called Hemlock Lily. It is a 2013 sculpture made of enamel on rubber, steel and wool.
Corbin has an acrylic painting here called Boogaloo Beat: Blue Sonata. With hard-edged ribbons of color dancing across the paper, it is a delight.
There is a brightly colored cubist painting by Howard (1908-80) from 1967, titled Still Life With Fruit. Deftly arranged and confidently painted, this oil painting and Howard's other piece in the show, Old Houses Series #6, are a testament to his considerable skill.
There are two graphite drawings by Hughes, Is and Be. They are whimsical and slyly sexual. Hughes has been a painter for decades and has painted signs and household objects in a colorful and precise style. A recent series is titled Arkansas Memories.
Another triptych, from Stuttgart native Bryant, is on the back wall of the gallery. These three big watercolor images, titled All the King's Men, depict black people with buildings on the tops of their heads. The buildings are the White House, slave quarters and a plantation in Mississippi. Bryant's commentary on racism in America dovetails nicely with the works here by the black activists of the 1960s and 1970s.
There is a delightful show in one of the center's other galleries in which Pine Bluff High School students have created works based on the artwork in "Here." There is a wonderful spirit to all of the student art, but Otha Thompson's Eternal Success, in which Pine Bluff High is perched on a masked head, is particularly fun in the way that it plays off of the work of Bryant.
The catalog produced by the Arts and Science Center combines essays with an overview of the collection. It is available in paperback at Amazon.com for $34.99 and for $25 at the center.
Style on 05/29/2016