Arkansas' public colleges and universities will get a chance at a boost in state funding in 2018 -- a first in 20 years -- if state legislators approve a new way to fund them.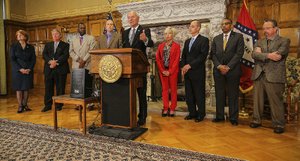 Photo by Stephen B. Thornton
Gov. Asa Hutchinson, surrounded Monday by the heads of the state's public colleges and universities, discusses his $10 million pledge for new higher-education funding. Budget hearings for state colleges and universities begin today.
On Monday, Gov. Asa Hutchinson announced a pledge of $10 million for the state's 11 public universities and 22 public community colleges starting July 1, 2018. The new funds are contingent on the Legislature changing the way the state funds higher-education institutions -- from one based largely on enrollment to one based on completing certificate or degree programs -- and passing the extra funds in the 2018 fiscal session.
The announcement comes as budget hearings for the state's colleges and universities are to begin today.
The proposal is tied to the state's higher-education master plan, which seeks to raise the percentage of adult Arkansans who have technical certificates, associate degrees, bachelor's degrees or higher to 60 percent by 2025. Currently, 38.8 percent of the state's residents have earned certificates or higher, according to the Lumina Foundation, a private foundation working to increase the number of Americans who hold certificates or degrees. A better-educated population can attract business and industry to the state, officials have said.
"This is very lofty and challenging goals to the state of Arkansas, and they'll be difficult to reach under the current funding formula," Hutchinson said. "The current funding formula for higher education is outdated. It is not really being followed at all in terms of the allocation of funds from our state, and it rewards numbers in enrollment vs. attainment, goals and efficiencies. And it is time for that to change."
The goal is to enact the new funding method, called an outcomes-based funding model, in the 2017 legislative session and begin using it to fund schools in July 2018, coinciding with the additional state funds.
"This is one of my highest priorities for the next legislative session," Hutchinson said. "And in order to make this successful and to accomplish the results that we desire, I'm including in my budget that I will submit to the Legislature a $10 million increase in higher-ed funding."
If passed, the state will join four others that have a "robust" outcomes-based funding model, strongly aligning certificate and degree attainment with funding, according to strategists with HCM, a consulting firm that does work with higher-education institutions. The other states are Tennessee, which is in its sixth year, Ohio, Indiana and Colorado. Oregon is also in the mix but uses the model only for its four-year schools, not colleges.
Tennessee was the first to adopt such a model in 1979, and as many as 25 other states started enacting similar funding laws in the 1990s. But by the early 2000s, many states discontinued the funding method because of design flaws and various other reasons, such as a political proponent leaving office, said Dustin Weeden, a senior policy analyst at the National Conference of State Legislatures.
Many of the first models were written as line items in budgets rather than as statutes, he said. So, when the economy started turning for the worse, it was easier to cut line items to achieve a balanced budget, he added.
The economy, in part, also contributed to a re-emergence of outcomes-based funding models, he said.
"Resources are really scarce, and all of a sudden there's a greater demand of efficiency at the institutional level," Weeden said. "There's also been a significant increase or push for student success. I know there are a number of organizations that are really influential that are changing the conversation about not just access, but access and success. And then the other thing is the change in the economy and where the jobs are."
Now, more than 30 states have some form of the funding method, he said.
In Arkansas, the enrollment-based funding method has been in place for community colleges since 2001 and for universities since 2005. In 2011, state legislators added a new component to fund higher-education institutions: a performance-based model, which works similarly to the proposed method.
Where the new outcomes-based framework has weighted measures for its scores, the older method that partially relies on performance metrics has "all or none" metrics. Where the proposed method rewards student success, the older method penalizes schools that don't meet the minimum score of six points out of 10.
Public colleges and universities get money from the state, tuition and fees, and donations. As funding for Arkansas institutions has stagnated, the schools have leaned more on higher tuition and fee rates.
The proposed bill, which does not yet have a sponsor, will mirror the framework that was approved by the Arkansas Higher Education Coordinating Board in July, said state Department of Higher Education Director Maria Markham. The framework is centered around three principles: efficiency, effectiveness and affordability.
Under the framework, two- and four-year schools will be measured on several factors, ranging from credentials to the number of credits students have when they finish a program. Higher-education leaders are still determining how much weight each measure will carry, but those will be in Higher Education Coordinating Board policy, not law, Markham said.
In total, all of the schools' outcomes will generate a "productivity index," which measures progress toward goals in the state's master plan. To figure out what total state funding to higher education will be, leaders will take into account the previous year's funding, that productivity measure and inflation.
To calculate each school's share, leaders will factor in the school's funding for the past year, its share of the overall "productivity index" and its own outcome scores. They plan to put in a stop-gain or stop-loss measure so no college or university can earn or lose more than 2 percent of its funding from year to year.
The Higher Education Department is planning to use the schools' current state funding as a base and then determine either a reduction or an increase in money depending on their productivity, Markham said.
The additional $10 million, if passed, will be reserved for the institutions with good outcomes.
"Your ability to share in this increase is really dependent upon the productivity that you show or that you've shown over time," said Glen Jones, president of Henderson State University in Arkadelphia.
Many higher-education leaders have publicly supported the new funding method, but some are "less comfortable" with it than others, Markham said. Most of the discomfort is because those leaders don't know how exactly the new method will affect their institution. No one spoke publicly against the new funding method Monday.
Bill Stovall, executive director of Arkansas Community Colleges, said the two-year schools have had a "moving discussion" about the changes.
"The overwhelming amount of presidents and chancellors at community colleges are supportive of it today," he said. "Some of them would like to continue to work with the department to get better acquainted with the metrics and the weighting particularly on the challenge students. ... We are working towards an overwhelming consensus. We have a majority of [presidents and chancellors] on board, and I think most of them will be."
A Section on 11/01/2016