7 P.M. UPDATE:
All members of the University of Arkansas men's basketball team stood for the national anthem before a game Friday night.
Arkansas Democrat-Gazette reporter Bob Holt said on Twitter that the entire team stood before the Razorbacks' game versus Emporia State, adding they remained "standing a minute or so after anthem ended and got a big ovation from the crowd."
Read Saturday's Arkansas Democrat-Gazette for full details.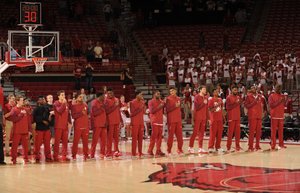 Photo by Andy Shupe
Arkansas' players stand during the national anthem before play against Emporia State's Friday, Nov. 4, 2016, during the first half of play in Bud Walton Arena in Fayetteville.
5:20 P.M. UPDATE:
University of Arkansas Chancellor Joseph Steinmetz said the intention of women's basketball players who kneeled during the national anthem earlier this week was "not to denigrate the flag, to show disrespect to our veterans or to challenge our freedoms."
Instead, he said, the act at the team's exhibition game Thursday was to raise awareness of "an important issue of concern in our communities."
"While I encourage people to stand during the playing of the national anthem, as I choose to do, I will respect others who exercise free speech guaranteed to them by our Constitution," Steinmetz said in a statement. "Our campus will continue to engage in productive and necessary dialogue until every member of our community feels respected and safe."
— Brandon Riddle
3:45 P.M. UPDATE:
Arkansas Gov. Asa Hutchinson released a statement Friday afternoon after six members of the Razorbacks women's basketball team kneeled during the national anthem before an exhibition game Thursday night.
"By standing at attention when our national anthem is played, we show honor and respect to all of those who sacrificed everything to protect the freedoms we enjoy today — including the right to express our opinions," the governor wrote in an email.
"I hope to understand more fully the message these young ladies were trying to convey, but I would encourage student athletes to find ways to both respect the flag and to engage in public debate on issues they care about."
— Brandon Riddle
EARLIER:
FAYETTEVILLE — Arkansas athletic director Jeff Long said the university is backing six women's basketball players who kneeled during the national anthem before an exhibition game Thursday.
Players Jordan Danberry, Tatiyana Smith, Kiara Williams, Jailyn Mason, Yasmeen Ratliff and Briunna Freeman, who are all black, locked arms and kneeled as the anthem played and a color guard presented the U.S and Arkansas flags.
"Recently you all know that there's been a lot of killings from police officers of African-Americans and other minorities," Danberry said. "Me and my teammates took a kneel today during the national anthem to speak for those who are oppressed. As Razorback student-athletes we have a platform to do that."
After Arkansas' 79-32 win over Oklahoma Baptist, Razorbacks coach Jimmy Dykes said he'd met with the players several times to discuss their plans to protest.
"They had very, very strong, well-informed, educated opinions based on their real life experiences, their real life emotions," Dykes said. "I am very, very proud of them."
Many Arkansas fans took to social media to express their dismay over the protest, and Republican Gov. Asa Hutchinson retweeted a post from a state lawmaker who called the players' protest disrespectful.
But Long, a former chairman of the College Football Playoff Selection Committee, defended the players' right to protest. He said the athletic department would stand behind the players' right to free speech.
"University campuses are places of learning and thus places where differences of opinion and varying perspectives are recognized," Long said in a statement. "We respect the rights of our student-athletes and all individuals to express themselves on important issues in our nation."