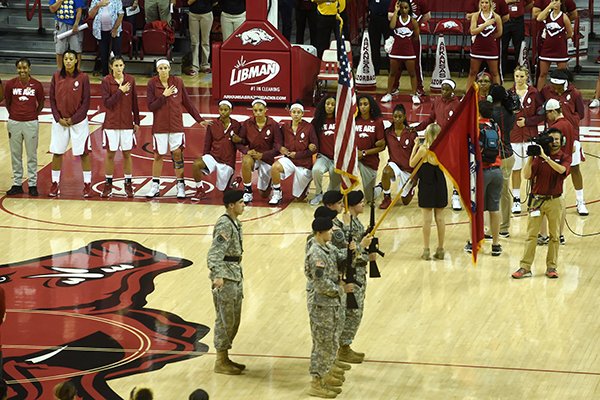 Arkansas basketball players kneel during the playing of the national anthem prior to an exhibition game against Oklahoma Baptist on Thursday, Nov. 3, 2016, in Fayetteville. ( Michael Woods)
FAYETTEVILLE — Arkansas women's basketball players will no longer kneel during the national anthem.
Razorbacks coach Jimmy Dykes and two players announced the decision during a news conference Wednesday. Arkansas is scheduled to open the regular season with a game against Sam Houston State on Friday.
Six Arkansas players knelt during the national anthem prior to an exhibition game last Thursday. Sophomore guard Jordan Danberry said the protest was meant to raise awareness about an "unjust system" that resulted in police brutality against blacks and other minorities.
Danberry said Wednesday that the team did not mean to disrespect the American flag. She said the team's decision not to kneel was made in part by feedback they have received from fans.
The team was involved in a community outreach initiative involving police officers Saturday, said freshman guard Jailyn Mason, who also knelt during last week's anthem. The players have started a program named Project Unify that will encourage dialogue between community groups about societal issues.
This story will be updated
Sponsor Content