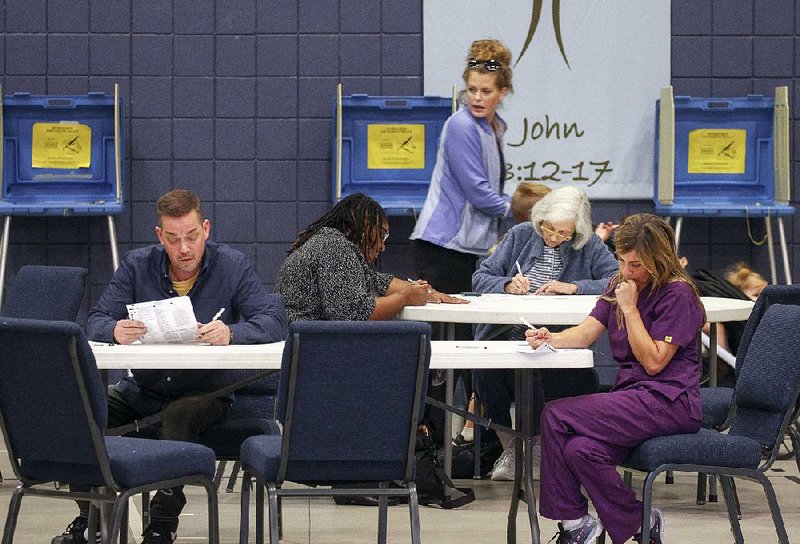 Voters cast ballots at First United Methodist Church in Maumelle on election day Tuesday. ( Benjamin Krain)
Tuesday's election was busy but normal, with no more than the usual problems, election workers said.
"It's played out in a rather pedestrian fashion, which I'm thankful for," said Bryan Poe, Pulaski County's election coordinator.
The exception was late Tuesday when the memory card with all the votes was left behind at Precinct 60 at Highland Valley United Methodist Church on Chenal Parkway in Little Rock.
"We're in the process of recovering that," Poe said.
Chris Powell, a spokesman in the office of Secretary of State Mark Martin, said late Tuesday that he was unaware of any serious voting problems around the state.
"There were no major problems today," Powell said. "Now we're just monitoring the results as they come in."
Debbie Baxter, county clerk in Montgomery County, said her office was plenty busy answering phone calls about "a little bit of everything." Voters typically wanted to know if they were registered and where they were supposed to vote.
The county had a heavy turnout, she said.
"I think we had 1,615 early votes, and we have 4,908 registered voters. I expect a little bit more today. We'll see."
Election Day is long for county clerks.
"I'm like everyone else -- I'll be glad when it's over," Baxter said. "But I'm happy we have such a big turnout."
Voting in Lawrence County was going well, County Clerk Tina Stowers said. The county has about 9,000 registered voters, and a record number of them -- 2,656 -- voted early, she said. She expected somewhat more than that number to vote Tuesday, which would constitute "a pretty high turnout."
"We did have reports of machines that needed to be recalibrated," Stowers said, "but we took care of that."
Stowers said she expected the county would go for Republican presidential nominee Donald Trump, but "a pretty hot state representative race" was also in play. That race, in District 60, matched Democratic incumbent James Ratliffe against Republican Frances Cavenaugh.
Election coordinators in Northwest Arkansas reported few problems. Kim Dennison, Benton County's election coordinator, said about 1:30 p.m. that the day had been relatively calm.
Benton County had about 413 voting machines in use Tuesday. This year's implementation of voting centers, which allow people to cast a ballot at any polling location in their counties, has been a major help by eliminating voters' confusion over where they should vote, she said.
Jennifer Price, Washington County's election coordinator, said some polling sites were busier than others.
"Considering it's a general election and we've got new voting equipment, everything is going great," Price said. "We're doing our best and the problems we're having are not significant. It's just the lines and we ask everyone to be patient."
Machine failures were the primary problem in Pulaski County, but election workers had a backup, Poe said.
"Some machines aren't reading the ballots correctly, so we go ahead and replace them. We have paper ballots to fall back on in that case. We have the poll workers place them in the emergency bin until we can replace the machine and then two poll workers together scan them."
The most serious machine problem may have been at Cornerstone Bible Fellowship Church in Sherwood. Poe said two machines were replaced, and one of the replacements wasn't working either. A third machine did the trick.
Things apparently got hot at one polling place in North Little Rock.
"From what I'm told, a couple of campaigners were about to go to fisticuffs at Levy Church of Christ."
Poe said there were other normal problems such as workers not showing up, and incorrect procedures by poll workers.
"Like for instance, people being asked if they're Democrat or Republican." That's for primaries, not the general election. "Some people were confused about that but we got it straightened out."
About a week before the election, Poe predicted 80,000 early voters. The final total for Pulaski County was 79,449.
At the end of the day Monday, more than 587,000 voters cast early ballots in Arkansas. In 2012, 469,637 did so.
Jon Davidson of the state Board of Election Commissioners said county election officials and voters called the board on Tuesday.
"We've actually been quiet, but normal for an Election Day," he said. "We've heard of little glitches here and there but nothing too overwhelming. We always have calls from voters who think people are campaigning too close to the polls. We call the counties and have them address that."
Turnout appeared heavy, Davidson said. "We kind of expected that and briefed counties going in to order extra ballots or get more voting machines."
A big turnout's lesson is more planning for next time, Davidson said.
"A lot can be based on what happened in the primary so you can start pre-planning for long waits and extra ballots and polling places."
Could be worse -- could be Missouri.
"I have a friend in Missouri who texted me today and said there's no early voting there," Davidson said. "So it was a long wait for him. That's crazy."
Information for this article was contributed by Jeannie Roberts of the Arkansas Democrat-Gazette.
Metro on 11/09/2016
Print Headline: Day at busy polls described as calm
Sponsor Content