Arkansas likely became one of the latest states -- and one of the first in the South -- to allow medical marijuana after a proposed constitutional amendment received what appeared to be a majority of favorable votes in Tuesday's election.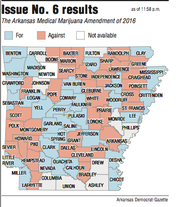 Supporters and opponents agreed that the Arkansas Medical Marijuana Amendment, also known as Issue 6, looked like a winner. In 2012, voters narrowly rejected an initiated act that would have allowed patients to use marijuana for medical conditions. That ballot measure received 49 percent of the vote.
With 2,399 of 2,534 precincts reporting, unofficial returns on Issue 6 showed:
For 564,298
Against 498,814
"We legalized marijuana in a state where Trump got 61 percent of the vote," said David Couch, the Little Rock-based lawyer who sponsored the amendment. "When you have a red state doing a progressive issue, it gives people in the U.S. Congress the color -- for lack of a better word -- to allow reform at the national level."
Marijuana is illegal under federal law, but more than half of the states allow recreational or medical use of the drug.
Couch continued: "They're going to look back at Arkansas doing this at the watershed moment with respect to when medical marijuana changed everything."
Arkansas was one of four states with ballot issues related to the use of marijuana for medical treatment. Voters in Florida and North Dakota decisively approved ballot measures to legalize marijuana for medical purposes. In early returns, Montana voters were leaning toward easing restrictions on an existing medical-marijuana law.
Also, five states voted on whether to legalize the recreational use of marijuana. Arizona was leaning toward rejecting its measure, but voters in California, Maine, Massachusetts and Nevada either outright approved or leaned toward approving their measures.
In Arkansas, the proposed constitutional amendment underwent a bruising fight with supporters of the competing Arkansas Medical Cannabis Act, before the act was struck from the ballot. Couch said medical-marijuana legalization had gained ground nationally, and Issue 6 was more moderate than the 2012 act.
Opponents of medical marijuana in Arkansas included Republicans like Gov. Asa Hutchinson and dozens of conservative state lawmakers. Proponents included the state Democratic Party and Conner Eldridge, a Democrat from Fayetteville who unsuccessfully challenged Republican John Boozman of Rogers for his U.S. Senate seat.
Arkansas Surgeon General Greg Bledsoe served as a spokesman for Arkansans Against Legalized Marijuana -- composed of the Arkansas Chamber of Commerce, the Arkansas Farm Bureau Federation, the Coalition for Safer Arkansas Communities, the Family Council Action Committee and the Arkansas Committee for Ethics Policy.
Bledsoe said he would fight for a responsible implementation of the law in light of its passage.
"The first thing we are going to do is sit down with all the individuals involved to implement in a responsible way so that patients and their families can make an educated choice when it comes to using marijuana," he said.
Arkansans Against Legalized Marijuana had highlighted opposition by law enforcement officials and medical organizations.
But in Arkansas on Tuesday, some Donald Trump and Hillary Clinton voters found common ground on Issue 6.
"Preachers, I know for a fact, have stated that they'd like to see it legalized because it gives people options," said George McCool of Benton. "A lot of people believe, like in the Bible, trust nothing made by man. That's something God put on the Earth himself."
McCool, a veteran who served in Bosnia, said he voted for Trump.
"Research supports the use of it for medical reasons," said Jason Trickey of Benton. "I'm for the medical and the recreational use of it, but I'm realistic."
He said he voted for Clinton.
If Issue 6 passes, the law will go into effect today.
Before Tuesday, 25 states, the District of Columbia, Guam and Puerto Rico allowed for comprehensive public medical-marijuana and cannabis programs, according to the National Conference of State Legislatures.
Melissa Fults, campaign director for Arkansans for Compassionate Care, supported the competing Arkansas Medical Cannabis Act.
"I know one thing -- whether it's through the Legislature or whether it's through a ballot initiative -- the petitioning laws are going to be changed where it's not so difficult for a normal person ... to get an initiative on the ballot," she said in an interview this week.
On the fourth day of early voting, the state Supreme Court invalidated some of the petitions in support of the act, also known as Issue 7, and that left it with too few signatures to qualify for the ballot.
More than 144,000 people already had voted -- more than 8 percent of registered voters. Because ballots were printed before the state court ruled, voters saw Issue 7 on the ballot when they went to the polls. The high court ruling mandated that votes for and against Issue 7 not be counted.
Fults said she would support amending it in a future election to allow more qualifying conditions and control pricing.
"It will protect a small number of patients," she said of Issue 6. "The fight's not over by a long shot."
One difference between the measures was a "grow your own" provision in Issue 7. Couch worked with Arkansans for Compassionate Care in 2012, but said he split from the group because the provision was one reason the 2012 ballot measure failed.
Couch had planned to hold an election party Tuesday night at Rebel Kettle in Little Rock, but canceled after he said he received threats from Issue 7 supporters online.
"When you lose, you lose graciously," Couch said. "I understand their frustration, but we had the same goal."
Fults denied that Issue 6 supporters would threaten Couch.
"Nobody threatened him," Fults said. "Nobody would threaten him."
If Issue 6 passes, state agencies have up to 120 days to come up with rules and regulation pertaining to their duties.
The Alcoholic Beverage Control Division of the Department of Finance and Administration will inspect the dispensaries -- where marijuana is sold -- and cultivation facilities -- where marijuana is grown.
The Department of Health will issue registry identification cards for patients who have any of 18 qualifying conditions as defined in the amendment. Conditions include cancer, glaucoma, Tourette's syndrome, Alzheimer's disease and hepatitis-C.
The governor, the Senate president pro tempore and the House speaker must appoint five people to the newly created Medical Marijuana Commission.
The commission will administer and regulate the licensing of dispensaries and cultivation facilities. It would allow at least 20 but not more than 40 dispensary licenses, and at least four but not more than eight cultivation facility licenses.
The commission would begin accepting applications by June 1.
Jerry Cox, executive director of the Arkansas Family Council Action Committee, said his focus will now turn to the Legislature.
"If indeed it has passed, the fight now moves into the Legislature because with this amendment being added to the constitution," he said, "the Legislature will have to pass literally dozen of laws to implement it."
Couch said he expects lawmakers to implement the law faithfully.
"I don't think we're going to have a lot of challenges," he said. "I know a lot of them signed on to being against it, but I don't think they're going to go against the will of the people," he said. "I believe they will try to implement this proposal in a safe and responsible manner and that's the way it was designed to be implemented from the beginning."
Information for this article was contributed by Jessica Seaman and Amanda Claire Curcio of the Arkansas Democrat-Gazette; and by The Associated Press.
A Section on 11/09/2016