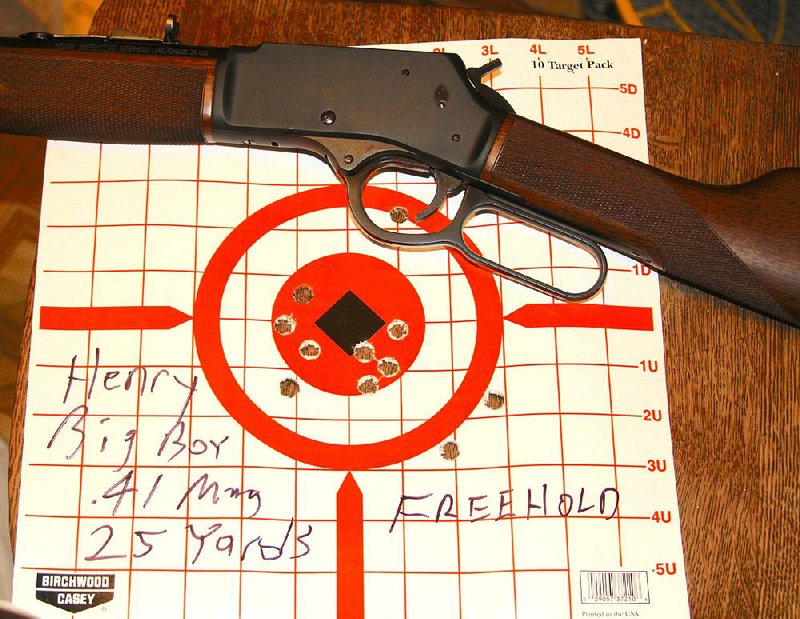 At 25 yards freehold, the author's Henry Big Boy Steel in .41 Mag. is accurate with a variety of reloads featuring 210-22-gr. bullets. ( Bryan Hendricks)
We have a winner!
It is a Henry Big Boy Steel lever-action rifle, a product that I previously considered to be second rate from a company that I held in low regard.
A disclaimer is in order, but first things first. My Henry Big Boy Steel is chambered in the obscure .41 Remington Magnum. It is the only factory rifle currently in production so configured, and is the only reason I invested.
The .41 Magnum is my favorite pistol cartridge. Several companies offer lever-action rifles in more popular chamberings like .357 Mag., .44 Mag., and 45 Long Colt, but .41 Mag. rifles are extremely rare.
Marlin was the last major manufacturer to offer a .41, about 10 years ago, in its 1894 carbine. I passed on a new one at a box retailer at the end of its run because the front sight hood was missing. The price was about $500. For the cost of a $20 replacement part that probably would have been covered under warranty, I missed out on a gun that goes for $1,200-$1,500 today.
I developed a low opinion about Henry in 2001 when I worked for the Missouri Department of Conservation. To celebrate the 25th anniversary of Missouri's conservation sales tax, we commissioned several gun-makers to issue limited edition firearms with commemorative engraving. The Henry Golden Boy was among them, and they were high dollar. Public funds were not used, by the way. Employees that ordered the guns paid the entire cost.
The "commemorative" engraving was a tiny stamp so unattractive and so inconsequential that I deemed it a liability. I've had no use for the company since, and I since viewed Henry guns much more critically than those of its rivals. It's churlish and petty, but it's nothing compared to why I've refused to eat Imperial Margarine for 45 years. Remember the commercials where a beautiful crown popped onto the head of a model that took a bite of Imperial Margarine? Well, I didn't get one. I'll leave it at that.
An unbiased eye notices more important things like slick actions, tight wood-to-metal fit, close tolerances in the machinery, consistent wood and metal finishes and a nice, natural feel.
The Henry is also accurate.
When Henry introduced its Big Boy Steel model in .41 Mag. this year, all was forgiven.
A close inspection out of the box revealed my Big Boy Steel to be a solidly built, well-defined, utilitarian firearm. It has no adornments and no flourishes. Its checkering is plain, and its barrel is round instead of Henry's signature octagonal barrel.
Before taking it to my Redneck Rifle Range, I fed the rifle a variety of my pistol reloads. It smoothly chambered every round without a hint of resistance. I credit that, of course, to the fine craftsmanship of my reloads. The gun would have to prove itself, and it did.
At my range, I set up a Birchwood Casey target at 25 yards and shot while standing without a support.
The first several rounds were 220-grain Speer hollow points powered by 21 grains of H110. It was almost dark, so I couldn't see the sights well. The first two shots hit just outside the southeast arc of the red circle.
I illuminated the target with my four-wheeler headlights. That's how we roll in the country, and it was sufficient. I poured the next seven shots into the inner circle, and one just outside to the southwest. These rounds included a mix of 210-gr. Hornady HP/XTP and 210-gr. Nosler HP.
I had one flyer. It was a 180-gr. Barnes XPS, an all-copper bullet, powered by 12.5 grains of AA7. It printed about 2.5 inches northeast. In the photo, it's the one beside the trigger.
Recoil was mild, and the experience was purely fun. I've never enjoyed shooting a rifle as much.
The Big Boy Steel is also available in the usual array of pistol cartridges. A large caliber model is available in .30-30 WCF and .45-70. If Henry ever makes one in .375 Win., count me in.
Sports on 11/13/2016
Print Headline: Unusual Henry rifle is accurate and a hoot to shoot
Sponsor Content