Donations to the Bill, Hillary and Chelsea Clinton Foundation dropped last year as the former first family shifted its focus from philanthropy to presidential politics.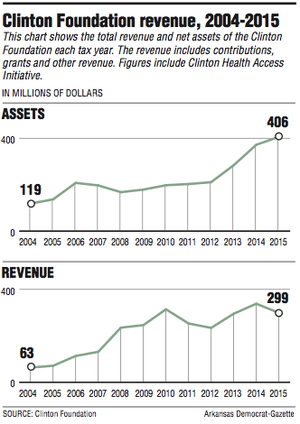 Photo by SOURCE: Clinton Foundation / Arkansas Democrat-Gazette
Graphs showing Clinton Foundation revenue, from 2004-2015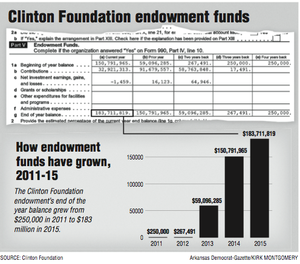 Photo by SOURCE: Clinton Foundation / Arkansas Democrat-Gazette/KIRK MONTGOMERY
Information about Clinton Foundation endowment funds
The nonprofit group reported contributions and grants totaling $108.9 million in 2015, down from $172.6 million the previous year, according to federal tax forms.
Leslie Lenkowsky, a senior counselor to the Lilly Family School of Philanthropy at Indiana University, said donations may have dropped, in part, because of the intense partisan criticism the foundation faced.
"Givers usually don't like to find themselves in the middle of controversies," he said.
[DOCUMENT: Read the Clinton Foundation's 990 report]
The conflict didn't cause funds to dry up at an affiliated organization, the Boston-based Clinton Health Access Initiative.
The organization, which was spun off the Clinton Foundation in 2010, said it raised an additional $170.7 million, money to improve health systems in developing nations. That was up from $141.5 million in 2014, tax forms say.
The foundation, which has offices in Little Rock and New York City, reported net assets totaling $346.6 million while the initiative showed net assets of $59.6 million.
Overall, in materials posted online, they reported net assets of $406.2 million.
Combined total revenue topped $298.8 million. Combined expenses and losses totaled $264.6 million.
Overall net assets climbed by $34.2 million.
Since its start in 2001, the foundation and its spinoffs have raised more than $2 billion, according to tax records.
In 2015, the two organizations together listed about $263.2 million in functional expenses, including $109.1 million in salaries and benefits. Program services expenses totaled $226.7 million, including $148.1 million on the health initiative and $12.6 million on the Clinton Presidential Center in Little Rock.
The foundation saw its endowment grow from $150.8 million to $183.7 million. The latter figure included $108.8 million in endowment funds plus $74.5 million in "net contributions receivable" -- pledges that had not yet been paid.
The figures were listed on Internal Revenue Service forms and various financial statements that were released this week. The financial statement included figures for the foundation as well as the health initiative.
Foundation officials declined to comment on the new figures Wednesday.
In a letter accompanying the documents, Foundation President Donna Shalala said the organization had made a "significant impact in a wide range of issue areas, including economic development, climate change, education, health and wellness, and participation of girls and women in all parts of society."
The projects ranged from planting indigenous tree seedlings in Kenya and Ethiopia to promoting health and wellness programs in the Caribbean, Asia and Latin America. Among other things, farmers got aid, entrepreneurs received business-literacy training, and parents were encouraged to read and sing to their babies.
Among the expenses that were listed: a separation payment of $330,000 to former chief executive officer Eric Braverman. He resigned abruptly in January 2015 after 18 months on the job.
The foundation, which faced intense scrutiny over the past year, is governed by a board which includes former President Bill Clinton and his daughter, Chelsea Clinton.
Former Secretary of State Hillary Clinton resigned as a board member last year on the same day that she officially opened her White House bid as a Democratic candidate. But questions about the foundation, its funding sources and donor access to the State Department were raised repeatedly by her Republican opponents.
During the Oct. 19 debate in Las Vegas, Republican nominee Donald Trump called the foundation "a criminal enterprise," while Clinton described it as "a world-renowned charity."
Originally known as the William J. Clinton Foundation, then just the Clinton Foundation, the names of the former first family members were all added in 2013, shortly after Hillary Clinton left the State Department. Officials had promised to revert to the previous name if she was elected to the White House.
The organization had pledged to reject new donations from corporations or foreign entities if Clinton were elected. Bill Clinton, who turned 70 in August, had promised to resign from the board.
The organization has focused, in recent years, on creating an endowment to help the organization to continue to meet its objectives.
Starting with just $267,491 at the end of 2012, it has grown quickly, reaching $59.1 million at the end of 2013 and $150.8 million a year later.
As the Clintons age and step away from public office, the endowment should remain a high priority, according to Lenkowsky, the philanthropy expert from Indiana.
"I think it's extremely important right now for the Clinton Foundation, since their ability to raise money on an annual basis is probably going to be less now that Ms. Clinton has lost the presidency," he said.
With the White House dream quashed, the Clintons' fundraising abilities may be "diminished," he said.
He'd recommend that the foundation focus on a few core areas rather than trying to cover nine or 10 different categories.
"What the Clinton Foundation's going to need to do now and in the future is really raise its money the old-fashioned way. They're going to have to earn it. They're going to have to demonstrate that their work, the work of their programs, merits the support of people."
A Section on 11/17/2016