ATHENS, Greece -- In an address aimed at a global audience as well as Americans at home, President Barack Obama said Wednesday that "the current path of globalization needs a course correction," even as he argued that there was no turning back from an interconnected world.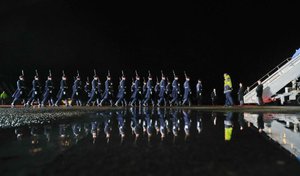 Photo by PABLO MARTINEZ MONSIVAIS / AP
German honor guard members march across the tarmac Wednesday at Tegel International Airport in Berlin for an arrival ceremony for President Barack Obama, who made the short fl ight from Greece. He met with German Chancellor Angela Merkel, who joined Obama in a joint opinion piece set for publication today in a German newspaper that seemed to push back against President-elect Donald Trump's campaign agenda.
Speaking in Greece on his last foreign trip as president, Obama issued a parting plea to world leaders not to let the fear of globalization tugging at Europe and the U.S. pull them away from their core democratic values.
"In the years and decades ahead, our countries have to make sure that the benefits of an integrated global economy are more broadly shared by more people and that the negative impacts are squarely addressed," he said.
Obama has tried to draw lessons from Donald Trump's victory in the U.S. presidential election. Conceding that many feel left behind by globalization, Obama said there was an understandable impulse toward isolationism and that if people feel their futures are at risk, "they'll push back."
"People have to know that they're being heard," Obama said in a speech to the Greek people at the newly opened Stavros Niarchos Foundation Cultural Center in Athens. But he added, "We can't look backward for answers. We have to look forward."
Obama's argument centered on the notion that economic inequality, while a growing problem, can be addressed without a full rejection of globalization. Rather, he said it demanded a "course correction."
He said that globalization and automation, which have created the most prosperous and advanced society in history, also were creating extraordinary anxiety.
"Technology and automation mean that goods can be produced with fewer workers," he said. "It means jobs and manufacturing can move across borders where wages are lower and rights are less protected."
Those trends also have created a global elite that seems to live by a different set of rules, such as being able to avoid taxes, Obama said. That kind of inequality breeds resentment, he said, and is among the greatest challenges to modern democracies and to the economic formula that has yielded such benefits.
"It fuels a feeling that globalization only benefits those at the top," he said.
Democracy as solution
He acknowledged that the kind of "inclusive economies" and social tolerance he espouses have come under strain as the glaring inequality among the world's economic classes has become more evident and different cultures have come into closer proximity with one another.
"Democracy is simplest where everybody thinks alike, looks alike, eats the same food, worships the same God," Obama said. "An inequality that was once tolerated because people didn't know how unequal things were now won't be tolerated because everybody has a cellphone and can see how unequal things are."
He elicited nervous chuckles as he acknowledged that he and the president-elect "could not be more different." But in a message of reassurance, Obama argued that democracy is bigger than any one person.
"As long as we retain our faith in democracy, as long as we retain our faith in the people, as long as we don't waver from those central principles that ensure a lively, open debate, then our future will be OK," Obama said.
And to listeners at home fearful about Trump, he offered a path out of the wilderness, albeit a long and winding one.
"Any action by a president, or any result of an election, or any legislation that is proven flawed can be corrected through the process of democracy," Obama said.
Paying homage to Greece's role as the birthplace of democracy, the president prompted a laugh when he said it was essential to defend ideals including freedom of speech, religion and "free and fair elections -- because citizens must be able to choose their own leaders, even if your candidate doesn't always win."
Greece, he added, gave humanity "the most precious of gifts -- the truth, the understanding that as individuals of free will, we have the right and the capacity to govern ourselves."
Every country "travels its own path, every country has its own traditions," Obama said. "But what I also believe, after eight years, is that the basic longing to live with dignity, the fundamental desire to have control of our lives and our future, and to want to be a part of determining the course of our communities and our nations -- these yearnings are universal."
Stop in Germany
From Greece, Obama took a short flight to Germany, which has emerged as one of the strongest voices for preserving a unified, inclusive Europe. Yet even German Chancellor Angela Merkel faces her own threat from a nationalist rightist movement, fueled in part by anger over her generous policy toward resettling Syrians pouring into Europe.
As Obama landed in Berlin and went into a private dinner with Merkel, the two leaders took a joint stand in favor of globalization, free trade and combating climate change. In a joint opinion piece that seemed to push back against the campaign agenda of Trump, they also hailed NATO -- to which Trump has signaled a less than firm commitment -- as vital to maintaining security and stability in the region.
In the piece -- excerpted on Wednesday and to be published in full this week by the German weekly Wirtschaftwoche -- the leaders argued that there "will be no return to a world before globalization." They argued in favor of pursuing a free-trade deal between the United States and the European Union despite Trump campaign pledges that seemed to doom it after years of negotiations.
They also stressed the need to push forward with the Paris Agreement on climate change struck last year to cut greenhouse emissions, from which Trump has said he plans to withdraw.
Before his speech, Obama climbed up the Acropolis, the ancient citadel that serves as a monument to free thought and artistic expression. He strolled through the Propylaea, the complex's monumental gateway, and gazed up at the famed Parthenon temple dating from the fifth century B.C.
The entire site was closed to the public for Obama's visit, which has played out under stringent security measures. Demonstrations were banned in parts of Athens, and roads and subway stations were shut down for the first official visit of a sitting U.S. president since Bill Clinton went in 1999.
On Tuesday night, a few thousand globalization opponents sparred with police during protests in Athens.
Obama said concepts like minority rights and equality under the law "grew out of this rocky soil" in a democratic project not yet complete. He said inequality, on more vivid display because of widespread technology, now posed one of the biggest threats to democratic nations, their stability and prosperity.
Even in Greece, there were parallels to the deep divisions now on display in America. Greek Prime Minister Alexis Tsipras won elections last year on what critics say was a populist platform, though one on the left of the spectrum. He pushed his formerly small party to the forefront by telling Greeks weary from six years of financial crisis that he would reject austerity measures imposed in return for bailouts.
But after the near collapse of negotiations with Greece's creditors, Tsipras performed a political about-face: He signed up to a new bailout and more austerity to prevent his country from being forced out of the euro currency.
Greece's government hoped Obama would help persuade some of Greece's more reluctant creditors to grant debt relief -- a message they hoped he'd stress in Berlin -- and also pressure other European countries to share more of the burden of the migrant crisis.
Appearing receptive to Greece's woes, Obama repeated his belief that debt relief should be granted.
Information for this article was contributed by Josh Lederman and Elena Becatoros of The Associated Press; by Juliet Eilperin of The Washington Post; and by Gardiner Harris of The New York Times.
A Section on 11/17/2016