FAYETTEVILLE -- A magnified video view of Cheryl Harp's right eye filled a flat-screen TV: a light blue iris, dozens of tiny red blood vessels zigzagging across the white eyeball and, through the dilated pupil, the lens. Lenses are normally clear, but this one was streaked like marble with opaque cloudiness, the beginnings of a cataract that could lead to blindness.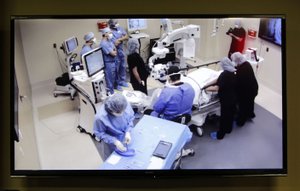 Photo by David Gottschalk
Dr. Steven Vold (center) places a CyPass Micro-Stent in the eye of Cheryl Harp Tuesday for the treatment of glaucoma surgery at the center in Fayetteville.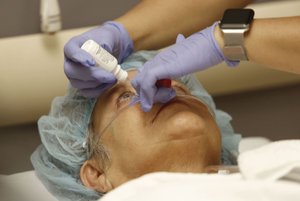 Photo by David Gottschalk
Drops are applied to the eye of Cheryl Harp Tuesday before her glaucoma surgery. Dr. Steven Vold of Vold Vision placed a CyPass Micro-Stent in her eye at the center in Fayetteville.
Dr. Steven Vold's voice sounded calmly from off screen, explaining to Harp what he was doing as he poked a tiny vacuum through her pupil to break up the diseased lens and siphon it away. Next, he pushed in a soft, crystal-clear artificial lens that unfurled in the original lens's place. Harp, 62, would later say she could see across the room for the first time since around third grade.
Glaucoma fast facts
• A disease that damages the eye's optic nerve and usually happens when fluid builds up in the front part of the eye
• Affects about 3 million Americans, half of whom don't know it
• The most common form often has no symptoms early on but can eventually cause blind spots in peripheral vision
• Can be treated with medicated eye drops, laser treatment, other surgeries and implants
Source: American Academy of Opthalmology
The cataract procedure is fairly common; before Vold wrapped up, he did something much less routine. He gently placed a tiny tube, around 1/100th of an inch wide and less than one-fourth of an inch long, into the iris' outer boundary. Doing so should help prevent another common cause of blindness by relieving unusually high pressure inside the eyeball and avoiding the side effects and long recovery time of other procedures.
Vold on Tuesday became the first physician in the United States to perform the treatment outside of a clinical trial, placing a tube called a CyPass Micro-Stent. Representatives of the medical company Alcon, which makes the micro-stent, watched the procedure from another room at the Vold Vision clinic near Interstate 49 and Garland Avenue and cheered when it was done.
"This is not a little deal," Vold said. "This is the culmination of a lot of hard work."
It's also one small piece of a bigger picture in which Northwest Arkansas is becoming what health and civic leaders have long called a "health care destination," a central location for specialized care and training for the entire region.
Vold operated Tuesday on about a dozen people from Arkansas and three other states and will soon begin training other doctors on how to do the procedure. He said he also hopes his clinic eventually becomes home to doctors offering pediatric eye care and other specialties.
Vold is also one of just a handful of local opthalmologists who treat glaucoma, a group of diseases typically linked to high pressure in the eye's fluids that can damage the optic nerve leading from the eye to the brain. The condition can slowly impair vision to the point of blindness and affected at least 63,000 Arkansans in 2010 and many more who didn't know they had it, according to the federal Centers for Disease Control and Prevention.
"We're really educating the whole area to improve the quality of vision," Vold said.
Harp, who lives in Farmington, said she came to the clinic to pick up new contact lenses when Vold noticed problems with her eyes. Her late grandmother was blinded by glaucoma, and her mother has it, too.
"He said, 'I'm sorry, you have your mother's eyes,'" Harp said, adding she was disappointed and sad to hear the news but had "complete faith" in Vold.
Harp called the results of the surgery a "miracle" and said she's excited to get the procedure done on her left eye this week.
Her eye occasionally gets "scratchy" or sore but nothing her prescription eye drops can't take care of, she said.
"I just feel so blessed," Harp said.
In healthy eyes, a clear fluid called aqueous humor flows from behind the iris, forward through the pupil and out along the iris's outside edge, nourishing all of those parts of the eye as it goes and keeping the eye in the right shape. With glaucoma, something typically hinders this flow, and pressure builds up in the eye.
That pressure can damage the optic nerve, which carries signals from the light-sensitive cells at the back end of the eye to the brain. Glaucoma is often called the "silent thief" of sight because it can cause permanent damage before noticeable vision problems show up.
Treatments include medicated eye drops and surgeries, many of which either try to reopen the pathway for aqueous humor to leave the eye or divert the fluid to a blister or reservoir on the eye's surface, usually under an eyelid, where the fluid can be absorbed.
Recovery from those conventional surgeries can take weeks or months and can lead to infections, irritation or even make vision worse than it started, Vold said, calling them a last resort.
"Where we are right now is so God-awful bad I wouldn't put this to anybody if I didn't have to," he said of conventional treatments.
In contrast, the micro-stent diverts the aqueous humor between the thin layers of tissue that make up the outside of the eyeball, like a tiny straw slotted in between the outermost layers of an onion. The fluid can spread out and be reabsorbed by the body without the need for a blister. Patients can leave the clinic the day of the procedure or the next, and the vast majority no longer need to use eye drops, Vold said.
Vold was one of several dozen physicians who took part in the clinical study for the micro-stent, performing it on a little more than 500 volunteers. The U.S. Food and Drug Administration approved it for mild and moderate glaucoma cases in July, though it's been used in other parts of the world for years.
The treatment in the U.S. for now is only for those who have glaucoma and cataracts, Vold said. Another clinical study for the procedure as a stand-alone glaucoma treatment could finish in the next few years.
Conventional treatments' risk of complications has pushed eye doctors to look into several new ways of treating glaucoma without relatively large incisions or side effects, said Dr. Steven Sarkisian, clinical professor of ophthalmology at University of Oklahoma and glaucoma fellowship director at Dean McGee Eye Institute in Oklahoma City.
"It's never a good time to be a glaucoma patient, but it's certainly exciting to have more options for patients," said Sarkisian, who took part in the micro-stent trial and is working in studies of other similar treatments.
"There's still some people that need that," he said of conventional surgery, "but I tell you, my volume of that surgery has decreased by 90 percent in the last year because of these micro-invasive glaucoma procedures."
Vold and Dr. Austin Bell of the Rogers BoozmanHof eye clinic both said they were initially reluctant to study glaucoma because its treatments at the time could bring so many problems, but the past decade or so of research brought them around.
Bell, who wasn't part of the micro-stent study, said he favors a type of procedure called canaloplasty, which uses a small tube to widen and stimulate the eye's natural drainage canal. But he called the micro-stent method "promising" and said he had just gotten in touch with Alcon to learn how to use it.
"We're excited to try it out," he said. "It's going to be another tool in our tool belt."
Health care providers across Northwest Arkansas have worked to bring specialized care in a variety of fields over the last few years. Several health systems are beefing up their women's and children's offerings, and Arkansas Children's Hospital is in the middle of building a Springdale location, for instance.
The University of Arkansas for Medical Sciences has a center focusing on Pacific Islander health issues and institutes for other areas, Northwest Health recently added a second robot to its Robotic Surgery Institute, Washington Regional Medical Center opened its Neuroscience Institute in 2014, and Mercy Northwest Arkansas has added cardiac centers and cardiologists.
Becoming known as a destination for health care can draw in patients and insurance companies looking for better and more efficient care, said Dr. Joe Thompson, director of the Arkansas Center for Health Improvement, a research and advocacy group in Little Rock, and former Arkansas Surgeon General. It can also bring in health care dollars, which comprise almost one-fifth of the nation's economy.
Arkansas' health care providers generally haven't yet reached the national recognition or prestige of the Mayo or Cleveland clinics, for example, Thompson said. But Arkansas as a whole is nationally recognized for moving toward a value-based type of health care, in which patients pay for their outcomes instead of any number of tests and procedures, he said.
"I think it's encouraging to have new technology applied," Thompson said of work like Vold's. "I think it's equally important to keep looking toward the outcomes."
NW News on 10/02/2016