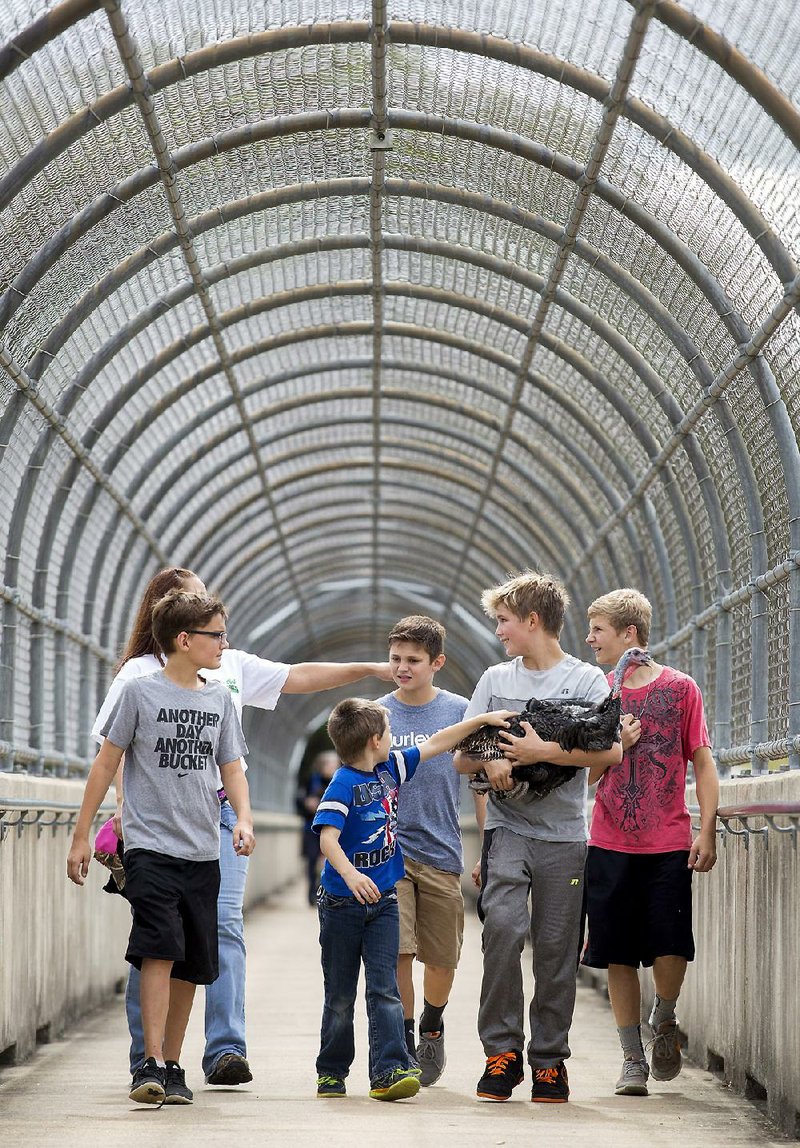 Dakota Deleon carries his turkey across the pedestrian bridge over Crooked Creek in Yellville after he caught the bird that was dropped Friday from a plane during the Turkey Trot festival. ( NWA Democrat-Gazette / Jason Ivester)
YELLVILLE -- Six live turkeys were tossed from an airplane Friday as it flew along Crooked Creek, two blocks south of the Yellville square, which was packed with about 400 people at the town's annual Turkey Trot festival.
Gallery: 2016 Turkey Trot festival features turkeys thrown from plane
Initially, the birds dropped straight down for a bit. Then most of them got their bearings, spread their wings and glided to a landing.
About 40 people -- mostly kids -- took off running for the chase when the first three birds were released at 1 p.m.
Two of those turkeys were caught. One apparently died on impact.
[PHOTOS: Turkeys dropped from plane during 2016 Turkey Trot festival]
Niall Blasdel, 25, the band director at Flippin High School, caught one of the live birds.
"I've been trying to catch them since I was 4," he said. "This is the first one I ever caught. I was just in the right place at the right time."
When asked what he would do with the turkey, Blasdel said he was like a dog that chases a car, never expecting to catch it. "I haven't thought that far ahead," he said.
Dakota Deleon, 12, of Yellville and Aaron Robinson, 13, of Bruno caught the other live bird dropped at 1 p.m. It was Aaron's birthday. They said they plan to eat the turkey.
Barb Klug, 66, of Bull Shoals got the dead bird.
"This will be the first Thanksgiving dinner we've had in years," said Klug, who moved from Wisconsin to Arkansas in 2012.
Klug said she went through great pains to get the turkey.
"I nearly killed myself doing it," she said. "I jumped over that concrete fence, landed real hard, and I might have passed out for a minute."
Klug said she would rather the bird survive the airplane drop, but "out of all bad comes some good, they say."
Animal-welfare groups have condemned the tradition of dropping turkeys from an airplane at the festival. It's been going on for about 50 years.
"Despite warnings that turkeys don't fly at high altitudes, birds were thrown from a plane for sheer amusement's sake, and at least one died after what must have been a terrifying fall," said Stephanie Bell, senior director of animal-cruelty casework with People for the Ethical Treatment of Animals, or PETA. "The 'Turkey Drop' is cruel as well as illegal under Arkansas law, and PETA will seek vigorous prosecution of those responsible for this shameful, backward stunt."
PETA has offered a reward of up to $5,000 for information leading to the arrest and conviction of anyone who breaks a law by dropping turkeys from an airplane at the Turkey Trot festival.
No protesters were seen Friday.
Dana Woods of Mountain View said he's not intimidated by threats he has received this week from animal advocates.
Woods said he has flown the 1959 Cessna 182B by the festival for about 15 years while two of his cousins tossed wild turkeys out of the plane. After the birds are caught, they are paraded around the downtown square.
Woods, a Mountain View alderman, said "no comment" when asked if more turkeys would be released today from his plane. On Tuesday, Terry Ott, the county judge of Marion County, said the flyovers would take place on both days of the festival.
At 3 p.m. Friday, Woods flew by the festival three more times, and three more turkeys were released over Crooked Creek. He said all three survived and were caught.
The Federal Aviation Administration investigated reports about last year's turkey drop and told Woods to make sure the birds aren't dropped over people or property that could be damaged. Woods said the birds are released over the creek, not the downtown.
Lynn Lunsford, a spokesman for the FAA in Fort Worth, said it's legal to drop objects from airplanes as long as they don't damage people or property on the ground. But animal cruelty isn't the FAA's jurisdiction, he said.
"We don't endorse the practice of heaving unsuspecting turkeys out of aircraft for entertainment purposes, but our regulations don't specifically exclude live animals as 'objects,'" Lunsford said.
The festival began in 1946. Woods stopped the practice from 2012 through 2014 for various reasons, he said. He mentioned mechanical problems with his plane one year and a fishing trip another year.
Known to festival attendees as "The Phantom Pilot," Woods remained somewhat anonymous for years. But the identification number on his plane was clearly visible in newspaper photographs last year.
Phantom Pilot T-shirts were for sale at the festival Friday next to a poster of The Phantom Pilot in which people could insert their faces for photo opportunities. They had the option of posing as either the pilot or the turkey.
Wild turkeys can fly at speeds up to 55 mph, but they usually fly from treetop to treetop, at an altitude of less than 100 feet. Woods said Tuesday that the turkeys would be released at an altitude of about 500 feet over the creek.
Yvonne Vizzier Thaxton, a professor of poultry science at the University of Arkansas at Fayetteville, said that altitude would be enough to cause stress to the birds. She called the turkey drop a "horrific act of abuse."
Metro on 10/08/2016
Print Headline: 6 turkeys tossed on first day; 5 survive
Sponsor Content