NEWPORT -- Undrea Jones grew up in prison.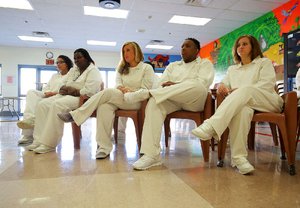 Photo by Stephen B. Thornton
Inmates at the McPherson Unit at Newport talk about the Second Chance Pell program that is allowing them to enroll in college. Shorter College in North Little Rock and Arkansas State University-Newport are taking part in the program.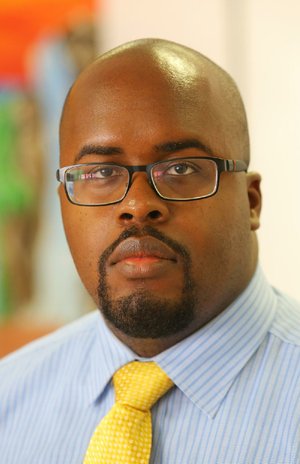 Photo by Stephen B. Thornton
Arkansas Department of Corrections spokesperson Solomon Graves Wednesday at the McPherson Unit near Newport.
As a teenager, she dropped out of Northside High School in Memphis, gave birth to a son and became a single parent. The pressure to get by got to her.
"I relied on anything I could to help take care of my own child," Jones said.
Even if that meant becoming a prostitute, selling drugs -- anything.
On Jan. 16, 1998, Jones crossed the state line, committed an armed robbery in Crittenden County and fatally shot Silvio Rodriguez. She was originally charged with capital murder, but pleaded guilty to the lesser count of first-degree murder.
Now 35, Jones is serving out the second half of her 30-year sentence at the McPherson Unit in Newport -- and taking classes along the way.
She is one of the nearly 300 inmates and parolees in Arkansas participating this year in Second Chance Pell, a three-year federal pilot program that allows state and federal prisoners and parolees to use federal financial aid to pay for college.
Two Arkansas community colleges, Shorter College in North Little Rock and Arkansas State University-Newport, were among 69 higher-education institutions across the nation selected to participate in the program. Together, the two schools will work with seven Arkansas Department of Correction and Arkansas Community Correction facilities.
The program reverses a 1994 congressional ban on students in federal and state prisons from being eligible for Pell grants -- federal funds that do not have to be repaid and are typically reserved for low-income families.
Since then, inmates have relied on limited institutional scholarships or families to pay the bill.
Inmates who are now otherwise eligible for federal financial aid -- including having high school diplomas or the equivalent GED degrees -- and who are eligible for release, especially within the next five years, could use the grants. The federal government has set aside $30 million for the experimental program, and using those funds will not detract from funding for other low-income students, said Kim Hunter-Reed, deputy undersecretary of the U.S. Department of Education.
The United States has fewer than 5 percent of the world's population but has some 25 percent of the world's prison population, research shows. In 2014, the U.S. had more than 1.5 million people in prison or jail. Arkansas -- with its current inmate count at 18,086 -- has one of the fastest-growing prison populations in the nation.
The goal of Second Chance Pell is to ease the transition for those incarcerated and give them a better chance at leading productive lives when they are released from prison. Inmates who took part in educational programs while locked up were 43 percent less likely to commit subsequent crimes within three years, according to a 2013 study by the Rand Corp. and funded by the U.S. Department of Justice.
Reducing the odds that a prisoner will end up behind bars again will save taxpayer dollars. The nonprofit estimated that for every dollar invested in correctional education, reincarceration costs fall by $4 to $5.
The pilot program is one of the latest education and job initiatives of President Barack Obama's administration to help reduce recidivism and lower barriers to success.
"Our prisons should be a place where we can train people for skills that can help them find a job, not train them to become more hardened criminals," Obama said last year.
The program involves professors -- faculty members or adjuncts from the colleges -- and textbooks going to the lockups. Inmates have access to other books in the prison library, but some professors in certain courses may take in additional materials. Classes are generally in the evenings to accommodate inmates' work schedules during the day.
ASU-Newport has worked for decades with the McPherson Unit, a women's prison, and the neighboring Grimes Unit, a men's prison, through a federal grant, but that program ended, said Allen Mooneyhan, the college's dean of institutional effectiveness and academic outreach. The community college has tried to keep the program afloat by offering institutional scholarships to eligible prisoners, but that covered just one class per semester.
"We just have known that we can't keep scholarshipping forever," Mooneyhan said. "I suspect we've used 10 times more scholarships for inmates the past three or four years than we have the decade before. We just know that we can't continue that."
The pilot program came in the nick of time, he said.
With Second Chance Pell, the Newport college now has 55 students at the Grimes and McPherson units, prison spokesman Solomon Graves said, adding that another eight students are on a college scholarship. Classes began Sept. 12.
Amy Williams, 29, of Little Rock found herself behind bars at 16. Her family moved to Bryant after losing its home in a tornado, and Williams said she took to the change by partying and doing drugs. She sought out treatment at rehabilitation centers twice, and after the second time she returned home on Prozac.
Her behavior changed dramatically, she said.
"Two weeks after, I shot my dad in my moment of rage," Williams said, adding that to this day she doesn't know what prompted the fatal shooting.
She took her father's wallet and the keys to his truck, drove to Harvest Foods and removed $150 from his bank account, an affidavit said. She eventually pleaded guilty to a lesser count of first-degree murder and felony theft of property, and was sentenced to 60 years in prison.
Second Chance Pell is a unique program because it doesn't limit federal financial aid to those who are set to be released, she said. If not for the program, Williams and Jones wouldn't be able to take college courses, they said.
Kelly Pike-Smith, another inmate at McPherson, was barely out of high school when she was sent to prison for first-degree murder. She spent her first decade acting up, doing her own thing.
"I was young and just stupid," the 38-year-old said. "I had a problem with authority. In a typical day, I had three disciplinaries a day."
The past couple of years, Pike-Smith has immersed herself in college courses.
"I just grew up and realized that there's more to life than getting in trouble," she said. "Now, I'm taking three college courses this semester. I have something to look forward to. Education comes first now."
Countless inmates have similar stories -- stories of how they fell in with the wrong crowd, or abused drugs or alcohol; stories about what got them into prison, and their lives since.
State law requires inmates who do not have high school diplomas or GED certificates to earn them while in prison. But access to higher education has been more difficult for inmates -- some may transfer to a different prison that doesn't work with a college, or some previously took only one class per semester. An associate's degree typically requires 60 credit hours.
The Second Chance Pell program gives inmates new stories -- of hope.
For Margo Williams, October is a big month. She is to graduate from the prison's cosmetology program and go before the Arkansas Parole Board. Her plan is to continue her college education and get a psychology degree so she can give back to society, she said.
"We're afforded a chance to get our life on track," she said. "I want to help someone else's child."
Many others aspire to be drug or alcohol counselors, hoping to influence youths headed down a path similar to theirs as youths.
"Each one of us have been in a situation," Jones said, adding that she also wants to help those who have lost their way. "To do that, I have to be educated and knowledgeable in those areas."
Jones is one of a handful of students at the McPherson Unit who transferred for a few years to the Wrightsville Unit, which had a higher-education program until this year.
That unit -- along with the Ouachita Unit in Malvern, the Pine Bluff Complex and two Community Correction offices in West Memphis and Texarkana -- offer courses through Shorter College, which had already been working with the Arkansas Juvenile Assessment and Treatment Center in Alexander.
"The United States leads the world in the incarceration of its percentage of population," Shorter College President Jerome Green said. "The Arkansas Department of Corrections ... what their research shows is that for every year of college that a post-incarcerated person has, recidivism goes down about 20 percent, so that by the time they reach the master's level, the recidivism rate of persons who have been incarcerated that go back reaches zero.
"That's a statistic that we found to be very eye-opening."
Shorter College saw the Second Chance Pell program as an opportunity to make a difference, he said, adding that it fits in with the historically black college's open-admissions policy. The policy opens educational opportunities to students who might not otherwise be accepted to a college or university because of their higher academic standards.
"The public policy idea is that they will be able to become contributing citizens," he said, "and they ... won't feel a need to resort to the way of living that they had engaged in previously because they thought that all doors were closed to them because of the incident of their birth or the accident that may have happened to them socially in life."
Incarceration has a downstream effect, Green said.
"When you got a man imprisoned, you've got a woman who's left without a husband," Green said. "You've got children without fathers. And so you have a cycle that begins to perpetuate itself. You have some generations of people who don't know anything about a normal family, whose expectation is for the males to be in prison."
Shorter College began its classes Sept. 26 with 239 students at all five facilities, said Graves, the prison spokesman.
The college is offering an entrepreneurial business degree as a way to encourage the prisoners -- who are often spurned by employers reluctant to hire ex-convicts -- to start their own small businesses, Green said.
"Some of them in the drug business were small businessmen before they were in," he said. "And they can count quite a bit of money. And they understood marketing and packaging and financing and distribution. They were just understanding the wrong things. And so a program in entrepreneurial business helps them take those same skills that they used for wrong and to use them for a good purpose and to contribute to the economy."
Also, the college will take its chapel concept on the road, teaching inmates and parolees the Four C's: character, citizenship, culture and competence. The concept will be tailored to that population, he said.
For many inmates, the program means more than just earning a degree. It means taking responsibility. It means being able to find a career they will love.
Mondrea Scott, 41, of Texas will be out on parole in February. She hopes to finish her associate degree this December. Her family members helped her pay for the college coursework in the past, she said, and she is grateful that Second Chance Pell took that burden off them.
Scott will have been incarcerated for 21 years when she is released, she said, adding that her parents did that time along with her.
"I've always been a burden to my family," she said. "I really want to show my mom and dad that I'm a different woman. I want to be a blessing, not a curse, to my parents."
Jones, the inmate from Memphis, has kept her focus, even after 12 long years. When inmates are released from prison, she said, they face many hurdles.
"This is one less hurdle I have to climb," she said about earning a college degree. "When you fail so much in life, you don't take failure as an option."
Metro on 10/09/2016