The spiritual adviser to the Dalai Lama will offer blessings and share Buddhist teachings during a visit to central Arkansas this month.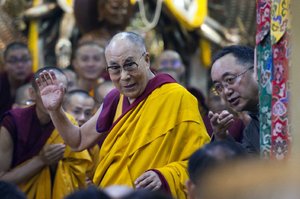 Photo by ASHWINI BHATIA / AP
Tibetan spiritual leader the Dalai Lama sometimes seeks spiritual guidance from the Nechung Oracle. The spiritual mediums have advised dalai lamas throughout the centuries.
Photo by Staton Breidenthal
The Venerable Thupten Ngodup will visit the Arkansas House of Prayer during his stay in central Arkansas. The oracle and the Dalai Lama are building a similar interfaith house of prayer in Mongolia.
The Venerable Thupten Ngodup is the Nechung Oracle (the state oracle of Tibet), a role he has served since 1988. Known as Kuten-la, he not only serves as the spiritual adviser to the Dalai Lama, but also offers him support and protection. He is coming to Arkansas, along with several Tibetan monks, not only to share blessings and teachings but to visit the interfaith Arkansas House of Prayer at St. Margaret's Episcopal Church in Little Rock.
The oracle and the Dalai Lama are building a monastery and health clinic in Mongolia that also will feature an interfaith house of prayer. Ngodup heard about the House of Prayer in Little Rock while visiting with the Rev. Susan Sims Smith while she was on a trip to Dharamsala, India. It was Sims Smith's vision that inspired the Arkansas House of Prayer.
Since the oracle is going to be in the United States this year to offer teachings elsewhere, his friend Lama Tenzin Choegyal and Sims Smith arranged for him to come to Little Rock. His visit is sponsored by the Interfaith Center in Little Rock and the Arkansas House of Prayer.
Ngodup was born in Tibet in 1958 and fled to Dharamsala in 1966 after the Chinese took control of his home country. He entered the Nechung Monastery established in exile there at the age of 12. The monastery, originally located near the capital of Lhasa in Tibet, has been closely tied to the succession of dalai lamas for centuries, as well as to the oracle.
According to the Nechung Foundation website, the monastery has been known as the seat of the State Oracle of Tibet since the 17th century when the fifth Dalai Lama pronounced the oracle as "the chief protector of the Tibetan Government, responsible for peace and harmony on earth."
While at the monastery, Ngodup served as chief ritual assistant to the Nechung oracle and was recognized as his successor when that oracle died.
Bill Gorvine, associate professor and chairman of the Department of Religious Studies at Hendrix College in Conway, said the oracle is a spiritual medium and enters a trance-like state in which Tibetan Buddhists believe he has "access to sacred power and blessings."
"He was a ritual master, an attendant for his predecessor and he has ability to enter into an alternative state of consciousness," Gorvine said.
From his visions he advises the Dalai Lama.
In addition to his role as an adviser, the oracle is also often sought out by laypeople for blessings and healings.
During his visit to central Arkansas, the oracle will participate in three public events.
The first event, "Chanting, Contemplation and Inspiration: An Experiential Journey with the Nechung Oracle," will be from 10 a.m. to 12:30 p.m. Oct. 22 at Hendrix College, 1600 Washington Ave., in Conway. The program will be in Reves Recital Hall in the Trieschmann Fine Arts Building. This gathering is sponsored by the Interdisciplinary Program in Asian Studies, the Marshall T. Steel Center and the Miller Center for Vocations, Ethics, and Calling at the college.
Ngodup will be accompanied by Tenzin Choegyal and monks from the Nechung Monastery. Attendees will hear traditional chanting and be introduced to Tibetan contemplative practice by the oracle. A question-and-answer session will follow.
Gorvine said the event offers the opportunity for non-Buddhists to see a religious ceremony from another tradition. He said the monks are well trained in chanting and should "weave a pretty compelling space."
Also on Oct. 22, the Ecumenical Buddhist Society of Little Rock will host "The Power of Blessings and Mantra" from 4 to 6:30 p.m. The center is at 1516 W. Third St. The event will feature chanting, teaching and blessings.
"Silence, Stillness and Interfaith Harmony" will be from 1:30 to 3:30 p.m. Oct. 23 at St. Margaret's Episcopal Church, 20900 Chenal Parkway. The monks will chant and Ngodup will teach. Representatives of other faith traditions will be on hand to welcome him and the visiting monks.
Sophia Said, program director of the Interfaith Center, said Rabbi Barry Block of Temple B'nai Israel, Hashim Ghori of the Islamic Center of Little Rock, the Rev. Mary Vano of St. Margaret's and Melissa Gill from the Ecumenical Buddhist Society will welcome the oracle at the start of the program.
A children's choir from this summer's Interfaith Friendship Camp will sing "Children for Peace" and the Multi-Faith Youth Group, as well as community members from different faith and cultural backgrounds, also will be in attendance.
The Arkansas House of Prayer will be open for tours and meditation before and after the program. The house of prayer opened in 1997 and features a circular prayer room. It's a place of silence for prayer or meditation and is designed to be welcoming to people of all faith, as well as those who claim no faith tradition.
Sims Smith said 12,000 people have visited the house of prayer since its opening. They include Christians, Buddhists, Jews, Muslims, Hindus, agnostics and atheists.
"Some come to give thanks because they are happy. People also come when they are questioning, suffering or when they are burdened," she said. "It has fulfilled more than my original vision.
"When I originally envisioned it I didn't even understand the concept of interfaith at the point. I didn't realize it would shape my whole future and the house of prayer's future. It has more than fulfilled my hopes and dreams."
Sims Smith said those in attendance will hear more about the oracle's plans for a similar house of prayer in Mongolia.
"It's a sister building to the Arkansas House of Prayer in that it has a very similar intention where people of all the world's religions will be invited to come in and say their prayers in silence," she said.
Sims Smith said those attending the events can expect to learn a little bit about their Buddhist brothers and sisters and "to experience the profound devotion of these monks who have committed their entire lives to the spiritual path."
"These interfaith events are not about converting anybody," she said. "It's not an effort toward conversion to other religions. It's about learning about people of other faiths, understanding them and having more respect for them and benefiting by being around people of other faiths who are very, very devoted."
Sims Smith said she hopes it will be an eye-opening experience for all.
"People will get to hear the monks pray by chanting and the oracle will do some teaching about loving kindness, compassion for other human beings, about why interfaith work is so important," Sims Smith said. "He will teach about silence and how to silence the mind."
During the event at St. Margaret's, attendees also will have the opportunity to ask questions and to seek a blessing from Kuten-la.
All the events are free and open to the public. No child care will be provided. Information is available online at interfaith.itssm.org.
Religion on 10/15/2016