Bentonville freshman Brooke Killingsworth knew what she was up against Tuesday afternoon in the finals of the Class 7A state tennis tournament.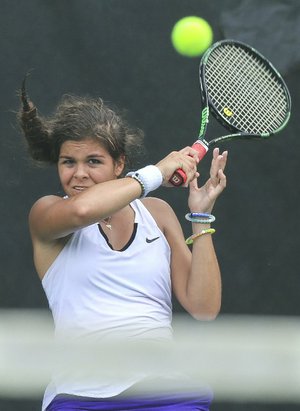 Photo by Benjamin Krain
Mount St. Mary's Presley Southerland lost in three sets to Bentonville's Brooke Killingsworth for the Class 7A state title.
Killingsworth outlasted Mount St. Mary's Presley Southerland 3-6, 7-5, 6-2 to win the girls singles title in a grueling two-hour, 34-minute match at the Rebsamen Tennis Center in Little Rock.
Killingsworth and Southerland are doubles partners when not representing their respective schools.
"Presley has so much fight in her," Killingsworth said. "She just never gives up. You can't let up against her. You've got to keep the gas pedal at full speed all the time. She's an incredible fighter. It's a great quality to have when it's your doubles partner, but not when it's an opponent."
Bentonville captured its third consecutive team title, easily outpointing Fayetteville 17-8. The Lady Tigers' team of Taylor Damonte and Avery Hargrove defeated Fayetteville's Mary Houston and Anna Mauromoustakos in the doubles finals.
Catholic junior Parker Stearns cruised to the boys singles title, routing Rogers senior Jack Vaughan 6-0, 6-2. Catholic placed two teams in the doubles finals with the duo of Henry Nolan and Steven Weeks defeating Jackson Davis and Phillip Abston.
The Rockets repeated as the team champions with 18 points. Rogers was the runner-up with 7.
The girls singles championship was the only match to go three sets, which surprised neither Killingsworth nor Southerland.
"I think I played great," Southerland said. "It was a great match. She played awesome, too. We always have a battle when we play each other. It's back and forth every time we play each other. She'll win one and I'll win the next."
Tuesday's match was much like their friendly rivalry. Southerland won four of the first five games before Killingsworth rallied to within 4-3. But serving with a chance to tie, Killingsworth dropped the next two games and the first set.
Killingsworth led 5-2 in the second set and lost three consecutive games before forcing the deciding set. Killingsworth won the first five games of the third set before finally putting Southerland away in the eighth game.
"I knew I had to change something after the first set," Killingsworth said. "It just wasn't working for me. I was beating myself in the first set. I was nervous because it was a big match. I needed to get my legs into it and start getting the ball over the net."
Southerland played in a tournament in Mobile, Ala., over the weekend and said that Tuesday's final match was exhausting.
"I was confident coming into the third set, but my legs were really shaky," Southerland said. "I was just hoping I could go out there and play like I did in the first set."
Stearns repeated as the boys singles champion. He has lost only three games in his two 7A state championship appearances.
"I served really well. It was a lot better than [Monday]," said Stearns, who had only one unforced error in the first set of the championship match. "I was a lot more aggressive. I didn't miss, and I made [Vaughan] play my game."
All of Tuesday's finalists qualified for next week's Overall tournament, which will be played Oct. 26-27 at Burns Park in North Little Rock.
Sports on 10/19/2016