FAYETTEVILLE -- The last time Skip Holtz was at a football game in Reynolds Razorback Stadium, he was on the home team's sideline cheering for Arkansas.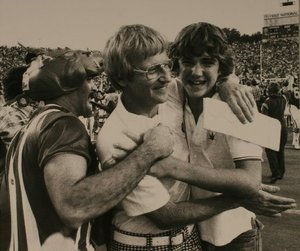 Photo by Arkansas Democrat-Gazette File
Arkansas coach Lou Holtz, center, hugs his son, Skip, following a 1979 game at War Memorial Stadium in Little Rock.
That was in 1981.
"I know things have changed a little bit since then, to say the least," Holtz said.
Instead of cheering for Arkansas, Holtz will be on the visitors' sideline trying to beat the Razorbacks when they open the season against Louisiana Tech at 3 p.m. Saturday.
Holtz, going into his fourth season as Louisiana Tech's coach, has a strong attachment to Arkansas. He lived in Fayetteville when his father, Lou, coached the Razorbacks to a 60-21-2 record from 1977-83.
"I grew up calling the Hogs," Skip Holtz said. "I was a big part of the program, being the little rugrat that ran around and had the opportunity to be on the sidelines and around the team."
Holtz, 52, said his father's victories at Arkansas that stand out include beating Texas 17-14 in 1979 and 42-11 in 1981, and beating Oklahoma 31-6 in the 1978 Orange Bowl.
"I remember the big wins, but more than the games, I remember the players," Holtz said. "Guys like Ron Calcagni, Kevin Scanlon and Tom Jones -- the quarterbacks for my dad -- as well as a lot of other players at Arkansas from that era.
"As a kid, I really looked up to those guys. It was great to be able to talk to them and eat at the training table and hang out in their dorm rooms."
Calcagni said he developed a bond with Skip Holtz that remains strong.
"Skip was so much fun and full of life as a kid, always running around with a football," Calcagni said. "I had an Irish setter named Shanna, and Skip would come down to my room and bring an ice cream cone and feed her on my roommate Bruce Hay's bed.
"The dog loved to get on Bruce's bed, but he never knew she was eating ice cream on it. Bruce didn't clean his sheets very often."
Saturday's game will mark the eighth time Skip Holtz has coached against Arkansas, but it will have a different feel.
He was involved in six Arkansas-South Carolina games as a Gamecocks assistant coach for his father from 1999-2004 and as East Carolina's coach when the Pirates played the Razorbacks in the 2009 Liberty Bowl.
The Arkansas-South Carolina games -- when the Gamecocks went 2-4 against the Razorbacks -- were either in Little Rock or Columbia, S.C.
Arkansas' 20-17 overtime victory against East Carolina in the Liberty Bowl was in Memphis.
Saturday will be the first time Skip Holtz competes against Arkansas in the town where he lived the longest before going to college at Notre Dame.
"It's going to be emotional," he said. "It's kind of a homecoming for me."
The game is part of a big weekend for the Holtz family.
Lou Holtz is being inducted into the UA Sports Hall of Honor tonight during a banquet at the John Q. Hammons Center in Rogers. The Hall of Honor inductees also will be introduced on the field at halftime of Saturday's game.
"It's great to see my dad being honored for everything he accomplished during his days in Fayetteville," Holtz said. "It's going to mean an awful lot to him."
Holtz said he won't be able to take part in the activities involving his father.
"People ask me, 'Are you going to the dinner on Friday night that's going to honor your dad? Are you going to stay out on the field to watch at halftime?' " Holtz said. "No. Unfortunately, I won't be there as a son to have the opportunity to experience all that because my first obligation is to make sure that as a football team we put a quality product on the field.
"That's where 100 percent of my attention is going to be this weekend."
Attempts to reach Lou Holtz for this report were unsuccessful.
Lou Holtz had seven coaching jobs between 1964 -- when Skip was born -- and the family's move to Fayetteville. Holtz coached the New York Jets for one season in 1976, then returned to the college ranks as Frank Broyles' handpicked successor at Arkansas.
"As a coach's child, I was very fortunate to grow up and go to junior high and high school in the same place," Skip Holtz said. "I have great memories of my family's time in Fayetteville.
"I still have close friends in Fayetteville I stay in touch with. It's a very special place to me."
Rob Armstrong, who has an insurance agency in Fayetteville, is among Holtz's close friends. They met as seventh-graders at Woodland Junior High School.
"When Skip first got here, he wasn't hard to miss, because he was the only kid that got on the school bus wearing a New York Jets' jacket," Armstrong said.
Holtz graduated from Fayetteville High School -- where he and Armstrong played on the football and basketball teams -- in the spring of 1982.
"Skip was a popular kid," Armstrong said. "Everyone liked him because he was always happy. He had an optimistic outlook on everything. He never seemed to get down.
"He didn't have a high-and-low type of personality. He was constantly upbeat and moving forward. I think that's served him well in the coaching profession."
A few years ago when Holtz was the coach at South Florida, he made a donation to the Fayetteville High School athletic department to help pay for upgrades to the weight room.
"Skip still considers himself a Fayetteville guy to this day," Armstrong said. "I think he looks at Fayetteville as a magical place where he spent a good portion of some of the best years of his life."
Arkansas sophomore linebacker Dre Greenlaw, who played at Fayetteville, wasn't aware Holtz is a fellow alumnus and that he helped support the football program financially.
"That's pretty sweet to hear," Greenlaw said. "I really appreciate it that he gave back to Fayetteville.
"But we're still going to be ready to get after Coach Holtz and his team Saturday."
Arkansas senior middle linebacker Brooks Ellis, who also played at Fayetteville, said Holtz's high school ties won't factor into the game.
"I've heard a lot of good things about him, but Saturday he's an opponent just like anybody else," Ellis said. "We've got to take it to him."
Arkansas Coach Bret Bielema said he's gotten to know Skip Holtz over the years through mutual friends.
"I think Skip's one of the true good guys in our profession," Bielema said. "You cheer for him."
Arkansas linebackers coach Vernon Hargreaves was on Skip Holtz's staffs at Connecticut, East Carolina and South Florida.
"Skip's a players' coach, so the guys really play hard for him," Hargreaves said. "He's put together a great staff, and he takes care of those guys.
"His overall preparation is very sound going back to the things his dad taught him about the way to run a program. He does things the right way."
Armstrong said he believes Saturday's game means something extra for Holtz.
"I don't think he's putting a huge amount of pressure on himself as far as this game goes, but certainly he's going to enjoy it and his competitive spirits will come out," Armstrong said. "He's going to do everything he can to try to win."
Lou Holtz, 79, stepped down as an ESPN analyst this year after working at the network since 2005. He retired from coaching in 2004.
"It'll be neat to have my dad at the Arkansas game," Skip Holtz said. "He's been a little bit busy on Saturdays in the fall for the last 50-plus years because he was either coaching on the sideline with his own team or working at ESPN.
"It was good to have him at one of our practices this year and get his views on the team and give me some feedback."
Calcagni, who coaches and teaches at Pulaski Heights Middle School in Little Rock, said he's looking forward to attending tonight's banquet and Saturday's game and talking with both Lou and Skip Holtz.
"Lou Holtz and his family have meant so much to my life, and I'm so proud of Skip and the man and coach he's become," Calcagni said. "It's great to see Skip carrying on his father's coaching legacy.
"I hope Skip's team plays well, but of course, I want the Razorbacks to win."
Sports on 09/02/2016