Summer hung heavy over the bayou in Loreauville, La., as Vance "Vic" Breaux Jr. walked across an empty parking lot into a cavernous open-ended warehouse where a 205-foot-long aluminum-supply boat on order lay half-finished.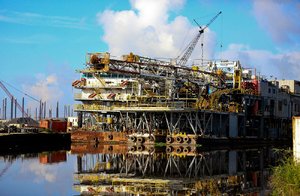 Photo by DERICK E. HINGLE / Bloomberg
An oil rig sits dockside at the Port of Iberia in New Iberia, La., last month.
Breaux Brothers Enterprises Inc. is finishing work on its only other active boat-building contracts, two for $12.5 million each. Generators and power tools are mostly idle, and employees, down to 30 from 90, no longer work Fridays. Competitors underbid him on a contract for the New York ferry system.
The two-year rout in oil and gas markets is cascading into manufacturing. Equipment makers for energy companies are firing thousands of workers or ceasing operations. Revenue in some shops is down 80 percent.
"In the last 15 years we had a five-year waiting list," Breaux said. "It's dropped to zero. All 50 states produce something that goes on each boat, so this downturn affects everybody."
With crude prices stuck at half their 2014 peak, energy-dependent regions that outperformed the nation during the recession are watching bulwark industries implode. Houston has lost 55,000 jobs in oil production, manufacturing, and scientific and technical services. Oklahoma bled 37,300 jobs. Lafayette, La., the nation's fourth-most-mining-dependent metro area, in June posted the largest over-the-year decrease in employment in the U.S.
As states hemorrhage such high-wage jobs, drilling royalty payments and sales tax receipts that buttress some government budgets declined by as much as 60 percent. The drop forced Louisiana, also grappling with rebuilding costs from a historic flood, to take out a short-term loan to pay its bills until income taxes are filed in April. In North Dakota, lawmakers met in special session in August to balance a $310 million shortfall. Alaska slashed an annual payout to residents by half to $1,000.
In Alaska and Louisiana, the oil bust accentuates an impending economic catastrophe: Easier-to-produce crude and natural-gas deposits are running out. The depletion of fields that fed the need for generations-old manufacturers is forcing them to search for new markets.
"You've got to tap dance," said Emile Dumesnil, chief executive of Dynamic Industries Inc., at its Port of Iberia fabrication facility. "The easy money of 30 years ago is behind us. We're running just under 50 percent capacity and spending a whole lot of money chasing opportunities."
In Louisiana's Cajun Country, the evidence of a manufacturing industry in crisis is inescapable. About 131 miles southwest of New Orleans, the Port of Iberia is crammed with "dead iron."
Idled barge rigs rocked as sugar cane swayed in the breeze. Mountainous offshore oil platforms sat across an isthmus from rusted lift boats with 130-foot-tall legs. Two-hundred-foot-long supply vessels named for members of a family-owned firm seeking to lease them to oil companies for $9,000 a day -- one fifth of their $45,000 rate in 2014 -- floated nearby. Some multimillion-dollar equipment, delivered after the downturn started, has never been used.
Unlike other energy-dependent states that are struggling to diversify their economies, Louisiana's job loss could be offset by a $65 billion construction boom in liquefied natural gas and other industrial facilities that officials say could make it the world's liquefied natural gas export capital.
Instead of constructing platforms for drillers on the Gulf's shallow shelf, Dumesnil's welders are making pipe modules for an $11 billion chemical facility that Sasol Ltd. is building a 90-minute drive northwest in Lake Charles.
The Sasol complex will join 19 other capital projects in parishes next door to the Lafayette metropolitan area, which includes the Port of Iberia. The region's municipalities are steeling themselves for an influx of some 31,000 scaffolders, electricians, truck drivers and others.
Yet officials in Lafayette are without funds to retrain thousands of workers like Jimmie Green for these jobs. Green, 50, lost a position he held for two decades painting helicopters when Bristow U.S. LLC decided to contract out his job. He's been unable to find another.
"I'm taking money out of my retirement to live," he said. "I am hurting for insurance."
Jermaine Ford, director of the Corporate College at South Louisiana Community College, is managing a wait list of more than 600 laid-off employees eager for retraining. Most require tuition subsidies for programs that don't qualify for federal aid.
"I've seen grown men and women cry because they can't feed their families," he said. "I've had students sleeping in their cars."
The view outside the office window of Quay McKnight, chairman of the board of M&M International, a safety valve manufacturer founded by his father and uncle in 1980, is bleak: Enormous lathes that fashion metal bodies for valves sit idle. Lights are off in part of the plant. Lanes plied by fork lifts ferrying parts to milling machines are empty. In the past year, revenue plummeted 80 percent and M&M laid off 45 percent of its workforce.
With oil production on hold in the Gulf and Bakken, M&M is without inventory. To protect his remaining workers, McKnight is seeking clients in other industries. He's researching medical manufacturing.
"My goal is to find work," he said. "The long-term goal is diversification -- we need to make sure this doesn't impact us this way again."
Nineteen miles southeast, boat maker Breaux mopped sweat from his tan, balding brow and explained that he's advertising his 33-year-old family-operated company for the first time in 15 years to find contracts to fill his warehouses.
"When oil gets good again we will be the last to get back to work" because half the fleet available isn't being used right now, he said. "It could take two years."
SundayMonday Business on 09/04/2016