A no-interest loan of up to $11.4 million from the Walton Family Foundation of Bentonville will result in enhancements for loan-recipient eStem Public Charter Schools Inc. and the University of Arkansas at Little Rock.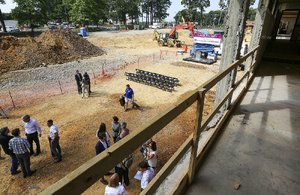 Photo by Benjamin Krain
Participants stand at the scene of Wednesday's groundbreaking ceremony for the eStem Charter School's new high school on the University of Arkansas at Little Rock campus.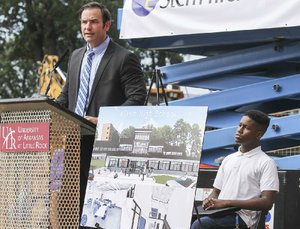 Photo by Benjamin Krain
John Bacon, chief executive officer for eStem Public Charter Schools Inc., said putting a high school on the UALR campus will "open some incredible new opportunities for our students to truly become college ready." At right is eStem High School student Jarron Gray.
The eStem charter school system is using the money to gut, renovate and more than double the size of the university's long-standing but recently vacant Larson Hall, which will become home to eStem Public Charter High School beginning in mid-2017.
The new high school site is projected to serve as many as 450 students in 10th-12th grades next school year and expand to as many as 1,125 by 2026-27.
[DOCUMENT: Click here to read the lease agreement and memorandum.]
Zulma Toro, University of Arkansas at Little Rock executive vice chancellor and provost, said Wednesday that the placement of a high school on a university campus is a first for the state. The lessons learned from the unique partnership will serve as a model for all of Arkansas, she said.
"This project with e­Stem is a testament to our long-standing commitment to education," Toro said at a groundbreaking ceremony for the construction project. "As an institution of higher learning, we must improve science, technology, engineering and mathematics education if we are to reduce the critical skills gap in our city and state. This initiative will benefit the students of eStem and UALR by increasing the number of students who earn degrees in STEM-related fields."
High school students will be exposed to the university research environment at earlier ages and will have greater access to leading experts in different academic fields, Toro also said, predicting that the partnership will stimulate economic development.
John Bacon, chief executive officer of the publicly funded open-enrollment charter school system, said the location of the high school on the university campus will increase the opportunities for high school students to earn concurrent high school and college credit within the eStem building, as well as take college-credit courses at a discounted price elsewhere on campus.
"We know this partnership is going to open some incredible new opportunities for our students to truly become college ready," he said.
[DOCUMENT: Click here to read the license agreement and amendment.]
The original plan for the charter school-university partnership, as announced in August 2015, called for the eStem high school grades to be divided between two buildings on the university campus. That plan envisioned spending about $3.5 million on renovating Larson Hall and constructing a new building on 28th Street, on the university's northern edge. Funding for the renovation and construction was not settled at that time but was expected to come from a variety of sources.
Since then, the plan for a 28th Street site has been put aside, for at least the time being, and the $11.4 million loan from the Walton Family Foundation -- to be repaid over 20 years -- was secured.
In June, the foundation announced the formation of a $250 million building initiative to give charter schools in Little Rock and 16 other U.S. cities access to loans for campus construction.
The foundation is a philanthropic arm of the family of the late Sam Walton, who started Wal-Mart Stores Inc. The foundation has a long history of supporting charter schools and charter school facilities nationally, having provided as much as $116 million, mostly in the form of low-interest loans, for charter school buildings between 2003 and 2015.
The 10th-12th grade high school on the university campus will replace the eStem's current ninth-12th grade campus in a former Federal Reserve Bank building in downtown Little Rock.
That building at Third and Louisiana streets will be used solely for a junior high school. The former Arkansas Gazette newspaper building across Third Street that now serves kindergarten-eighth grades will change to a kindergarten-sixth grade school. EStem charter operators are also planning a new elementary school and adjoining junior high on Shall Street, east of Interstate 30, for opening in the 2018-19 school year.
The charter school system's expansion plans for growing from two downtown buildings to five campuses around the city, and from the current enrollment of 1,462 to an eventual 3,844 students, was approved by the Arkansas Board of Education earlier this year.
That state approval came over the strong objections of then-Little Rock School District Superintendent Baker Kurrus and some community members, who argued that the publicly funded charter school system draws higher-income and higher-achieving students. That leaves the traditional school district, which is operating under state control because of schools that are labeled by the state as being in academic distress, with fewer resources to educate a greater proportion of students with high educational needs, Kurrus has said.
Kurrus, a lawyer and businessman, was notified shortly afterward by Arkansas Education Commissioner Johnny Key that his one-year contract would not be renewed when it expired June 30. Key, who denied that he acted against Kurrus because of the charter school stand, appointed Mike Poore, a superintendent in Bentonville for five years, to be the new Little Rock superintendent.
Larson Hall was one of two buildings built when the university moved to its current site in 1949. The building is named for John Larson, the founder and president of Little Rock Junior College, which is a predecessor institution of the University of Arkansas at Little Rock. Little Rock Junior College students met at what is now the Little Rock School District's Central High School.
Larson Hall's 15,547 square feet of space is being renovated, and 32,453 square feet of space will be added on the undeveloped land between Larson Hall and University Drive for the high school.
The renovated building and addition will house about 30 classrooms and laboratories, Bacon said, adding that the style of the new construction will be consistent with the mid-20th century architectural style of the two-story, flat-roofed Larson Hall.
The main entrance of the school will face the south, looking on to University Drive and toward Asher Avenue in the distance. But there will also be an entrance on the north side, facing the bulk of the university campus.
Over time, as the need arises, the school will have access to a floor of the multistoried G. Robert Ross Hall that is just northwest of Larson Hall and runs parallel to University Avenue, one of the city's main thoroughfares. The loan money can be applied to renovations there, as well.
EStem is leasing the property from the university for $1 a year for 30 years with the option to renew the lease four more times for periods of five years each, according to lease-related documents signed by Bacon, University of Arkansas System President Donald Bobbitt and Kathy Smith of the Walton Family Foundation.
Should eStem vacate the leased premises, the Walton Family Foundation shall have one year to locate another tenant for the site. Acceptable tenants would be another public charter school, a traditional public school, a teacher training center or other tenants serving an educational purpose -- subject to approval by the university.
Witsell Evans and Rasco Architects-Planners are the architects for the high school project. ECO construction is the building contractor.
Families can submit applications to attend the eStem Public Charter Schools -- including the new high school -- at any time in anticipation of the annual admissions lottery that is held in March. That can be done by contacting the school. Only kindergarten is not included in the open application system. A set period for applications is scheduled annually for pupils who will be in kindergarten.
Wednesday's groundbreaking ceremony was attended by university and eStem leaders, as well as by Arkansas Lt. Gov. Tim Griffin, Little Rock Regional Chamber President and Chief Executive Officer Jay Chesshir, and some eStem students who will be members of the student body at the new campus next year.
Andrew Rogerson, the new chancellor of the 11,500-student university, told the crowd Wednesday that he worked for 25 years as a microbiologist before becoming a university administrator.
"I fully understand and appreciate the value of an education in the STEM disciplines," he said. "There is a strong demand across the country for future employees who are strong in science, technology engineering and mathematics."
He said he feels fortunate to have arrived at the campus in time to be a part of the collaborative endeavor.
"Together we can create a beacon of opportunity for tomorrow," he said.
Metro on 09/15/2016