On the same day U.S. Education Secretary John B. King Jr. called Arkansas' approach to pre-kindergarten education a "beacon," preschool advocates said more state funding is needed to keep the program from dimming.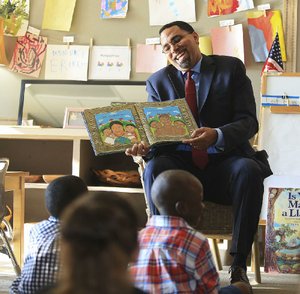 Photo by Staton Breidenthal
U.S. Education Secretary John B. King Jr. laughs Thursday morning as he reads to pre-kindergarten students during a visit to Pike View Early Childhood Center in North Little Rock.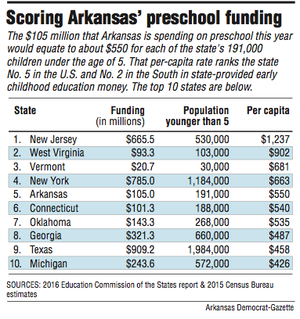 Photo by SOURCES: 2016 Education Commission of the States report & 2015 Census Bureau estimates / Arkansas Democrat-Gazette
Information about Arkansas' preschool funding.
One state legislator said it would take at least $20 million more to properly fund education for the 35,000 3- and 4-year-old Arkansans enrolled each year.
King's visit Thursday to Pike View Early Childhood Center in North Little Rock spotlighted a 25-year-old statewide pre-kindergarten program, which Arkansas funds at the fifth-best rate in the nation even though it has not received a permanent increase in nearly a decade.
Gov. Asa Hutchinson said Thursday that he's awaiting a financial report on Arkansas education before deciding whether to support an increase in preschool funding in the fiscal 2018 budget, which will be taken up after the General Assembly convenes in less than four months.
Not changing the $105 million state funding level would threaten the quality of early-childhood education and keep qualifying children out of a program that helps them develop academically, socially and emotionally, advocates said.
[GALLERY: See photos from King's visit to North Little Rock.]
A funding crunch is already being felt in some places. Preschool teachers last year at one Northwest Arkansas school district had to piece together worn booklets with Scotch tape, an administrator said.
Pike View, an early-education-only school since reopening in December 2015 after remodeling, has shared in more than $450 million of federal aid to expand and improve U.S. preschools, one of the reasons it was selected for the only preschool-focused visit on King's 13-stop tour of schools.
"The work that is happening in Arkansas is a beacon for the country," King said.
King praised the state for a decades-old, bipartisan commitment to early-education funding and for paying preschool teachers at the same level as their elementary peers, avoiding a "pay gap" that has made it difficult to attract and retain quality pre-K teachers in other states.
President Barack Obama's second education secretary, whom the U.S. Senate confirmed in March, made central Arkansas the ninth stop on his tour. In other states King highlighted issues of high-speed Internet access and computer-science courses in schools, expansion of Pell grants for prison inmates and teacher leadership, among other Obama administration priorities.
King read the book Whoever You Are as 19 3- and 4-year-old students in Amanda Tipton's class sat cross-legged on a rug. He then asked each of them their names and their favorite thing to do in a classroom that includes several "free choice zones" — including drama, housekeeping, woodworking and other crafts supplies.
Afterward, King participated in a roundtable discussion about preschool issues and took questions from reporters.
Arkansas has funded preschool education through its Better Chance program since 1991, near the end of Gov. Bill Clinton's administration.
It now pays for 24,000 of the state's 34,712 pre-K slots, said Tonya Williams, director of the Childcare and Early Childhood Education Division in the state Department of Human Services.
Federal programs and private foundations, on a smaller scale, cover the remainder, said Williams, whose office administers the preschool grant programs.
The amount Arkansas spends on early education equates to about $550 for each of the state's 191,000 children younger than 5, according to the latest census population estimates. Not all of those children are enrolled in pre-K programs.
That per-capita rate ranks second in the South and fifth among all states, behind New Jersey, West Virginia, Vermont and New York, according to state-by-state funding levels reported by Education Commission of the States in January.
Five states don't provide any preschool funding, and 11 spend less than $100 per preschool-aged child, according to a review of Education Commission and census data.
Yet Arkansas' per-pupil funding — the rate it actually gives to school districts based on enrollment — has stayed at $4,860 per preschooler since 2008.
Flat funding can hurt the quality of early education as supply and salary costs continue to rise, said Ginny Blankenship, education policy director for Arkansas Advocates for Children and Families.
"A lot of programs are really struggling to retain the teachers that they have," Blankenship said. "Teachers get offers in the K-12 system that pay a lot more. Quality is at risk of being eroded."
The Arkansas Legislature sets preschool funding as part of the state budget process. Its commitment in 2007 exceeded $100 million in total preschool funding, but there was little discussion about when or how to approach future increases, Williams said.
"Certainly we would expect that at some point that would have been re-evaluated," Williams said. "But the recession hit, and it hit pretty hard in our state."
By comparison, the K-12 per-pupil rate has grown 16 percent to $6,646 since 2008.
The current state budget totals $5.3 billion.
State Rep. Clarke Tucker, D-Little Rock, said he believes that preschool funding should increase by $2 million each year to keep pace with inflation. By the 2018 budget cycle, a decade without cost-of-living increases would thus amount to $20 million in defacto cuts, Tucker said.
But the first-term lawmaker said it would "certainly" take more than that sum to adequately fund pre-K, in part because the standards set at the time of the last increase "could have used improvement."
"My only goal right now is to fully fund the existing program so the quality of the existing slots are where they should be," Tucker said.
Tucker suggested paying for the increase through a combination of new revenue attributed to state growth and "refocusing" a portion of existing education money toward preschools.
Hutchinson in a statement said his office is still reviewing the upcoming budget.
"There are currently a lot of competing interests for education dollars," Hutchinson said. "We are still awaiting the results of the School Adequacy report to determine whether any additional funding will be required to meet our K-12 education needs. Once we receive the report we will take a comprehensive look at all of the state's education needs, including Pre-K funding, to make a decision on the proposed budget."
The state approved a onetime, $3 million funding increase for two budget cycles beginning in 2015, which equates to about a $50-$62 per-child gain over two years, Williams said. There is no guarantee that money will stick beyond the 2017 fiscal year.
Congressionally approved federal aid has made its way to some Arkansas districts, including Little Rock, North Little Rock and Springdale. Preschool administrators in each of those districts said the federal money helped them increase enrollment and improve existing services even without a significant bump in state aid.
Arkansas is receiving $15 million annually through the federal program.
North Little Rock's share created 80 more preschool slots, helping boost the total to 615, and increased per-pupil aid to more than $7,300 for 156 of those slots, said Jody Veit Edrington, the district's preschool coordinator.
"That significantly improved our bottom line," Veit Edrington said.
The federal grant in its first year created or improved a combined 2,600 preschool slots in Arkansas as part of 28,000 slots nationally, according to the Department of Education. An estimated 34,000 slots nationally will be created or enhanced in the ongoing, second year, King said.
Rogers Public Schools, which enrolls 340 in preschool, did not receive federal money, and educators there are feeling the strain from flat state funding, said Cathy Davis, director of the district's early-childhood programs.
Last spring, teachers used Scotch tape to bind their worn manuals. The district didn't have the funding to replace the 2005 books after 10 years of use, Davis said.
"They literally had to do that, I'm sorry to report," Davis said.
The district has since bought new curriculum for its preschools. The next challenge is securing enough money to pay for technology necessary to use the education material to its fullest extent, Davis said.
"We've waited our turn," Davis said. "It's time for pre-K to come to the front in the great state of Arkansas."
One day before King arrived at Pike View, Tipton's class sang, danced, napped and checked out library books. During free time, one 3-year-old gazed into a vanity mirror and drew a self-portrait to hang above her cubbyhole.
Before going outdoors for fresh air, the children sat in chairs and discussed their issue of the day. It was decided most students would help 4-year-old Bentley Neugent collect grass to decorate a tree limb he brought in as the class' "community stick."
Bentley's classmates didn't commit to helping him until they asked questions like when, where, what grass and whether the temperature was too high for this endeavor.
"We're going to get sweaty," a classmate said before agreeing to help. A second schoolmate boosted Bentley's cause by pointing out that postponing the event by a day risked a rainy tomorrow.
Tipton said the daily "reflections" gathering helps her children learn how to communicate and solve problems, like they'll have to do in the "real world."
"We have a unique curriculum," Veit Edrington said. "It's about children's thinking and what they're trying to figure out."
Danette Lawson, mom of four former North Little Rock preschoolers, said she learned one of her children needed eyeglasses after a routine preschool screening.
Lawson's husband, James, said he was impressed by how quickly aspects of the education tended to build on one another as his children learned colors, letters, songs and then began writing.
"I was so amazed by how these things connect," James Lawson said.