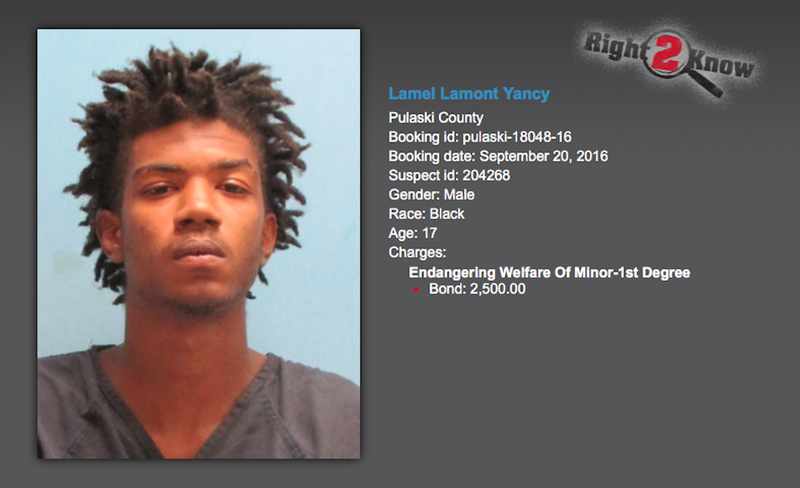 Lamel Yancy, 17, of North Little Rock
North Little Rock police say a teenager was arrested Tuesday after authorities found a video on his Facebook account of the uncle allowing his 3-year-old nephew to smoke what was described as marijuana.
According to a report, the video was found Sept. 1 while investigators were scouring social media accounts for suspects in an unrelated burglary case.
The video showed Lamel Yancy, 17, of North Little Rock smoking suspected marijuana inside a vehicle in the 4000 block of East Broadway, later asking the child if he wanted to "smoke the marijuana or hit the gas/blunt," police said.
At that point, authorities said, Yancy, who also goes by "Man Man," allowed the child to put the unlit substance in his mouth before Yancy took the suspected marijuana back into his possession, lighting it and smoking inside the vehicle.
The child was later recorded "several times" smoking the substance and referred to it as "weed" on video, according to the report.
Police said the child's mother at one point entered the back seat of the vehicle, objecting to Lamel handing the suspected marijuana to child. Lamel is then seen in the video telling his nephew that he would smoke it with him later.
Yancy remained at the Pulaski County jail as of Thursday afternoon on a charge of first-degree endangering the welfare of a minor, records show. He is being held in lieu of $2,500 bond.
Sponsor Content