The Arkansas Activities Association has recommended the suspension of a Pulaski Academy football player, but a court order will allow him to continue playing.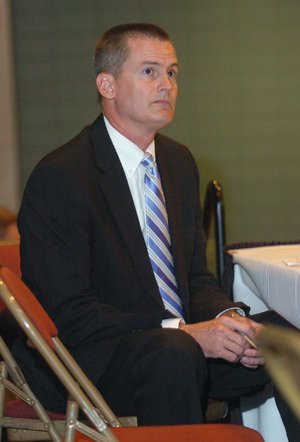 Lance Taylor, executive director of the Arkansas Activities Association is shown in this file photo.
The AAA appeals committee unanimously voted 8-0 Wednesday that the ejection of Pulaski Academy junior center Allen Amuimuia by officials in a Sept. 2 game against Sand Springs Page (Okla.) was a judgment call.
Amuimuia, 16, was ejected from the Bruins' 56-25 season-opening victory over Page after he was accused of punching a defensive lineman after a third-quarter play.
However, Amuimuia will continue to play while a court injunction from Pulaski County Circuit Judge Chris Piazza is in effect. The injunction temporarily blocked the AAA from suspending Amuimuia from Pulaski Academy's Sept. 9 game at East High School in Salt Lake City.
Tara Amuimuia, Allen's mother, sued the AAA -- which regulates high school sports in Arkansas -- on Sept. 7, the same day Pulaski Academy's football team flew to Salt Lake City.
Amuimuia has started in Pulaski Academy's past two games at East (a 37-23 loss) and at McCracken County in Paducah, Ky. (a 56-14 victory).
Pulaski Academy (2-1) opens its 5A-Central Conference schedule Friday at Little Rock Fair.
Pulaski Academy Coach Kevin Kelley, who was not at the AAA hearing, could not be reached for comment when contacted by the Arkansas Democrat-Gazette on Wednesday.
In the circuit court hearing Sept. 9, Piazza said he would only block the suspension for at most a month, telling AAA officials to conduct an appeal hearing as soon as possible.
After an ejection, the AAA imposes a one-game suspension for the next game on Arkansas players. The player Amuimuia was accused of hitting, Nathan Simonton, served his suspension Sept. 9 against Choctaw, Okla. Similar to Arkansas, the Oklahoma Secondary School Activities Association imposes a one-game suspension for its players.
Lance Taylor, the executive director of the AAA, said there have been 17 ejections since the start of the 2016-2017 state high school sports season in August. From the 2010-2011 school year through the 2015-2016 period, there were 1,259 ejections in all sports combined, with an average of 252 per year. Each person suspended, whether it was a player or coach, served the suspension in the next game, Taylor said.
In regard to the ejections Sept. 2, Taylor said the officials did a "wonderful job."
Amuimuia was ejected with 7:47 remaining in the third quarter along with Simonton for fighting. During the second-and-7 play at the Page 49, Amuimuia's helmet came off and both swung at each other. Amuimuia told the AAA that he threw an "an open-hand swipe" at Simonton.
Tara Amuimuia said her son had his helmet ripped off three times in the game.
"Simonton had him in a headlock and punched him in the face," she said. "[Allen] wasn't engaged in a fight with this young man."
The play was shown five times to AAA members and media members Wednesday.
Amuimuia added that her son exercised self-control and did not retaliate, going to the Bruins' locker room after being ejected.
"My son was just trying to play football," Amuimuia said.
The ejection was not fair, Amuimuia said. She said if her son had thrown a punch, she "would have been the second person to tell him it was your fault, take your medicine and take your punishment."
"The first person to tell him that would have been his coach," Amuimuia said.
Amuimuia said the trip to Utah was special for her son, who is of Polynesian descent. Several East High players are of Tongan descent.
"The fact that he might not be able to play with them was distressing," Amuimuia said.
The Amuimuia family declined to talk to reporters after the hearing.
Taylor cited the National Federation of State High School Associations (NFHS) section on fighting before Tara Amuimuia spoke.
"Fighting is any attempt by a player or nonplayer to strike or engage a player or nonplayer in a combative manner unrelated to football," according to the NFHS. "Such acts include, but are not limited to, attempts to strike an opponent[s] with the arm[s], hand[s], leg[s] or foot [feet], whether or not there is contact."
Taylor and assistant executive director Don Brodell received an email from businessman Greg Hatcher on Sept. 6 regarding the play with Amuimuia. Hatcher told Taylor and Brodell that video of the play was available.
The AAA did not receive any contact from Pulaski Academy, but Taylor said an unnamed man submitted a lawsuit to him at 3 p.m. Sept. 7.
With Taylor out of state from Sept. 8-12, the AAA was represented by assistant executive directors Nick Lasker and Joey Walters along with the association's attorney, Ed McCorkle, at the circuit court hearing Sept. 9.
On Sept. 12, Taylor and Walters met with Greg Griffeth , the head of the Upper School at Pulaski Academy. The group reviewed the play at the school because Taylor said he wanted to be proactive.
Griffeth emailed Taylor on Sept. 13, thanking Taylor for meeting him. He told Taylor that Pulaski Academy never intended to file an appeal.
"PA will gladly comply with the decision rendered by the appeal process," Griffeth told Taylor in the email. "We're asking the AAA to understand our difficult situation and that we not be penalized or face retribution for honoring the legal process that we did not initiate. We desire to be a good member of the AAA, and we continue to move forward and have a healthy relationship.
"I will honor the AAA appeals process."
Kelley texted Taylor on Sept. 15 after reading both Taylor's letter to Griffeth and Griffeth's letter to Taylor, and Kelley apologized for not being present at the Sept. 13 meeting.
"He wanted to follow the AAA rules," Taylor recalled Kelley telling him. "He wanted to sit the young man out in Utah. Coach Kelley told me the young man did retaliate and he had been punished. He said he teaches his players not to react when an opponent does something wrong."
Griffeth said Wednesday during the hearing that he was not aware of the injunction until 3 p.m. Mountain time Sept. 9 in Utah (4 p.m. Central). He said Pulaski Academy did not have a lot of time that day, since the game was scheduled for 7 p.m. Mountain.
Kelley asked Griffeth how he should handle the situation. Griffeth and Pulaski Academy President Matt Walsh told Kelley they wanted to honor the injunction and the appeal process.
McCorkle strongly believed the ejection was a judgment call.
"The white hats, which is what I call them, did what we want them to do," McCorkle said of the officials. "That is throw the flag, eject the players. The AAA members have voted that the player should sit out a [varsity] game."
The AAA handbook states that if a student is ineligible according to AAA rules but is permitted to participate in competition because of a court restraining order of injunction and that injunction is subsequently voluntarily vacated, stayed, reversed or relieved, penalties may be imposed later.
Since Amuimuia competed in Pulaski Academy's two games after his ejection, the Bruins may be forced to forfeit those two games as well as any other games he plays in during the injunction, Taylor said. Also, Pulaski Academy could be suspended or expelled from any future AAA activity.
"I told [Griffeth] this could happen. But it's out of my hands now. It's up to the judge," Taylor said.
Tossed out
From the 2010-2011 school year to the 2015-2016 school year in Arkansas, there were 1,259 ejections across all sports with an average of 252 per year. This season, there have been 17 ejections.
YEAR;TOTAL EJECTIONS
2010-2011;258
2011-2012;265
2012-2013;201
2013-2014;266
2014-2015;269
TOTAL;1259
SOURCE Arkansas Activities Association
Suspension process
SEPT. 2
Pulaski Academy junior center Allen Amuimuia was ejected in the third quarter of the Bruins' 56-25 season-opening victory over Page High School of Sand Springs, Okla. Amuimuia was ejected for fighting with Page defensive lineman Nathan Simonton. Ejected players in Arkansas are issued a one-game suspension for the next game, per Arkansas Activities Association guidelines.
SEPT. 6
Little Rock businessman Greg Hatcher notifies AAA executive director Lance Taylor there is videotape of the play in question with Amuimuia and Simonton.
SEPT. 7
Amuimuia's mother, Tara, files a lawsuit against the AAA. Allen Amuimuia flies to Salt Lake City with his Pulaski Academy football team two days before the Bruins play national power East High School of Salt Lake City.
SEPT. 9
Pulaski County Circuit Judge Chris Piazza issues a 30-day court injunction, preventing the AAA from suspending Amuimuia.
Amuimuia starts for Pulaski Academy in its 37-23 loss to East High School in Salt Lake City.
SEPT. 12
Taylor and AAA assistant executive director Joey Walters meet with Greg Griffeth, the head of the Upper School at Pulaski Academy.
SEPT. 16
Amuimuia starts for Pulaski Academy in its 56-14 victory at McCracken County High School in Paducah, Ky.
SEPT. 21
The AAA holds an appeal hearing for Amuimuia. The association recommends a suspension for Amuimuia.
Sports on 09/22/2016