VARNER -- The Arkansas Parole Board heard pleas for mercy Friday from a pair of death-row inmates, who asked that they be allowed to sit in prison for life rather than be executed this month.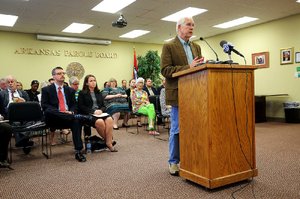 Photo by Stephen B. Thornton
Buddy Boren addresses the Arkansas Parole Board at a clemency hearing Friday in Little Rock. Boren's brother, Cecil Boren, was killed by Kenneth Williams in 1999.
The condemned, Kenneth Williams and Jason McGehee, expressed remorse for the slayings that sent them to death row. The decades spent there have changed them, they said.
Already this week, the board has recommended that clemency be denied for three other men on death row who are among the eight set to be executed over the course of 11 days this month.
The board did not issue its recommendation for Williams and McGehee on Friday. They are scheduled to die April 27.
The final decision lies with Gov. Asa Hutchinson, who scheduled the executions in a February order.
The seven-member board heard clemency petitions from the inmates, their attorneys and sympathizers inside a visitation room at the Varner Supermax prison, where the inmates can walk from their cells.
A second meeting was conducted later Friday in Little Rock, where the board heard from the victims' relatives, who asked that the executions be allowed to proceed.
While the relatives said they hoped the men had indeed changed behind bars, they and the prosecutors who had tried their cases cautioned the board that McGehee and Williams had used manipulation in the commission of their crimes.
"You might be wrong, that's y'all's decision," said John Melbourne Sr., whose 15-year-old son, John Jr., was killed in 1996 by a group that included McGehee.
In testimony exclusive to McGehee's case, former Department of Correction Director Ray Hobbs spoke on behalf of the inmate he said he had gotten to know in conducting his rounds of the prison.
"He has learned his lesson, and he still has value that can be given to others if his life is spared," Hobbs told the board at the prison.
Hobbs told the board that he has occasionally spoken on behalf of other prisoners when asked. He told a reporter none of others set to die this month had requested his input.
In his own testimony, Williams read from two lengthy letters he had written to detail his conversion to Christianity in 2005. He has since become an ordained minister, he said, and preached to fellow inmates.
His religious conversion also led him to confess that year to an unsolved homicide in Pine Bluff, which he said he committed hours after fatally shooting Dominique "Nicky" Hurd and injuring her friend, Peter Robinson, in December 1996.
However, after being sentenced to life for Hurd's death, Williams feigned religious beliefs in order to attend services, which led to his escape and and a rampage in which he killed two more people, said Assistant Attorney General Kathryn Henry.
Williams was sentenced to death for one of those slayings, that of Cecil Boren, a retired farmer who lived on the outskirts of the Cummins Unit, just down the road from Williams' current home.
"I know that each time I drive by he is still there," said Boren's daughter, Jodie Efird.
Both McGehee and Williams were 20 when they committed the crimes for which they are condemned. A psychologist from Temple University who spoke on McGehee's behalf said research that has led to a moratorium on death sentences for minors has more recently shown the brain development of people continues into their early 20s.
McGehee's federal public defender, John Williams, also made a tearful plea that his client had grown into a mature adult in prison.
"He's my friend, no matter what people say about him," John Williams said.
John Williams and other attorneys representing the inmates also are seeking to halt the executions in a lawsuit challenging the state's method of execution and the rapid pace at which the executions will be carried out.
Hobbs, the former Correction Department director, declined to comment on the department's preparedness to conduct the executions after an 11-year hiatus.
Metro on 04/01/2017